Who would have thought that a Navy pilot would end up with a software career working with Army intelligence systems? Jann Weiss did that, and along the way she made history. Weiss was one of two women to complete the first co-ed class of Carrier Air Traffic Control school and among the first group of women to serve on an aircraft carrier. She was the Navy's first female Flying Limited Duty Officer (FLDO) when she was one of 42 chosen for a new program that sent enlisted personnel through flight school, then commissioned them upon "winging."
After 20 years of active duty service, Weiss set her sights on the civilian world. Now a long-distance triathlete who's completed five Ironman races, she has some advice that is applicable to today's service members preparing to transition from the military.
About Jann Weiss, A Former Navy Pilot Turned Configuartion Management Analyst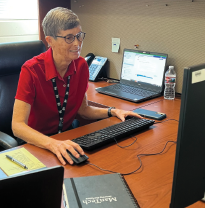 Jann Weiss
Configuration Management Analyst
ManTech International 
Location: Fort Huachuca, Ariz.
Age: 66
Military Service: Lieutenant (O-3), Navy (1975–1995)  
Designation: Air Traffic Control First Class (AC1), enlisted; 
Naval Aviator, officer
Post-secondary education: Bachelor's degree, management,
Troy State University, 1985.
MBA, University of West Florida, 1992
Associate degree, computer programming, Cochise College, 2002
Bachelor's degree, information technology, Western International University, 2004
Certification: ITIL v4
Weiss's Transition from Her Navy Career
What was your biggest fear as you prepared to transition from the military? That I wouldn't find ANY job. I didn't have the right qualifications to work for the airlines, and I initially didn't know about civilian jobs flying drones. I did get a job flying drones as a contractor but had no idea that the skills I developed while serving would qualify me for jobs in a larger and totally different job market.
How did you find your current job? Luck. I was unemployed from flying drones, which is a small niche market and was referred to a job fair for Army contractors by a friend. Her company wasn't interested but another one was. I was hired within the next week.
What It's Like Working In The Software Industry
What do you do? I help manage the components, software and documentation of a software system and make sure the users get all the correct parts and pieces they need to make a "baseline" or version of software work.
Why did you choose the software industry? Initially, it chose me since I was offered a job in the software industry and the companies supporting military intelligence were the largest employers in the area. I soon found I was well suited for the detail-oriented software industry.
Would you recommend veterans look at careers in the software field and industry? I think software in general is a huge market that continues to grow. Configuration management is becoming more important as software projects move to more secure products and faster delivery of fixes to the user. It is also a great place to start if someone wants to become more technical over time.
Advice to Transitioning Veterans
What mistakes would you urge transitioning service members to avoid? Don't believe your military experience can't translate into the civilian world. (Read this to help you translate your military experience.) Expand your job-search criteria. It might take some imagination to map your skills to a job requirement, but don't hesitate to try. Who would have thought that a Navy pilot would end up with a career working with Army intelligence systems? 
Watch The Full Video Interview with Jann Weiss