Why am I here at VIQTORY/ G.I. Jobs?  Well, at the conclusion of my transition process I had been sought for employment by several Fortune 1500 companies for my operational & leadership experience. I strategically chose VIQTORY specifically to continue my service in the veteran/ military community space.
I'm passionate about leading, guiding, and mentoring veterans for success in their lives after service. This keeps me connected to you, my brothers and sisters, the ones who've made great sacrifices. Just so you know VIQTORY is the parent company of G.I. Jobs!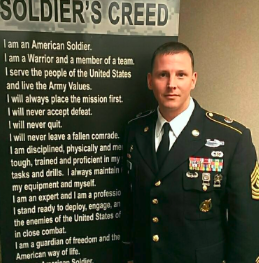 Before we get started on different areas of my transition process I wanted to give you a little back drop on my rollercoaster of a career especially the first 10 years- The back half of it paved the way to a successful transition- BLUF- If I Can Do It, You Can Do It!
My Story
– Originally from Montana "Big Sky County," so sort of a small town country boy
– Joined in June of 1997, served on active duty until June of 2017
– Started as a Infantry Paratrooper, Retired from Army Recruiting Command
– Relationship Troubles
– Afghanistan Deployment 2004-05
– Financial Difficulties
– Battled complex health problems
– Completed an Online Bachelor's Degree
– Led Top Producing Recruiting Companies Nationwide
– Became very focused on trying to get healthy & fit
– Selected for E-9
– Dropped my retirement paperwork which was spur of the moment because of opportunities
– Started transitioning about 8 months out from terminal leave
– Continued to battle previous health issues
– Committed to educate myself and enrolled in a MBA marketing program
– Started gaining that dreaded retirement weight that everyone talks about; more so than I wanted
– Devoted myself to reading, learning, and exploring work life outside of the military
– Focused on finding out who the new Justin was verse the old 1SG Pearson
– Introduced to the G.I. Jobs Magazine at TAPS class and I Joined-the-Ranks to get the digital notifications
– Used G.I. Jobs as the resource to understand the transition process, networking, branding, marketing myself, resume tips,  learning more about companies that want to hire veterans, and preparing for interviews so I could successfully     land my next career
– Branded myself, networked with over 30K connections on LinkedIn, marketed myself amongst many great professionals, and    started applying for jobs on the G.I. Jobs Jobs Board which opened the door for 12 different opportunities to present themselves during my transition
– Found my passion, calling per say; to continue to lead within the veteran space- My goal was to do it at G.I. Jobs because they have been helping the military community since 2001
– Successfully transitioned to corporate America and now a year later, I'm the Marketing Operations Manager at VIQTORY
We All Share a Similar Story
So as you can see I'm far from perfect, but I was pretty perfect as to committing myself to the Army mission before anything else- 24 hours a day, 7 days a week, for over 20 years.
I didn't know who I was as a person, as Justin, no personal goals or passions that could be fused into corporate America, and unsure how to really trigger the left side of my brain- especially in the starting weeks of my transition process. G.I. Jobs was truly my saving grace in finding myself, finding direction, and finding my next career.

We all have a back story, wealthy families, troubled times, multiple marriages, and some of you may still be single. The point is everyone has a story:
Let your story define you, Don't let your story control your future.
In the bullet points that I noted previously some of you may have had experienced similar situations over your years. Our Team of Veterans understand the hardships of service and the difficulties we all face during the transition process and those we face years after our service has ended.
Every Wednesday we are committing to you by sharing our story, tips, tricks, resources, and best practices that have helped us. These Wednesday emails will be highlighted as our #YouCanVetOnIt series specifically designed to help you!
Our Team of Veterans: PA Army NG- 2LT Joshua Rosen; Army: 1SG Darryl Williams, 1SG Justin Pearson, 1SG Brian Hucik, USMC- SGT Greg Hough, CPL Mike Asper, and Army: SPC Mark Callahan as shown in the picture below. We will take turns weekly with our advice, input, and resources that can help give you the edge you need in order to make your transition successful.
LET US KNOW HOW THIS VETERAN VOICE CAN BE BENEFICIAL FOR YOU!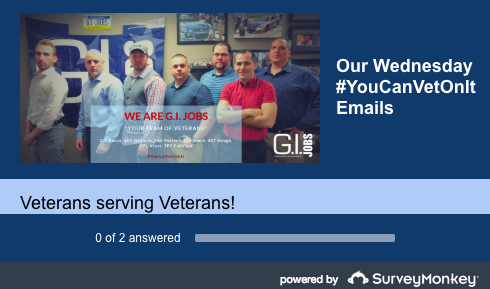 First and Foremost- Stay Positive, Reach Out to Professionals to Get Guidance, Make a Detailed Transition Plan of Action with Goals, and then Take the Massive Action Required to Exceed those Goals.  Once you're ready to start applying for your next career, ensure your resume is tailored to the specific job, and then Apply from our Job Board, because these are employers who are spending operational dollars to showcase their company to you because they need your expertise!
Remember to bring your A+ game on all types of communications because they get hundreds of requests, their time is limited, and they want to hire the best!
3 Articles You Should Read NOW- 1SG Pearson
How To Use LinkedIn: Here's Your Tips and Tricks
The Meat and Potatoes of Resume Writing
Top 5 Articles to Check Out
$100k Security Contracting Jobs for Veterans
5 Good Answers to 'What's Your Desired Salary?'
The Job Offer: How Long Can You Take to Respond?
G.I. Jobs- The Best Blog For Military Veterans.
Top 25 Hot Jobs for Veterans 2018
Here is our team email address in case you have questions: YouCanVetOnIt@Viqtory.com
See you on the High Ground High Speed! No Brass No Ammo!
– 1SG P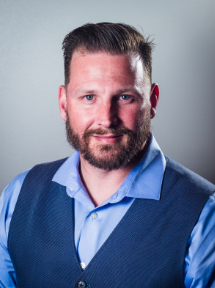 P.S. – Next week 1SG Hucik will be at the Helm! Get Excited (((BOOM)))
P.S.S. – I'm looking forward to sharing my transition story with you in the coming weeks, I felt it was necessary to give you an overview prior to getting in the weeds! Remember to fill out the survey so we can cater this awareness to your needs!
Summary

Article Name
Launching YouCanVetOnIt - Veterans Helping Veterans
Description
How my transition story can help you. By 1SG(R) Justin C. Pearson. We as a Team will come together and share our tips, tricks, and best practices so you can transition successfully! This is the start of our YouCanVetOnIt series!
Author
Publisher Name
Publisher Logo