Helicopter pilot. Engineer. Military police. Chief operating officer. Senator. Representative.
These titles hint at the determination, strength and leadership necessary for success in those roles. But these titles don't tell the stories of the challenges some endured to assume those roles.
When it comes to women veterans who have blazed trails—the first to fly in combat, or be elected to office—the untold stories become even more important to tell.
The U.S. Congress includes seven women veterans, the most in the nation's history. These seven senators and representatives have varied and extraordinary backgrounds. Like most women veterans, they experienced unique challenges while in uniform and as they transitioned into civilian life.
The landscape for servicewomen and women veterans has improved. With more than 2 million women veterans in the U.S., more career opportunities have opened, the service infrastructure is more accommodating, and VA services have undergone a massive overhaul. And it's getting better. In December 2019, the Senate was considering the Deborah Sampson Act, which passed in the House of Representatives by a 399-11 vote in November. Named for Revolutionary War veteran Deborah Sampson Gannett, the bill would significantly expand support services for women veterans.
But there is more work to be done.
While the military-to-civilian transition is challenging for all service members, the transition experience is particularly challenging for women veterans—the fastest growing subsection of veterans. Unlike their male counterparts, they have more difficulty fully identifying with being a veteran, connecting to needed health services and securing meaningful employment.
Sen. Tammy Duckworth, Sen. Joni Ernst and Rep. Chrissy Houlahan discussed their own experiences serving and transitioning. Along with other fierce women veteran advocates, they're working hard to smooth the road.
Identifying with the Veteran Experience
What does it mean to be a woman veteran? Although women and men might join the military for similar reasons, many women veterans find it challenging to fully identify with the service and veteran experience. Traditional expectations linger, sometimes holding servicewomen to different standards or adding different pressures. Reconciling service life with family life can even lead women to terminate their military careers early.
The Institute for Veterans and Military Families (IVMF) examined data that focused on women veterans' service and transition experiences, and found that the top reason women veterans leave the service is family.
That was the case for Houlahan, a former Air Force engineer now serving as a Pennsylvania congresswoman.
"Part of the reason why I decided to separate had to do with those challenges of being a young mom and being the active duty member."
Her maternity leave was six weeks long, but on-base childcare policies wouldn't accept children until they were 6 months old. Private child care was too expensive.
Although the Department of Defense has improved its policies and accommodations for diverse families, many women still feel the same pressures and struggle to connect with a community that truly understands them.
The Service Women's Action Network's 2018 study titled, "The Mental Wellness Needs of Military Women," reports that many women veterans lack a sense of connection to supportive networks. Steeled and isolated from those around them, they feel misunderstood or even forgotten.
Still, the same women veterans reported feeling mentally and physically stronger because of their military service. Similarly, data collected by IVMF showed that women veterans identify work ethic and discipline, teamwork, adaptation to challenges and mental toughness as top skills strengthened by their military experience.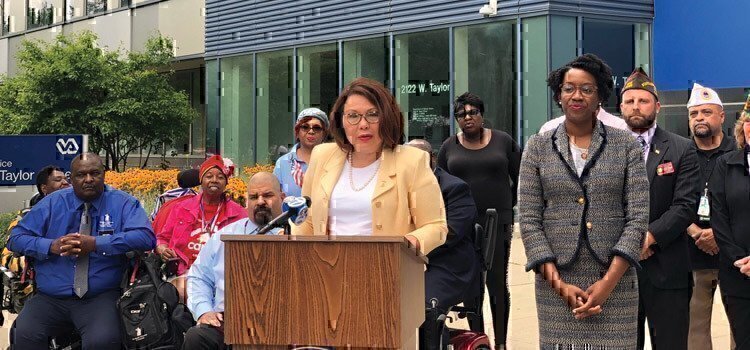 Sen. Duckworth noted that, although she encountered challenges as a young officer, she grew into a confident leader.
"I realized I could trust my instincts."
If military experience benefits women, how can we cultivate an environment in which women veterans can fully identify with the veteran experience?
Houlahan said part of the solution is finding ways to support the full trajectory of servicewomens' careers. Among other things, it will connect them to relatable mentors and increase retainability. In 2019, she founded the Servicewomen and Women Veterans Congressional Caucus (SWVCC), which advocates for women veterans.
"If you can't see it, you can't be it. Part of what we're trying to do is also give those women a recognition that we need to be able to see them all the way from the beginning of their career all the way to the end."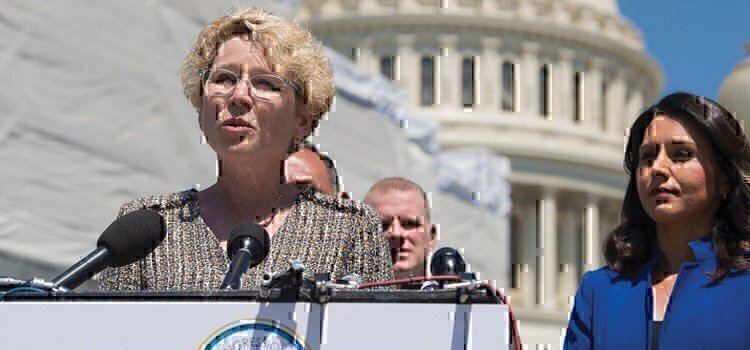 But another part of the solution involves engaging in honest, authentic conversation, said Sgt. Ashley Gorbulja-Maldonado, who is transitioning from the Ohio Army National Guard into the Army Reserve. In her work mentoring women veterans as a transition consultant, she urges them to tell their stories, noting that breaking down perceived barriers of rank or civilian lines can be empowering for the storyteller and healing for the listener.
"You've got to take ownership of your story. That could be a page in someone else's survival guide."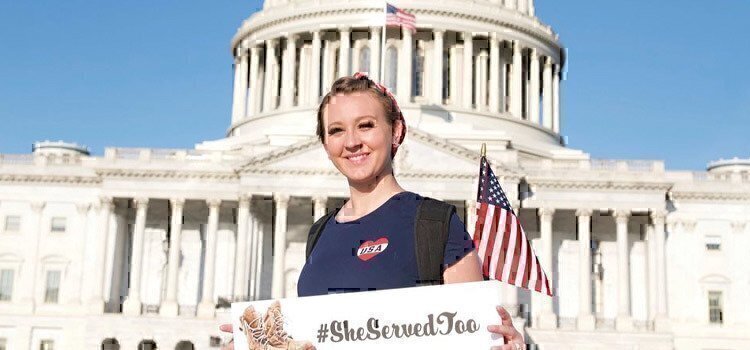 Open dialogue, she said, can cultivate a supportive community that recognizes women veterans, allowing them to fully experience their identities as not just woman veteran, but simply: Veteran.
Understanding and Accessing Health Care
Although many service members might face challenges from combat, loss, family separation, physical strain or trauma, research shows that servicewomen process these experiences differently. According to VA, women veterans are more likely to experience musculoskeletal complications, chronic pain and mental health issues. Between 2001 and 2014, suicide rates of women veterans soared 62%; they increased 30% for male veterans. Twenty-five percent of women veterans have experienced military sexual trauma (MST), and more than 30% of women veterans have experienced intimate partner violence.
Sen. Ernst said these differences are significant.
"This points to the fact that women will handle situations differently. And going through the types of traumatic experiences that they might have had in the military, on deployments, they are at greater risk, and we need to recognize that and then target solutions for those populations."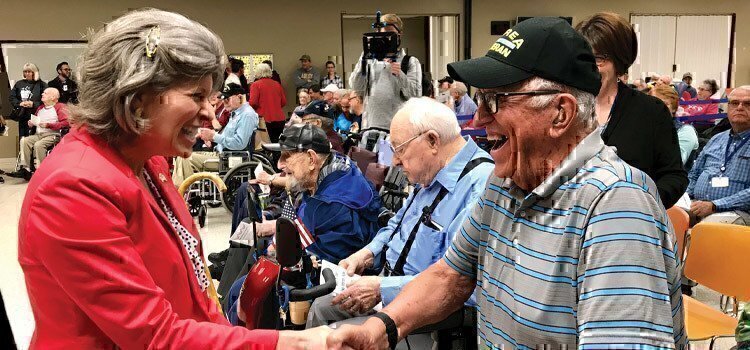 In recent years, VA has developed integrated care services tailored to support women veterans' needs. There are now women veteran coordinators in every regional office who function as the primary contact for women who served. Women veterans program managers coordinate health care at each VA medical center nationwide. Providers receive robust training in women's health. Comprehensive mental health services are available. The overall culture and environment has improved.
But generally, transitioning servicewomen haven't been aware, taking an average of 2.7 years after their transition to access VA health benefits, which is longer than their male counterparts.
When Air Force Reserve Maj. Alea Nadeem experienced challenges transitioning herself, she took action to make it easier for others. As a result, VA and DoD partnered to create and effectively communicate a program to train transitioning servicewomen on their VA health benefits. Now, before servicewomen separate or retire from the military, they can attend the Women's Health Transition Training (WHTT), an in-person or virtual course. This deepens their understanding of women's health services available at VA, promotes awareness of cultural and physical changes at VA facilities and familiarizes them with the enrollment process.
Emily Barkin, WHTT's evaluation lead, said this reduces the possibility of health care gaps by providing a "hot hand-off" between the service and civilian life.
Houlahan said, "By just giving them that transitional training, that gave them the understanding that the Veterans Affairs groups and hospitals were for them, that their benefits were provided to them."
A key part of the program identifies support services available for victims of MST and abuse, as well as mental health issues and suicide prevention. Couching this information in a supportive, women-only atmosphere increases its effectiveness, Barkin said.
Ernst, the first female combat veteran elected to the Senate, emphasized that connecting women veterans to communities where they can share experiences with relatable peers is key to processing experiences, healing from wounds and feeling stronger.
"What we want to do is make sure that those women are in a comfortable setting and that they feel free to express what's on their mind. Without that opportunity to really cleanse yourself of those issues, you just can't find your way to being whole again."

Finding Firm Financial Footing
At first glance, it might seem like any veteran has it made when they transition: the GI Bill can pay for college and their veteran's status can give them an advantage over other job applicants—particularly with federal and state employment. Women veterans even have statistically higher levels of education than their male counterparts.
But Gorbulja-Maldonado, founder and CEO of GuideOn Education, said that, without the military's "scaffolding" of support, leadership and directed career path, the first year after transition is difficult.
"In transition, you are recreating yourself. A lot of people have a hard time with that."
Studies show that women veterans face more serious challenges than men in their transition from the military. VA reported that women veterans earn less than male veterans; for the most part, that wage gap grows with age.
IVMF's research found:
67% of women veterans describe their financial transition as difficult or very difficult; 47% of men veterans describe their experience this way.

37% of women veterans cite "loss of income" as a main transition challenge; 23% of men veterans cited the same.
Women veterans took an average of three months longer than male veterans to find a job after transition.
Duckworth, a helicopter pilot who was among the first women to fly combat missions in Iraq, pointed to wage gaps as one of the key challenges facing women veterans today. The transition into civilian life can be hard, she said, because "immediately they experience a 30% drop in their earning power."
And many are responsible for more than just themselves, she said.
"Oftentimes female vets are the sole provider."
Research shows that women veterans are more likely than men veterans to be divorced and more likely to have custody of children. Less financial support and greater financial responsibility can lead some women veterans to homelessness. While precise statistics are difficult to measure, as women tend to "couch surf" with family or friends instead of living in unsafe shelters, experts expect that the homeless women veteran population will rise.
Connecting servicewomen to the right resources is a key to ensuring a smooth transition and stepping out on firm financial footing, said Gorbulja-Maldonado. Servicewomen should start early and find a good mentor. "There's an oversaturation
of information," she said.
"Helping others find the information that is pertinent to their lifestyle is critical. All too often, I have found that people just don't know where to look or that the information is overwhelming."
As the education liaison in a previous unit, Gorbulja-Maldonado quickly became knowledgeable about resources and benefits that link service members to meaningful, well-paying careers. She leverages this experience at GuideOn, helping transitioning service members:
Plan ahead
Translate military experience into civilian language
Understand and market their value
Individualize lessons learned in TAP
Tell their story to showcase their skills and talents
Duckworth said it's important for women veterans to assume leadership roles. "Tell any woman veteran to run for office," she said, suggesting they consider a range of opportunities.
In this capacity, they can make a difference.
Paving the Way
Although each congresswoman identified some level of challenge in her past, each one circled back to her priority: carrying out her mission.
"I'm a soldier, I'm a leader," reflected Ernst.
"I found my service to be really important," Houlahan said, adding that it was "more about the mission."
"I've always just thought of myself as a soldier," Duckworth said. "The best leader I could be would be me."
They, like servicewomen and women veterans across the country, build strong teams, excel in their skills and serve something bigger. They define veteran with a capital V and stand as a model for the rest.
Perhaps this is how challenges will be made easier.
"We have to pave the way and we have to set the example," Ernst said. "I think it will get hopefully easier through the years for women to tell themselves 'I am worthy and I have a voice that needs to be heard.'"
READ NEXT
10 Jobs That Pay $100K Without a College Degree
11 of the Most Dangerous Jobs in the U.S. Military
The Real Life Story Behind Saving Private Ryan