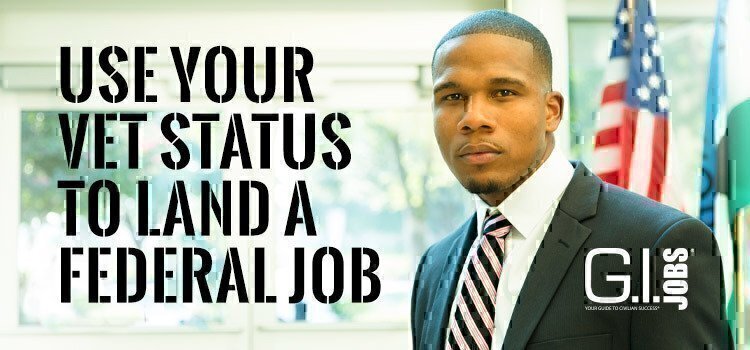 There is almost an invisible pipeline from the military to federal employment. Federal jobs are open to all qualified applicants, of course, but service members have an edge because they often get those qualifications during their military careers. Still, there is no shortage of competitive applicants in the civilian world, and those federal jobs are highly sought after.
If you're transitioning out of your branch of service soon, we urge you to study up on one extra factor which can make or break your odds of success. Your Veterans' Preference points! There's nothing wrong with using your veteran status to help you land a federal job. The law which enables that exists for a good reason. Before we dive in, let's talk about where to begin your federal job search…
Start with USAJOBS
One of the first steps you should take is to set up a profile on USAJOBS, then start seeing what's out there. USAJOBS is the official federal job board, falling under the Office of Personnel Management (OPM) and designed specifically to "recruit, retain, and honor a world-class government workforce for the American people."
USAJOBS is used by over 500 organizations and features ~360,000 job announcements across 147 countries. As the premier job board, it's also has the highest number of users—10,000,000 profiles and growing! But many hot jobs receive hundreds of applicants, so you'll need every advantage you can find. This is where preference comes into play.
What is Veterans' Preference?
Veterans' Preference is exactly what it sounds like. But it is not in any way a back door to getting a federal job. You'll have to apply and interview like anybody else, and you'll have to meet all the posted requirements for the job you're interested in.
Most federal jobs fall under the category of Competitive Service. After all applicants are assessed, they are rated and that's when the preference kicks in. As stated on OPM's Hiring Information page, "Preference eligibles receive veterans' preference by being listed ahead of non-preference eligibles within the same quality category in which they are placed."
In broad terms, think of Veterans' Preference as sort of a tie-breaker. If two or more equally qualified applicants interviewed for a job and are both finalists, the hiring authority must take the Veterans' Preference into consideration. This may tip the scales so that the job goes to the vet. In fact, it's written in law: "By law (Title 5 USC, Section 2108), veterans who are disabled or who served on active duty in the Armed Forces during certain specified time periods or in military campaigns are entitled to preference over non-veterans both in Federal hiring practices and in retention during reductions in force (RIF)."
The intent is certainly not to fill up all federal jobs with veterans, and Veterans' Preference doesn't extend to any additional benefits, if hired. It's not a factor which can be considered for promotion, for example. But the government realizes that veterans do face unique challenges when transitioning into civilian jobs. In fact, in some cases the government bears a measure of responsibility for veterans needing to separate during force reduction measures.
The military invests a ton of time, money and effort to train troops, so if you had a good military career going but had to get out because of a RIF, it makes sense for Uncle Sam to extend a hiring advantage to you. This helps the government potentially keep an asset they invested in, employed in a different fashion. Plus it is fair to the service member who had invested their own time into a career they may not have wanted to leave.
Okay, now that we've explained the rationale for why Veterans' Preference exists, let's see how this works!

How to Apply Veterans' Preference
While USAJOBS is the federal job board, FedsHireVets is the driver behind the government's push to recruit and employ vets. In accordance with the Executive Order 13518, Employment of Veterans in the Federal Government, the Veterans Services Office was created to "increase the number of veterans, transitioning military service members, and their families employed and retained in the civil service."
One way that's done is by offering—you guessed it—Veterans' Preference, which falls under three types:
Disabled (10 point preference eligible)

Non-disabled (5 point preference eligible)

Sole survivorship (0 point preference eligible)
To receive the Disabled 10 Point Preference, you need to prove a service-connected disability or be a Purple Heart recipient.
To receive the Non-disabled 5 Point Preference, your active duty service should meet ONE of the below:
Between April 28, 1952 and July 1, 1955, or between August 2, 1990 and January 2, 1992

More than 180 consecutive days (other than for training), any part of which occurred from January 31, 1955 to October 15, 1976, or between September 11, 2001 to August 31, 2010

"In a war, campaign or expedition for which a campaign medal or badge has been authorized"
The Sole Survivorship doesn't offer points, but it still lists you "ahead of non-preference eligibles with the same score on an examination, or in the same quality category." It is a less frequently used category applying to the surviving child who separated from the military after a parent or siblings were killed in the line of duty.
The Department of Labor's Veterans' Preference Advisor can help you determine which category you may fall under, if it is uncertain.
Claiming Veterans' Preference points is very simple. You'll just need to upload your DD Form 214, Certificate of Release or Discharge from Active Duty, or other release document. Sometimes simply called the DD-214, this document is typically issued to virtually any veteran released from service after the 1950's. If for any reason you do not have a copy, you may request one from eBenefits. Register for a free, premium account then find the "Manage Benefits" tab, go to the Military Personnel File (DPRIS) link, and submit your request.
Note: to request the full 10-point Veterans' Preference, you'll also need to fill out and submit a short SF-15 form. That's all there is to it!
Veteran's Recruitment Appointment and Special Hiring Authorities for Veterans
Applying your Veterans' Preference points to help get an edge is easy. But don't forget, there are other ways your veteran status can help you with getting a federal job!
One is called the Veterans Recruitment Appointment (VRA). This lets agencies "non-competitively appoint an eligible veteran" to a certain job. To qualify, you must meet ONE of the following:
Served during a war

Received a campaign badge for service in a campaign or expedition

Are a disabled veteran

Received an Armed Forces Service Medal

Separated from the military within 3 years, under honorable conditions
Qualified applicants may be appointed under the VRA all the way up to GS-11! After two years, these jobs convert to competitive service, unless onboarded to fill a temporary vacancy for just one year.
The 30% or More Disabled Veteran authority is a good way to get your foot in the door, because it also allows agencies to non-competitively select qualified veterans… but only for temporary jobs longer than 60 days but less than a year.
The Veterans Employment Opportunities Act of 1998 (VEOA) is one more way to get preference eligibles for "certain positions announced under an agency's merit promotion procedures." Essentially it lets certain vets apply for jobs which would otherwise only be open to current or prior employees.
As you can see, there are many ways your veteran status can help you get ahead of the pack. So what are you waiting for? Head on over to USAJOBS and start looking for your exciting next career as a federal employee!
READ NEXT
11 of the Most Dangerous Jobs in the U.S. Military
$100k Security Contracting Jobs for Veterans
Top 25 Hot Jobs for Veterans 2018

Contributing Authors
2019-07-30T13:48:24-04:00