This is a great era to be a military veteran! Those who stay in for twenty or more years earn a decent retirement pension, which kicks in immediately. And all vets earn experience which translates into solid bullets for their civilian résumé, so they can launch a new career after getting out.
But there's an entire category of veterans which often get overlooked—Military Working Dogs.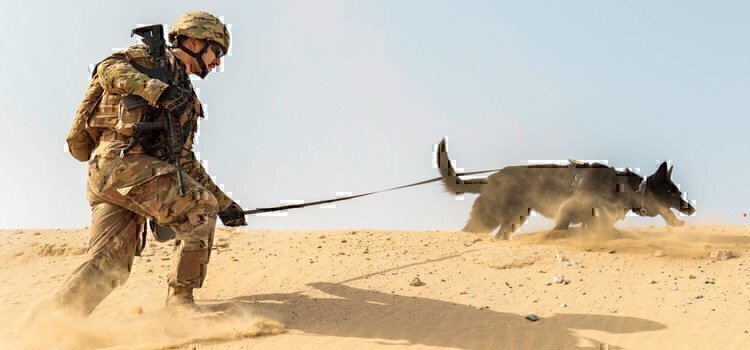 The Life of a Military Working Dog
Military Working Dogs (MWDs) are trained by the 341st Training Squadron at Joint Base San Antonio-Lackland, Texas. They typically serve their country for 7 to 10 years, often in hazardous deployed locations. The average lifespan of a dog is 9 to 13 years, thus MWDs spend most of their lives working as highly-trained bomb and drug detectors or for search and rescue ops. The value of these dogs is measured not only in the lives they save, but also in dollars. Literally, "a fully trained military dog costs about as much as a small missile," according to Bloomberg.
And yet, up until quite recently, not all retirement-ready MWDs were brought back from deployed sites. Per the Washington Post, this changed in 2016, when the Defense Department budget bill ensured funding so that all MWDs could be brought home.
But unlike other vets, they don't always come home to the same family, and may shuffle from one handler to another. When they finally do get to retire, many spend their last years suffering from injuries and stress as they wait to be either adopted… or put down.
The majority of MWDs are transferred into police service if they are still capable of working, thus deferring their well-earned retirement even longer. Per Title 10 US Code 2583, law enforcement agencies actually get first dibs, before the dogs are then offered up for adoption by prior handlers. If no work or home is found, these worn-down heroes are put up for adoption by the general public.

Mission K9 Rescue Steps In
Interest in the plight of these canines has reached a high point. Mission K9 Rescue is one nonprofit group in the Houston area that's been making strides in finding homes for those dogs which are in the most need for adoption. And they've got their task cut out for them!
Not only does Mission K9 Rescue seek out new homes, but they also help rehabilitate dogs suffering from anxiety and stress, who may no longer want to socialize (which makes it harder to put them up for adoption). They also treat injured dogs, help reunite dogs with former handlers and rescue dogs which have wound up in unsuitable environments.
Helping to promote Mission K9 Rescue's services is the US War Dogs Association, Inc., an organization dedicated to honoring the heritage of MWDs and other service canines throughout history. MWDs have served in every major conflict since WWII. In fact, the 102nd Infantry Regiment used the services of "Sergeant Stubby" to aid in enemy detection during World War I. Since the days of Stubby, tens of thousands of MWDs have worked alongside service members, with thousands giving their all to save others. Today there are roughly 2,500 active MWDs, with ~700 deployed around the world, according to Barkpost.com.
For MWDs who are medically retired, too old to continue or who are otherwise unfit to continue service, adoption is the only option to save these war heroes from euthanasia.

Want to Adopt?
You can learn more about Mission K9's adoption policies and fill out an online application here. However, their site specifies that they typically offer placement for Contract Working Dogs at the moment, which are not government-owned. They do re-home MWDs when those dogs become available. Also, they put emphasis on the fact that their dogs are retired, and cannot be certified as service dogs "for any purpose."
Save-A-Vet, based in Illinois, is another resource for saving retired MWDs, and their bio page lists dogs they have rescued. You can check out their Frequently Asked Questions to learn more about their work, however they do not offer direct adoption service. Instead they direct visitors to contact Joint Base San Antonio-Lackland.
You can email the 341st Training Squadron's Adoption Disposition Coordinator at: MWD.Adoptions@us.af.mil.
To learn more about MWDs, visit the US War Dogs Association's page dedicated to the various types of "war dogs" and their unique mission capabilities. If adoption isn't in the cards for you, you can still opt to donate funds to their various causes or to War Dog Memorials around the nation. Mission K9 is also taking donations for their 2019 Operations Fund. Check it out, and make a difference in the life of an unsung veteran hero today!
The appearance of U.S. Department of Defense (DoD) visual information does not imply or constitute DoD endorsement.
READ NEXT
11 Things to Keep You Occupied & Productive During Quarantine
7 Movies to Watch While Quarantined
22 of the Funniest Things Drill Instructors Have Ever Said