Today, G.I. Jobs launches an honor that recognizes Influencer of the Month within the veteran space: Welcome Vincent "Rocco" Vargas!
These are veterans who are highly engaged in social networks and are using their extensive influence to help America's military, veterans, and their families excel in the civilian sector. I introduce our Veteran Influencer of the Month Vincent "Rocco" Vargas! Welcome Vincent to the G.I. Jobs family! Let's get into his amazing story. Read below to learn more about our Influencer of the Month and watch his awesome video interview below!
Vincent Vargas, or "Rocco" as he is known in the veteran community, is truly a man with endless talents. Many others know Vincent as "Gilly" from Mayans M.C., where this tough MMA fighter is fiercely loyal to the community he rides with. But outside of his acting career and military service, Vincent is a dedicated family man, entrepreneur, taco lover, and much more.
Starting as a Ranger
Rocco joined the Army in 2003 at age 23 after going to college and starting a family. He signed a contract as an 11X (Ranger Regiment). His preparing for a life in Ranger Battalion would changed his world forever. He left for Basic Training and Airborne School. Vincent later was sent to RIP (Ranger Indoctrination Program). He struggled to pass his written test for the program but successfully did on the second round. After entering the program and attending ranger school, he deployed once to Iraq and twice to Afghanistan before leaving active duty in 2007. He transferred into the Reserves and joined the U.S. Border Patrol conducting missions and rescue operations as a medic in a Border Patrol Tactical Unit.
Vincent was leaving active duty and like many, has been transparent about struggles that followed his journey. Ranger operations like all SOF units require an immense amount of dedication. Rocco like many in these units could see that work/life balance was hard on him. After the loss of a few close friends in his Platoon, he decided to leave the Rangers and transition out of the military and into the civilian sector. With this transition came a drinking habit that continued down an unhealthy road that later he addressed through counseling. Vincent attributes his success today by seeking the help he needed during those trying times.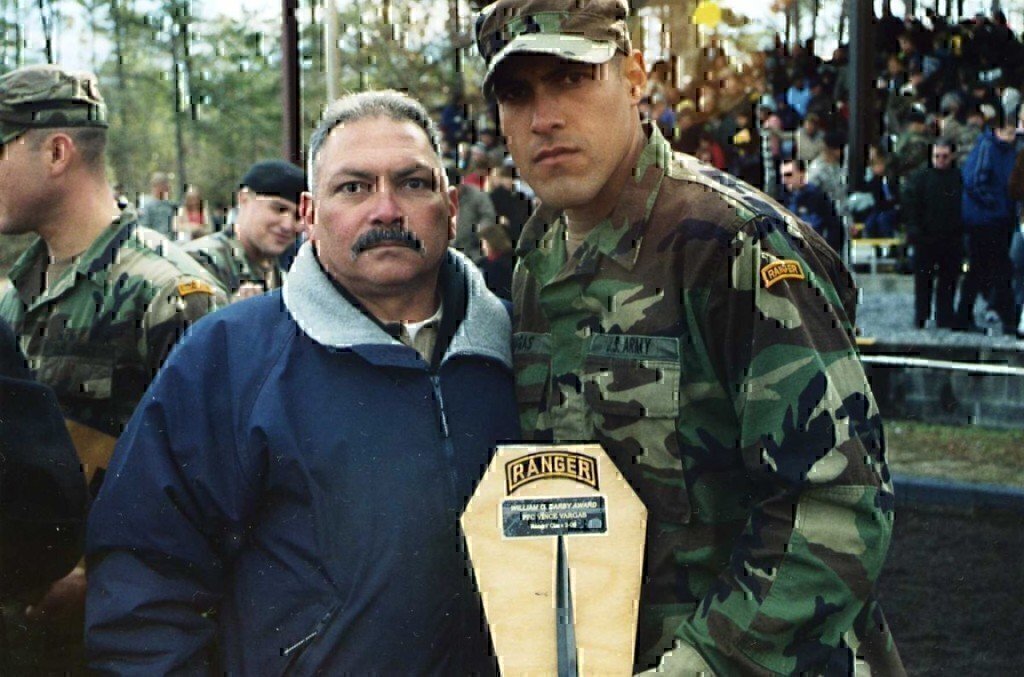 Veteran to Entertainment
Vincent made his way into the entertainment world after reconnecting with a Ranger buddy (one of our prior Influencers) Mat Best, and started this hilarious veteran clothing brand, Article 15 clothing. After starting this business and working on creative content through YouTube, he felt excited to be on film as these passions continued to grow. During the production of the movie Range 15, Vincent knew that entertainment was going to play an important role in his future. From YouTube, Range 15, Dads and Parks, and even an independent short film, Vincent was working hard toward his dreams. These projects combined essentially turned into his demo reel and later an opportunity to star in Mayans M.C. after completing a successful audition.

Acting for Vincent is what he describes as therapy for himself. He is a man that has grown from kicking in doors to memorizing lines on a camera. This is a challenge he embraces every day. To portray a character for an audience is more thrilling than anything he has done before, and he encourages veterans to consider acting in some capacity. Beyond personal satisfaction, he continues to embrace other veterans who look toward his journey. Just like any transition event in life, Vincent tells military members to prepare for each step of this journey through the good and the bad. Vincent helps veterans both on and off camera with his personal projects on the side.
A Life With Dedication
Today, Rocco has developed a life he loves from passion projects to businesses, and everything in between. Companies he is involved with include Beard.com, Warfighter Tobacco, and of course LeadSlingers Whiskey. He has also dedicated time to the non-profit Hero Sports as one of the Founders to bring the community closer together and build that comradery that many veterans miss leaving the service. And of course… the Vinny Roc Podcast where he talks about his experiences with guests and family!
Rocco's final advice he gives us all in the veteran community is to never hold onto the title "veteran" as a limiting factor. The hard work we pose, the ethics we show, and the dedication to our nation is the upper hand we all have deep down. He shows these skillsets as bigger than the title "veteran" and the work still needs to be put in. That we as veterans have proof that no matter what, we can achieve greatness through adversity. Rocco has dedication you truly only learn in the military. If anyone can succeed to the degree Rocco has, there is no MOS that was the factor for doing so.
Make sure to follow Vincent Vargas on Facebook and Instagram AND watch the full video interview above to see updates as he starts filming for Season 2 of Mayans M.C.
READ NEXT
In the Spotlight: Our Newest Military Team Member
6 Veteran Influencers to Follow in 2019