The past few years have made for interesting times in the employment world. Major world events have caused the talent market to make tremendous shifts on who people work for, where they work, and what's important to them in their work environment. For years, "no opportunity for advancement" and "pay"  have been leading markers for employee turnover and retention issues in the workplace, but now what seems to be the most important to the workforce is stability, predictability, and purpose according to a 2021 study, "How COVID-19 affected the quality of work."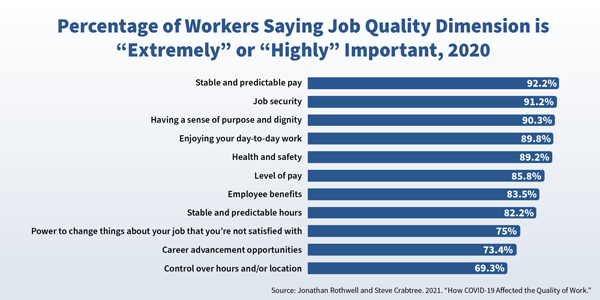 Is your company focused on company culture, purpose, or stability? 
A sense of purpose in the workplace can come from various sources. It doesn't necessarily mean that your organization's mission has to be a philanthropic mission.
Let's think a little outside the box, recent world events caused employers to shift from traditional environments. Many companies have expanded their remote work opportunities. Now, employees are more reliant on digital tools and they have less separation between work and home. The impact has been different for each employer and we can not lose sight on how this could create impact employees needs.
Because of the impact the shift has had on us, we want to look at ways companies can improve their employees sense of purpose.
Purpose or belonging in the workforce can stem from personal connections within peer groups. Also, many workplace connections are created based on cultural, experiential, or intellectual connections. As an employer, you should consider exploring diversity pockets in your workplace and finding volunteer opportunities for your employees to bond and create relationships. These groups or activities should offer a purpose and form a connection to your company and community. 
Findings on Employee Retention And Marketing Recruitment Effectiveness Based on Military Friendly Employers
According to the 2022 Military Friendly Employers Survey, companies with strong outreach efforts, support networks, and volunteer opportunities for their diverse workforce tended to have stronger retention outcomes
Military Friendly Employers have an average of 86% retention rate for their military employees compared to a 73% average retention rate for non military employees. On top of the high retention, Military Friendly Employers have seen an an average of 20% of their total company promotions and advancements for the year come from their military employees.  
If we look at the data, we can see what programs and services are offered by Military Friendly Employers (MFEs) that have stated that their veteran retention is greater than the general population.
76% of MFEs have specialized training for employees that educates them on the unique needs of military employees.
83% of MFEs have an Employee Assistance Program (EAP) that addresses and supports the military community.
Does your company offer specialized training for employees on the needs of military employees? Do you have strong support networks at your organization? Are there volunteer opportunities that can help form these connections? Having this programs and opportunities helps give employees a sense of purpose, which helps your overall goal of employee retention.
How Employers Are Marketing To Recruit Talent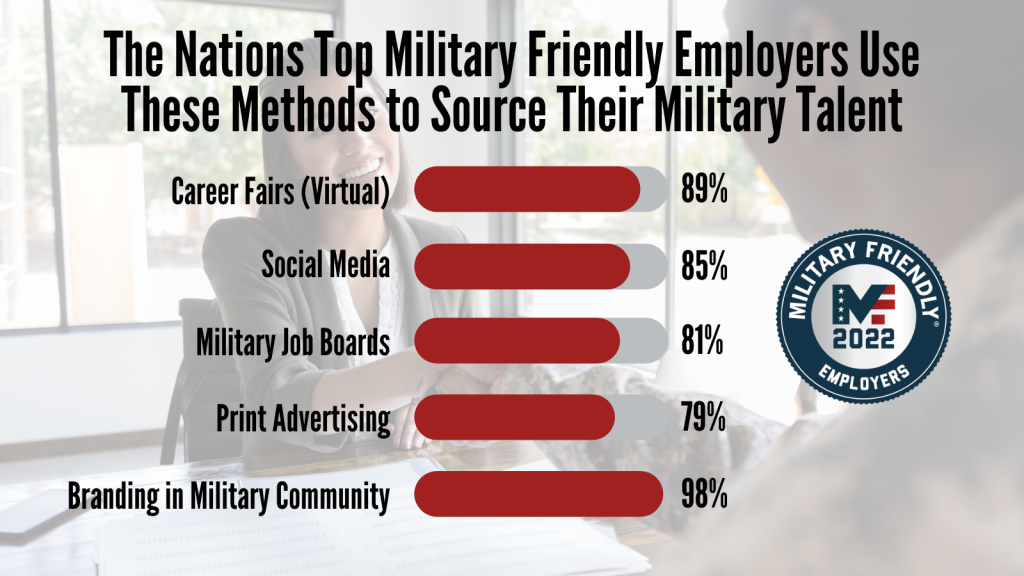 You're doing your best to retain your employees, but you still need to hire new talent. Military talent can be hard to find. It's important to understand what companies who have seen success are doing. Not only did the Military Friendly Employers have higher retention, but they also had more success in their recruitment efforts.
Let's check out how some of the top military Friendly employers source their talent.