This Marine's biggest challenge was finding purpose as a civilian. You can learn from his civilian transition.
Growing up on a small island in the Pacific Northwest, Ryan Hough yearned to see the world. When he entered the US Naval Academy in 1996, he had no idea his class would bear the heaviest burden of the Global War on Terror.
About Marine Corps Veteran Ryan Hough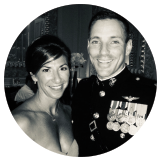 Ryan Hough
Sr. Customer Advisor, Amazon Business Strategic Accounts
Amazon
Location: Virtual/Remote
Age: 45
Military Service: Major (0-4), Marine Corps (2000-2015)
MOS: AV-8B Harrier Pilot (7509)/Forward Air Controller (7502)
Post-Secondary Education: Bachelor's Degree, history, US Navy Academy. Master's degree, military studies, Marine Corps University.
Finding Purpose in the Civilian Transition
Many adventures later, Hough transitioned to the civilian workforce—first in construction, then in sales at Amazon. Fear of failure nagged him. What if he couldn't provide for his family? The biggest challenge, as it turned out, was leaving behind the mission.
"If I didn't show up tomorrow, it wouldn't matter. While the relationships and roles in civilian employment can be enriching, there isn't the deep sense of service like when I was a Marine," Hough said. "I have found purpose by giving time to veteran hiring causes, coaching my sons and volunteering in my community."
We asked Hough a few questions about his career and his best advice for you.
How The Military Helped Hough Through the Civilian Transition
What do you do? I manage Amazon Business's relationships with some of the world's largest companies. The role is considered sales, but from my lens I am a problem solver. Identifying customer needs and requirements and using the power of Amazon to deliver solutions. 
How does your military experience help you? My military career has given me the range to be a generalist, able to quickly learn and solve complex problems.
My successful transition to civilian employment is owed to my first boss, a former West Point Army Ranger. As McKinstry's COO, he believed in me. He was able to read my "Marine crayon" and translated my military experience.
He basically developed a role to help me fulfill my 4 P's (pride, purpose, people and paycheck) for a rewarding transition into civilian employment.
What do you love about your current job? When you are in a customer facing role, you are at the tip of the spear. I get to build relationships with great customers, solve their problems and avoid much of the internal churn that all companies require to deliver. 
What mistakes would you urge transitioning service members to avoid? Some veterans think they have it figured out, so they are blinded by clarity … only to discover 6-12 months later that they aren't happy. This is why over 63% of veterans leave their first role in year one. Embrace the unknown and accept the fact that you don't have it figured out.