In the military we often hear about "wants" and "needs." This flexible decision-making tool can help in virtually any situation, though—even when deciding where to live and work. We may want to live in one area, because of the weather, proximity to relatives, etc. But we need to work where we can find a good job!
What constitutes a place where one can find a good job? It's relative to the type of work you're after, naturally. But there are some general overarching guidelines we can use to analyze the best cities for job seekers.
Which cities host the best companies offering the best salaries?

Which of these companies are looking to hire veterans?

Which cities have strong ties to the military (making transition to civilian life easier)?
Research suggests the best spots are scattered throughout the nation, which is great! This allows us to sprinkle in some geographic diversity. So let's get on the road and find where the 5 Best Cities for Veteran Job Seekers in 2019 are!

Dallas-Fort Worth, Texas
Oh, yes, Texas loves their veterans! And who doesn't want to live someplace where they are appreciated? The sprawling Dallas-Fort Worth metroplex may not be "vet central" like some of our upcoming options, but in this part of the country, military and ex-military are treated like family. This is precisely why the DoD works so closely with Texas contractors like Lockheed Martin, which are always on the lookout for new talent!
The Pentagon pumps billions of dollars in defense spending into the coffers of these companies. It's a lucrative but competitive industry, so they've made it their business to understand the needs of the Armed Forces and supply those needs… maybe with your help!
Having former military members on the team helps them meet their objectives. And if you're not interested in working for that specific industry, there's roughly 10,000 other civilian companies in the Dallas – Fort Worth area which also want to hire someone with your talents! Meanwhile, nearby bases with job opportunities include Naval Air Station Fort Worth and, a little further out, Sheppard Air Force Base and Dyess Air Force Base. Housing prices are jumping, so now's the time to get in before you get priced out!

San Diego, California
A true beehive of military activity, San Diego and the surrounding area is a fantastic place for vets to nestle in. Military members often miss the camaraderie they enjoyed during their time in service. But you won't miss a thing in this beachfront part of sunny California, which is jam-packed with federal and civilian job opportunities waiting to onboard ex-military personnel.

The area has a long military heritage and is laced with a tight network of vets from every branch of service, which always helps make job hunting run smoother. The usual barriers of translating military skills into civilian terms are less of a problem when everyone speaks the same "lingo."
Home to Marine Corps Air Station Miramar, Marine Corps Base Camp Pendleton, Naval Base Coronado, Naval Base Point Loma, Naval Base San Diego and USCG Station San Diego, the Greater San Diego area is firmly entrenched in our list of hot pick cities for veteran job seekers. And there are many affordable suburbs to rent or buy, such as Santee, Imperial Beach, Escondido, Oceanside, Chula Vista and El Cajon to name a few.

Tucson, Arizona
Tucson has it all! A balanced blend of defense contractor behemoths and aerospace titans such as Boeing, General Dynamics, Honeywell, Raytheon and Aerovation… combined with low-cost housing in a beautiful area with renowned sunny skies! The city consistently ranks as one of the healthiest places to live, due to a climate conducive for outdoor activities, not to mention the clean air!
"Old Pueblo" also hosts Davis-Monthan Air Force Base, Navy Operational Support Center (NOSC) Tucson, Air National Guard and less than two hours away in Phoenix is TriWest Healthcare Alliance, another major employer of veterans! According to University of Arizona's Economic and Business Research Center, the city is primed for a "significant acceleration in job growth" for 2019, making this the perfect time to get in.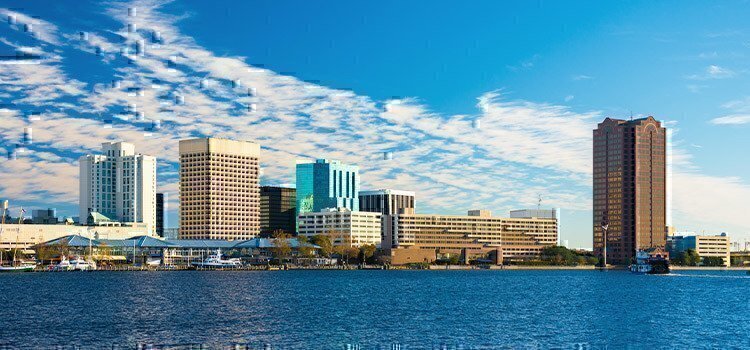 Hampton Roads, Virginia
Okay, we cheated. Hampton Roads consists of Norfolk, Virginia Beach, Chesapeake, Portsmouth, Newport News, Hampton and Suffolk! It's no surprise that this area is a nexus for the military-industrial complex. And between Joint Base Langley-Eustis, Naval Station Norfolk and Naval Air Station Oceana, there are plenty on-base civilian jobs! Seriously, it's almost to the point that you can't cross the road without tripping over a military installation, defense contractor or DoD agency of some sort.
Indeed, the area is an alphabet soup of other governmental agencies as well, including NASA, Department of Agriculture, Department of Commerce, Department of Energy, Department of Homeland Security, Department of Labor, Department of Transportation, Department of Veterans Affairs, the Government Accountability Office, General Services Administration… the list goes on and on!
That's good news for service members looking to transition into the civilian workforce… especially when you factor in their cultural affinity for hiring vets! With your background and experience—and for federal jobs, your veteran's preference points—you can never go wrong working in the seven-city region of Hampton Roads, Virginia. Parts of the area have higher median home prices, but then again many of the jobs vets qualify for pay better, too.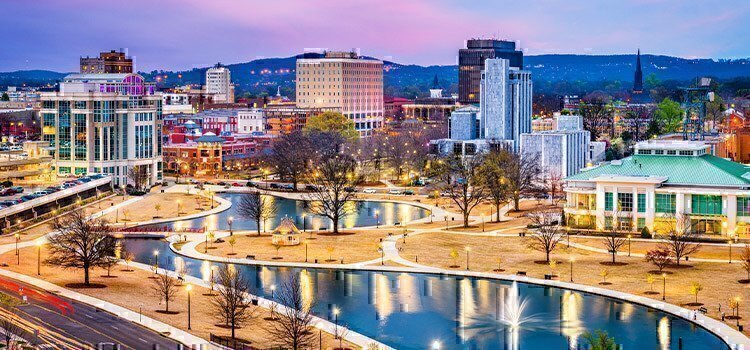 Huntsville, Alabama
"Rocket City" is home to literally dozens of federal agencies and defense contractor companies, thus securing Huntsville a spot on our list for best cities for veteran job seekers.
Space, missile and aviation tech leads the way, but there's plenty of fish in this sea for former military members wanting to put their experience to work. Perhaps you've heard of some of them: Lockheed Martin, Boeing, BAE Systems, Raytheon, General Dynamics, Northrop Grumman, Airbus, UTC Aerospace Systems, Leonardo DRS and L-3 Communications.
Military presence is strong as well, with many large and small units in the area, including the Army Space & Missile Defense Command and Army Combat Capabilities Development Command Aviation & Missile Center (formerly AMRDEC). So, as with all the cities on our list, there's no shortage of military and ex-military living, working and playing around town, which we consider a very important factor when considering where to reside after transitioning out of the service.
The Pew Research Center published the results of a study on veteran transition, showing that a whopping 44% of vets who served within the ten-year period after 9/11 reported difficulty with re-entry into civilian life. And we all know that many vets aren't going to complain anyhow, so the numbers could be significantly higher.
Many veterans don't realize the changes they've gone through during their time in the military. But those changes do occur, and the differences often only become apparent after leaving and being fully immersed back into the civilian world. Being around civilians with similar backgrounds, people who have been in the Army, Navy, Air Force, Marines or Coast Guard, makes the transition much smoother. So learn from those who've gone before you! Find a spot where you have the support you need, both professionally and personally, by sticking with a vet-friendly city.
READ NEXT
11 of the Most Dangerous Jobs in the U.S. Military
$100k Security Contracting Jobs for Veterans
Top 25 Hot Jobs for Veterans 2018