Just two weeks after American forces landed at Normandy on D-Day, Jack Leroy Tueller, one of those Americans, was taking sniper fire with the rest of his unit. Tueller played the sniper a beautiful song from his trumpet.
He was orphaned at age five, but before World War II, Jack Tueller would play first-chair trumpet in the Brigham Young University orchestra. After going to war as a pilot, his trumpet skills would serve him well, along with at least one German soldier and both their families.
Jack Tueller served in the Army Air Forces in the European Theater, flying more than 100 combat missions in a P-47 Thunderbolt. He earned the Silver Star and the Distinguished Flying Cross, among others. After the war, he became a missilier in the newly-formed U.S. Air Force and would serve in Korea and Vietnam as well. But his most memorable military moment would always be a night in Normandy when the power of music risked — and saved — his life.
It was a dark, rainy night in Northern France when then-Capt. Tueller decided to play his trumpet for everyone within earshot. The only problem was that not everyone in the area would be very receptive to a song in the dead of night — especially not the sniper trying to shoot him dead.
Capt. Jack Tueller in 1943.
That wasn't about to deter a man like Tueller, who took his trumpet on every combat mission. If he was ever shot down, he wanted to use it to play songs in the POW camps.
Tueller had been grounded for the night. His unit already cleared most of the area of snipers, but there was one left. Tueller's commander told him not to play that night because at least one sniper was still operating in the area. The sniper had a sound aimer, which meant he didn't have to to see his target, only hear it.
But the pilot insisted. He needed a way to relieve his own stress. His commander told him, "it's your funeral."
(WeDoitfortheLoveofMusic.com)
Jack Tueller thought to himself that the sniper, suddenly being on the losing end of World War II in Europe, was probably as scared and lonely as he was. And so he decided to play a German love song on the trumpet, Lili Marlene, and let the melody flow through Normandy's apple orchards and into the European night.
The airman played the song all the way through and nothing happened.
Listen to Tueller, who would live on to be a Colonel in the Air Force after the war, play his version of the tune in the video below (58 seconds in).
The very next morning a U.S. Army Jeep leading a group of captured Wehrmacht soldiers approached Tueller and his cohorts. The military policemen told Capt. Tueller that one of the POWs, who was on their way to England, wanted to know who was playing the trumpet the night before.
The captured German, just 19 years old, burst into tears and into the song Tueller played the night before. In broken English, the man told Tueller he thought about his fiancée and his entire family when he heard his trumpet — and he couldn't fire. It was the song he and his fiancée loved and sang together. The man stuck out his hand.
Captain Jack Tueller shook the hand of his captured enemy.
"He was no enemy," Tueller says, looking back. "He was scared kid, like me. We were both doing what we were told to do. I had no hatred for him."
Jack Tueller died in 2016 in his native state of Utah at age 95, still playing the same trumpet he carried on all of his World War II air sorties.
This article originally appeared on We Are The Mighty
More From We Are The Mighty
5 Reasons Why Troops Stick Together After the Military
4 Reasons Why Showering On Deployment is Disgusting
7 of the Greatest Songs Every Veteran Knows
6 Things You'd Take Back Before Leaving the Military
6 Dumb Things Veterans Lie About on the Internet
Follow We Are The Mighty on Twitter
READ NEXT: A DAY IN THE LIFE OF A CHOPPER PILOT IN VIETNAM

Summary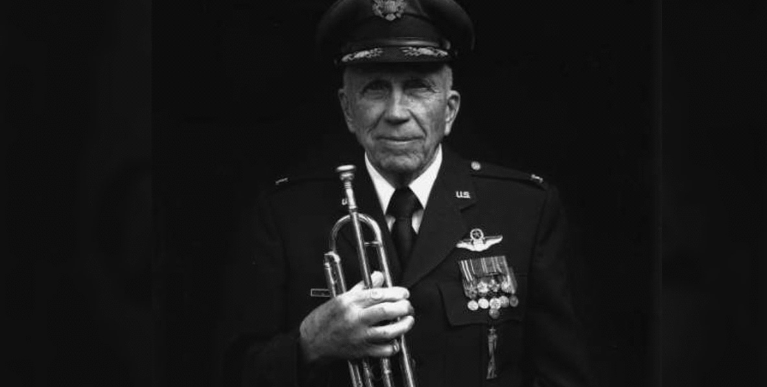 Article Name
This WWII Vet Played a Song for the Sniper Trying to Kill Him
Description
This is the story of Jack Leroy Tuller, and Army pilot and trumpet player who once played a song on his trumpet for a sniper who was trying to kill him.
Author