In 1916, an American poet, Harvard graduate, and soldier of the French Foreign Legion was killed while attacking in the first wave at Belloy-en-Santerre, part of the opening of the Battle of the Somme. Alan Seeger had written a prophetic poem that would be published a year later titled, I Have a Rendezvous with Death.
Alan Seeger as a young Harvard student. A few years after this photo, he would join the French Foreign Legion.
The young Seeger graduated from Harvard in 1910 where he studied with poetry legends like T.S. Eliot. He spent two years living the Bohemian life in New York City's Greenwich Village, crashing on couches and living off friends' generosity. But New York didn't live up to his expectations and, in 1912, he departed for Paris.
The City of Lights filled him with admiration despite the large amount of misery that came with living in crowded and filthy quarters in the city. When war broke out between Germany and France, Seeger joined the French Foreign Legion to protect his beloved city.
The young Seeger was a fatalist and romantic, and he wrote a number of poems that glamorized the idea of dying in war, especially for his adopted country.
Alan Seeger as a legionnaire.
After training, Seeger was sent with others to the front where, in June 1916, the French were tasked with assisting the British attack a few days into the Battle of the Somme.
Seeger took a spot in the first wave of his unit's attack and wrote a letter to a friend where he wrote of his gratitude for the assignment.
"We go up to the attack tomorrow. This will probably be the biggest thing yet. We are to have the honor of marching in the first wave. I will write you soon if I get through all right. If not, my only earthly care is for my poems. I am glad to be going in first wave. If you are in this thing at all it is best to be in to the limit. And this is the supreme experience."
Soldiers waiting for H-Hour during in operation in the Battle of the Somme.
But time passed without the men being ordered forward. On July 4, they were told that general offensive was about to begin, but they would only be in reserve.
Then, a few hours later, a voice called out. "The company will fall in to go to the first line."
Seeger fell in with the troops front and center. A friend on the left wing later described what he saw.
The Battle of the Somme and its overall campaign cost over 1.5 million lives.
Two battalions were to attack Belloy-en-Santerre, our company being the reserve of battalion. The companies forming the first wave were deployed on the plain. Bayonets glittered in the air above the corn, already quite tall.
The first section (Alan's section) formed the right and vanguard of the company and mine formed the left wing. After the first bound forward, we lay flat on the ground, and I saw the first section advancing beyond us and making toward the extreme right of the village of Belloy-en-Santerre. I caught sight of Seeger and called to him, making a sign with my hand.
He answered with a smile. How pale he was! His tall silhouette stood out on the green of the cornfield. He was the tallest man in his section. His head erect, and pride in his eye, I saw him running forward, with bayonet fixed. Soon, he disappeared and that was the last time I saw my friend. . . ."
I Have a Rendezvous With Death
I have a rendezvous with Death
At some disputed barricade,
When Spring comes back with rustling shade
And apple-blossoms fill the air—
I have a rendezvous with Death
When Spring brings back blue days and fair.
It may be he shall take my hand
And lead me into his dark land
And close my eyes and quench my breath—
It may be I shall pass him still.
I have a rendezvous with Death
On some scarred slope of battered hill,
When Spring comes round again this year
And the first meadow-flowers appear.
God knows 'twere better to be deep
Pillowed in silk and scented down,
Where love throbs out in blissful sleep,
Pulse nigh to pulse, and breath to breath,
Where hushed awakenings are dear…
But I've a rendezvous with Death
At midnight in some flaming town,
When Spring trips north again this year,
And I to my pledged word am true,
I shall not fail that rendezvous.
This article originally appeared on We Are The Mighty
More From We Are The Mighty
5 Reasons Why Troops Stick Together After the Military
4 Reasons Why Showering On Deployment is Disgusting
7 of the Greatest Songs Every Veteran Knows
6 Things You'd Take Back Before Leaving the Military
6 Dumb Things Veterans Lie About on the Internet
Follow We Are The Mighty on Twitter
READ NEXT: WHY VETERANS TAP THEIR DRINK ON THE BAR DURING A TOAST

Summary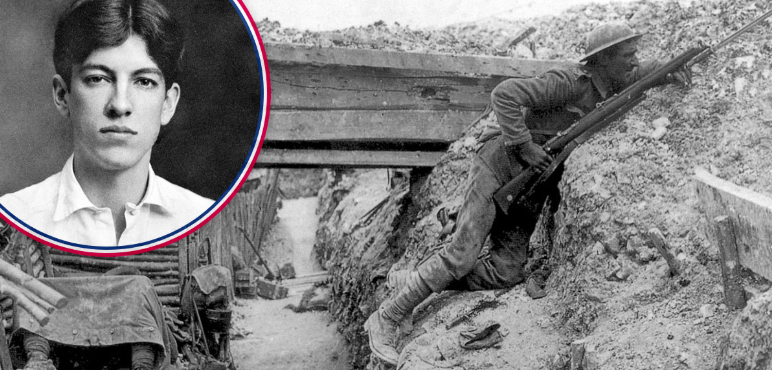 Article Name
World War I Soldier Wrote a Poem Foreshadowing His Own Death
Description
Alan Seegar famously wrote his poem, "I Have a Rendezvous With Death" about his time serving in the French Foreign Legion during World War I. The Poem foreshadows his own death.
Author