Center for Women Veterans champions women veterans to ensure they get the VA benefits they've earned. G.I. Jobs asked the executive director of the VA center for her thoughts on the Center for Women Veterans.
Why This Female Veteran Took A Stand
When Lourdes Tiglao came to the United States at 10 years old, she understood English but wasn't confident speaking it. She wondered how she would ever learn the language well enough to succeed in the academic system. Fast forward several years, and she was raising her hand to serve in the US Air Force.
There, she faced another obstacle. Lourdes was told she was too short to serve and would need a waiver to do so.
"In that sense, I'm thinking, 'Am I not enough to be able to serve this country?'" she said. 
Despite her nearly 12 years of honorable service, which included multiple deployments and becoming a naturalized citizen of the country for which she fought, the question of whether she had done enough was still at the forefront of her mind when she left the service. That line of thinking led her to her current role.
Now, as the executive director at the US Department of Veterans Affairs (VA) Center for Women Veterans (CWV), she gets the opportunity to answer that question for other women veterans. And the answer is a resounding YES. 
"This is why the center exists," she said. "We advocate for women's voices to be heard and for them to become more comfortable with their service. They have done enough, they are enough."
How The Center for Women Veterans Helps Women Use Their VA Benefits
Veterans account for just 7% of the US population.1 Of those approximately 18 million people, only 9% are women, about 2 million. Of those, only a quarter use their Department of Veterans Affairs (VA) benefits.
The Center for Women Veterans was founded in 1994 to address the disparities women face in obtaining services and accessing programs.
Specifically, the center is responsible for:
Monitoring and coordinating the VA's administration of healthcare, benefits, services and programs for women veterans.
Serving as an advocate for cultural transformation (within VA and in the general public) in recognizing the service and contributions of women veterans and women in the military.
Raising awareness of the responsibility to treat women veterans with dignity and respect.
In 2021, a landmark piece of legislation, the Deborah Sampson Act, made several provisions that helped to remove barriers for women veterans. A year later, the center is building upon the success of the bipartisan bill. In particular, they are conducting a study to examine the scope of the problem of intimate partner violence and sexual assault among veterans, which will be delivered to Congress this year.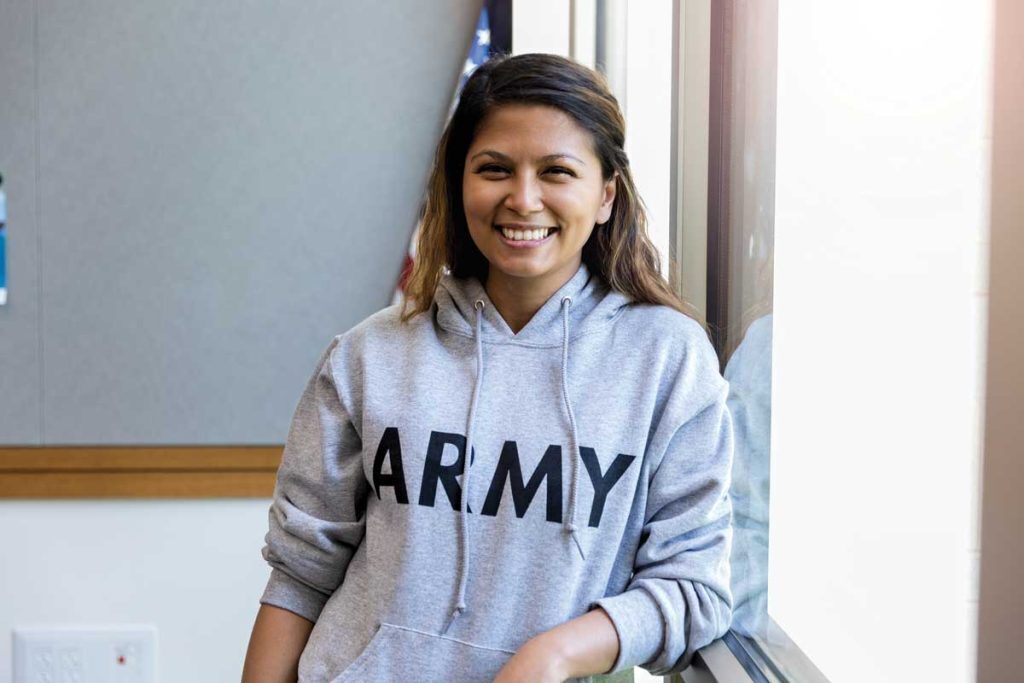 Service, Sacrifice and Separation are Different for Women
"For our women veterans who are survivors, they often are distrustful of the military and associated departments like the VA. This makes it very difficult for them to seek help at one of our facilities."

Lourdes Tiglao,
US Air Force Veteran
Women veterans have unique needs when it comes to women's health, and the VA recognizes those differences. They also face higher rates of homelessness and suicide than their male counterparts, which can be compounded by other stressors, like having sole responsibility for children. Military sexual trauma and post-traumatic stress disorder are also more prevalent among women and manifest differently in women than in men.
"For our women veterans who are survivors, they often are distrustful of the military and associated departments like the VA. This makes it very difficult for them to seek help at one of our facilities." Lourdes said.
"We try to overcome this hurdle with interpersonal work, trying to gain and restore our veterans' trust in our institution. It's one of the most important things we do to help women access the services they need."
Another aspect of military service that is different for women is the wear and tear on their bodies. Because much of the equipment the military uses is built for men, protective equipment like body armor can have muscular-skeletal impacts which can show up later in life.
Finally, the CWV is committed to ensuring the VA facilities are safe spaces for women veterans. The VA implemented bystander intervention training to ensure everyone who visits a facility feels empowered to intervene and/or report any instances of harassment or assault.  
Changing the Societal Norm
The CWV is not only concerned about helping women access the services they need. It goes beyond that into cultural transformation.
"One of the biggest hurdles our society has to get over is the stereotype that military and veterans are males," Lourdes said. "It's not just the responsibility of women or the CWV–it's the whole ecosystem."
To change this perception, the CWV works closely with other veteran-invested organizations to participate in outreach activities. They also hold various roundtables to address and identify the unique challenges of women veterans who are also part of other underserved intersectional identities, including racial/ethnic minorities, LGBTQ+ populations, and women veterans living in the territories.
Within the VA's facilities, women veterans will find portraits of military women adorning the hallways, showcasing trailblazing figures with their "I Am Not Invisible" campaign.
"It's important for women to see themselves in pictures, videos, interviews and other coverage to help change the broader societal stereotype," Lourdes said. "It's rare that we see women as the combat veteran. It's starting to change but there's more to be done."
Along with the portrait campaign, the CWV is also sharing written, oral, and videography stories and histories with the Library of Congress to ensure these stories stand the test of time.
You Are Enough
For those women who feel lost in the shuffle, or don't know where to get help and services, the center stands ready to assist.
"We are that voice for women veterans who reach out to us," Lourdes said. "It doesn't matter if you're a combat veteran, or if you only served for two years. You are a veteran, and you are enough."
Women veterans can learn more about the Center for Women Veterans at va.gov/womenvet. 
Are you a woman veteran who is not using VA?
If you are, VA wants to hear from you. Designed to help understand why women veterans are not
accessing their earned benefits and services, the Center for Women Veterans (CWV) recently launched a women veterans survey, which is completely anonymous and takes less than five minutes to complete. It is for any woman who served in the U.S. military but who is not using her VA benefits and services.
Take the survey here: survey.voice.va.gov/?cwv-women-veterans
Additional Resources for Transitioning Veterans
G.I. Jobs asked the VA everything veterans should know about VR&E benefits.
The Get Hired Workshop is a monthly G.I. Jobs webinar where top industry leaders share advice and tips to help veterans improve their job search.
The last Wounded Warrior Project survey found that Mental Health for Veterans is the Biggest Challenge for Wounded Warriors. Veterans experiencing a mental health emergency can contact the Veteran Crisis Line at 1-800-273-8255 and select option 1 for a VA staffer. Veterans, troops or their family members can also text 838255 or visit VeteransCrisisLine.net for assistance