So you've dropped your pack and now you're deciding what you want to do next.
If you're considering going to school, you may find yourself trying to figure out the different choices of schools there are to attend.
Choosing between private, local and state schools can be a difficult if you're unsure what school is the best fit for you.
Don't worry—we've got your 6. Check out the pros and cons of each below and you'll be better equipped to answer what type of college is right for you.
State Schools
PROS:
Plenty to do
State schools always have different activities and events happening each week. A big component of these schools is usually athletics and school spirit which can help you feel connected and engaged at your school.
Diverse courses
State universities often attract distinguished scholars as professors and therefore may offer a better overall academic experience and great connections for job opportunities after graduation. In addition, there is a wide variety of majors from which to select and many courses that are offered to help you choose what academic path is best for you.
CONS:
Small fish, big pond
Size can be an issue and sometimes students get lost in the crowd. Class sizes are usually too big for a professor to know your first name. It can be hard to really feel involved if there are so many other students.

Local Schools
PROS:
Cost of tuition
The most obvious reason that students attend community college is for the financial advantage. Many junior colleges cost less than two thousand dollars each semester to attend full time.
Time flexibility
If you want to work throughout your education, local schools give you the time flexibility to do so. Many students take part-time classes at community colleges, and even night classes, so they can continue to work while earning a degree.
Smaller classes
Smaller classes give you more of an opportunity to engage with the professor and build a relationship with the school. This can help with references and also the learning process can be easier since meeting with the professor after class is easier.
Transitional
Community college is a great place to transition to a bigger university while also getting your general education courses out of the way. Attending community school gives you the opportunity to earn college credit while taking the time to select the right college or university for you.
CONS:
Not many options
There are usually not many major options at a community college, so finishing at a local school with the degree you want can be difficult. It can also be hard deciding what path you want to choose for your education when your choices are limited.
Limited campus activities
While local schools do have organizations and clubs, there are often not as many students involved in campus life compared to a state or private school. There are also not as many activities happening on campus due to funding and participation and therefore social life is limited on these campuses.
Private Schools
PROS:
Excellent academics
At private universities, there is a lot of emphasis on hands-on education. The curriculum is usually very demanding and learning is the main focus. Like the professors at state universities, the instructors at private universities have impressive résumés and diverse backgrounds.
Engaged education
The students communicate closely with professors both in and out of class and the students themselves attempt to involve everyone in campus activities. Involvement in the student community is one of the keys to enjoying your college experience at a private college.
The classroom dynamic is much different at a private university than at a public school. Most students are entirely committed to their academic success. They participate actively in classroom discussions, complete coursework, and are fully engaged in the classroom culture.
CONS:
Cost of tuition
Tuition is very high at private universities and though the GI Bill will cover a majority of those costs, there are other costs to consider such as books, supplies and housing. You should make sure it is affordable before committing.
Demanding schedule
The heavy workload makes it difficult to balance extracurricular activities, a job and a social life at a private college. Consider these factors when looking into private schools.
READ NEXT
11 of the Most Dangerous Jobs in the U.S. Military
$100k Security Contracting Jobs for Veterans
Top 25 Hot Jobs for Veterans 2019

Summary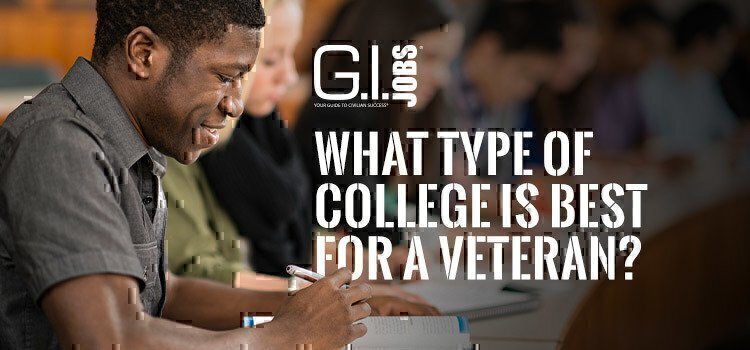 Article Name
What Type of College is Best for a Veteran?
Description
Author
Publisher Name
Publisher Logo