More than 6.7 million tickets have been distributed to Vet Tix members.
Veteran Tickets Foundation (Vet Tix) understands that our military members carry heavy burdens of stress and sacrifice. Many also spend time away from their families. It can take months or years for service members and Veterans to reintegrate. Veterans who experience challenges related to PTSD and other service-related disabilities could potentially be impacted for the rest of their lives. Thousands of families will forever grieve for their loved ones who have perished in service to our great nation.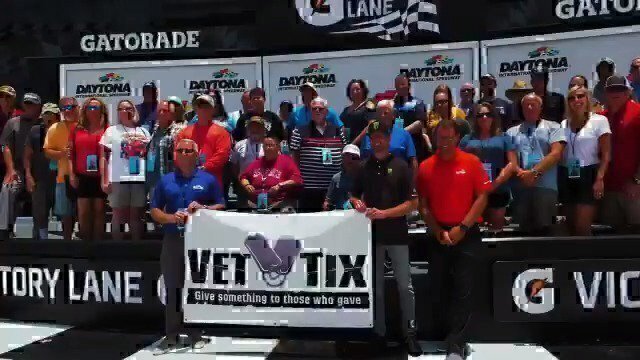 Veterans were given the VIP treatment through Vet Tix, spending time with NASCAR driver Kurt Busch.
Rest and leisure are of undeniable importance to a person's health and welfare. Our Founding Fathers declared the pursuit of happiness to be an inalienable human right.
To enrich our Veterans' quality of life and thank them for their service, Vet Tix provides free event tickets to currently-serving members of the military, Veterans (of all eras of service) and their families, as well as immediate family of those that have made the ultimate sacrifice while serving. These tickets are donated by organizations that include sports teams, concert promoters, entertainment venues and individual donors.
Veterans can help reduce feelings of stress and anxiety, rekindle relationships and reconnect with their community by attending entertainment events, shared interests and community activities. Vet Tix members do this by choosing available events in their local area that interest them and their family via daily email event notifications from Vet Tix.
We want to honor and support those that served and sacrificed so much in service to our nation. Sacrifices of serving, both mental and physical can stay with our Veterans the rest of their lives. Recognizing our Veterans and supporting their transition back into their communities and with their families is a gift of gratitude in which we all can take part in.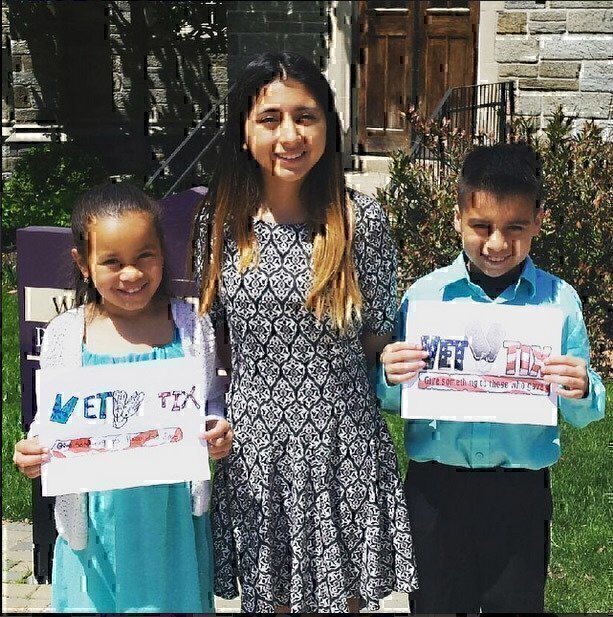 Some military kids are on their way to the Brandywine Ballet, courtesy of Vet Tix.
Vet Tix has grown to over 1.2 million members and continues to add new members every month. Over 6.7 million tickets have been distributed to our members and we are projected to distribute over 2.5 million tickets in 2019. Live Nation Entertainment, which is the largest donor and partner of Vet Tix, has donated over one million tickets to Vet Tix and continues to support our mission.
Importantly, Vet Tix has received more than 400,000 testimonials from Veterans, service members and their families describing the positive experience and impact on their family resilience and community integration as a result of attending events in their area through Vet Tix. We have received over 700 testimonials from individuals identifying themselves as experiencing Post-Traumatic Stress. They have shared their stories of success in addressing these challenges through attending events provided by Vet Tix.
Vet Tix is committed to helping put Veterans and service members (including Reserve and Guard) in empty seats at various games and so many other events across the nation. We are a 501 (c)(3) nonprofit that channels more than 95% of its revenues directly into programs. 100% of every dollar donated to Vet Tix goes to purchase additional event tickets.
To become a Vet Tix member, simply head to vettix.org and create an account for free. Once your service/status is verified, you will receive notifications and can submit requests for available event tickets to upcoming events in your local area. VetTixers request tickets to events that interest them, if randomly selected, pay a small delivery fee and receive their free tickets.
Steven Weintraub is Chief Strategy Officer of the Veteran Tickets Foundation (Vet Tix) and a Colonel in the U.S. Marine Corps Reserve.
This article originally appeared on VA.gov
READ NEXT
10 Jobs That Pay $100K Without a College Degree
5 Differences Between Army and Marine Corps Infantry
11 of the Most Dangerous Jobs in the U.S. Military