SPONSORED
Just North of New Haven, Conn., at the foot of the series of traprock ridges preserved as Sleeping Giant State Park and within easy commute of the bustle of New York City, lies a quintessential private university you may recognize from its respected history in political polling: Quinnipiac University.
CHECK OUT WHAT OPPORTUNITIES QUINNIPIAC HAS FOR YOU!
Known for its exactness and thoroughness, the Quinnipiac University poll is featured regularly in The New York Times, The Washington Post, USA Today, The Wall Street Journal and by national and global network news broadcasts like CNN and Reuters and is considered the gold standard.
For the 2017-18 survey cycle, Quinnipiac University is also the gold standard for Military Friendly ® Schools among private institutions offering programs through the doctoral level.
Exactness. Thoroughness. Purpose.
It is what you might expect of a university whose marketing class in 1988 gave rise to the most prolific, accurate and respected public opinion research center in the country. These traits perfectly describe the feel of the campus, the pace of growth and the framework of an evolving veterans and military student program. In many ways, these traits also reflect the transformation of the Military Friendly ® Schools program over the past several years.
EXACTNESS: Measuring Meaningful Outcomes
Military Friendly ® Schools know their veteran students and have access to those students in ways that other institutions do not. Quinnipiac's deep experience in public opinion research reveals itself in the depth of data they track for each veteran student. Unsurprisingly, the data they collect goes well beyond the requirements in our survey process.
For instance, they have identified that navigating VA educational benefits is a primary factor outside of academic readiness that contributes to student completion and graduation. To this end, the school has developed strong expertise across campus functions in assisting students in the timely access and reasonable use of their benefits.
With a number of students matriculating from partnerships established with local community colleges, GI Bill benefits often don't cover the total requirements for degree completion. Here, the school has tapped its extensive alumni network to create additional supports, scholarships and work-study opportunities for veterans, whom they realize are non-traditional students with unique needs.
Where many institutions seek to maximize the amount of benefit dollars they collect, Quinnipiac demonstrates a remarkable level of fiscal responsibility with veteran benefits and in counseling their veterans on appropriate management of those resources.
Their counseling process includes a semester-by- semester check-in that routes class selections through the program to ensure courses are taught to the major, and that any changes or scheduling conflicts can be resolved rapidly. While veterans have high visibility, they are encouraged to work through the campus procedures in place, to seek advice from a variety of resources, and to engage in process improvements – including taking a leadership role on campus and in the community.
The Military Friendly ® Schools program solicits an immense amount of non-publicly available data, which both encourages cross-campus discussions and incentivizes data collection and measurement, which leads to better outcomes for military and veteran students.
READ NEXT: 7 STRUGGLES MILITARY VETERANS FACE WHEN GOING BACK TO SCHOOL
THOROUGHNESS: Providing Comprehensive Service
Another hallmark of Quinnipiac University's military and veterans program is the thoroughness of its approach. This was so much the case that I specifically asked Jason Burke, the director of Veterans and Military Affairs, how he prioritized all the requirements of his office while growing the program. His answer made it clear that understanding the core issues, and addressing those issues in a systematic way, was key to scaling the program and providing the degree of coverage possible in a university with more than 10,000 undergraduate and graduate students spread across multiple campuses.
According to Burke, "The biggest burden our veteran students have is navigating the VA to ensure benefits payment, and certainly, there's so many nuances to the VA system … even the experts have to check … so I don't expect the veteran student to know how it all works, but we do expect them to be accountable. Ultimately, we seek to strike a balance." That "balance" is clearly weighted toward supporting and addressing the financial, personal, medical and life needs that veteran students face, allowing the veteran students to focus on integrating with students, finding success in their studies and even taking leadership in reaching out to the broader veteran population in the local community.
During my visit, I had the opportunity to meet briefly with the president and vice president of Quinnipiac University's vibrant Student Veteran Organization, Army veteran Jordan Atchley (Twitter: @jordanatchley12) and Air Force veteran Amanda Herbert (Twitter:@herbie_vore310).
Over the past several years, individual veteran student surveys have played an increasingly valuable role in identifying top-performing institutions. This is one aspect of our three-part data analysis of school performance, which incorporates public data collected from state and federal institutions, proprietary data derived from our comprehensive survey, and personal data collected from active veteran students on campus.
For Herbert, who grew up in the local area, Quinnipiac was her dream school.
"My senior year of high school everyone was going on college tours and writing college essays and excited for what next fall was going to bring. I did not feel like I had everything in place to go to college at that time, financially or academically, to get into a school that I felt would be worth going to. Of course, no offense to other colleges, it is just every student has their 'fit' … The SVO, along with Jason Burke, the director of Veteran's Affairs, made my five-month transition from military to student seamless. There were transition student orientations where professors would sit down and lay out my next few years and explained to me anything I did not understand. I barely ran into any issues, and if I did, they were resolved almost instantly or I was put into contact with someone who could assist me more directly."
Indeed, her experience confirmed what we were seeing in their Military Friendly ® Schools survey data. Like the Quinnipiac program, the Military Friendly ® program builds year over year on a comprehensive data collection and correlation model. In simple terms, the Military Friendly ® Schools survey is the most exhaustive and thorough examination of an institution's military and veteran student programs that exists. On average, participating schools invest more than 15 hours collecting data that covers a wide range of information on their investments, outcomes and performance in support of military, veteran and military spouse students.
Annually, between 1,500 and 2,000 colleges and universities apply for designation and award consideration. In 2017-18, fewer than 850 qualified. Qualification for the Military Friendly ® Schools designation requires the following:
• Accreditation and federal programs are in good standing.
• Must meet or exceed minimum standards in graduation, retention, transfer, loan default and job placement rates.
• Are clear of any federal flags or have not been cited in any state or federal lawenforcement actions.
• Have no more than two veteran student complaints registered against them in the VA's GI Bill comparison tool.
Consideration for an award (Top 10, Gold, Silver, Bronze) requires meeting a minimum scoring threshold that is set by the top scoring institutions in a given peer group. This year, the Military Friendly ® Schools program divided institutions into 11 primary categories further subdivided by size of student body. Quinnipiac University was ranked #1 out of more than 150 peer institutions.
Achieving this ranking begins with a rigorous and thorough approach to data collection and analysis. As Quinnipiac's Jason Burke suggested, "We have a system where we track veteran and military affiliation of every student in our program, which allows us to provide efficient, personalized and high-touch case management for each of our veteran students." Combining their own capabilities and insights with additional veteran services provided by the state, Quinnipiac ensures nearly comprehensive coverage for the wide range of issues veteran students may encounter, from family to health care, finances, etc. Bringing all veterans through a cohesive process helps Quinnipiac University discover and address potential issues before they occur.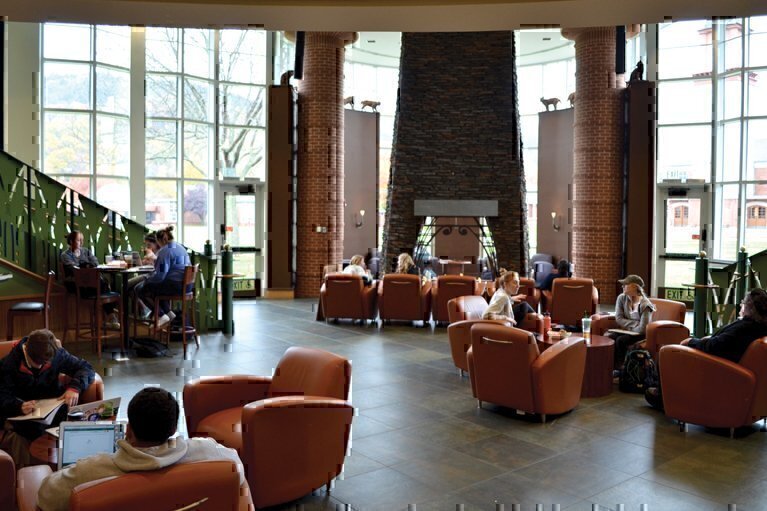 PURPOSE: Pursuing Exceptional Goals
The third key we found to be central to the success of Quinnipiac University's veteran program is the clear understanding of and bold trajectory into the future. Quinnipiac University is an institution on the move. New stadiums, a new medical school and additional campuses and programs create an air of activity that is rare in an institution of this size and history. New construction and facilities were common as we walked the beautiful grounds of the main campus, and the veterans program was no exception. When asked about his goals for the next five years, the answer was swift and sure.
"My goal in five years is to have a veteran in every classroom. I want to see true 'priority of service' implemented in key processes like registration. We also intend to increase the number of veterans employed in key university positions so that a natural understanding of veteran issues and challenges becomes even more a part of the institutional fabric."
The student veteran leadership echoed this sense of movement and purpose, as Amanda Herbert noted.
"Going into the military I had a 'bucket list' of what I wanted to do, and once I accomplished enough of it I would not re-enlist and get my education – that was my plan. I was fortunate to be satisfied with the amount that I had accomplished in my first enlistment of four years in the United States Air Force. Now it was time to come home and apply to Quinnipiac University."
With the vast majority of transition issues covered by the university, student veterans are able to integrate and grow within the community and check off more of those bucket list dreams. Unlike many veteran student-led programs, the veterans at Quinnipiac University are able to focus on community service rather than merely peer support.
In terms of a message for veterans in transition, Herbert offers exceptional insight.
"I wish I could go back and tell my 17-year- old self that my dreams of going to Quinnipiac University did not end, they were just postponed. When I feel stressed or overwhelmed I look around at the campus and at my professors and realize that it is a good stress that I am experiencing. I am somewhere I could have only dreamed to be six years ago. Going to your dream school motivates you in the most personal way. Of course, my perspective, motivation and real-world experiences the military gave me guide me throughout every step of my college career, but there is a different aspect of motivation that comes to you when it is your dream school. I notice that I have a constant excitement and sense of accomplishment that stems from me attending my dream school."
In our closing discussion, as we took in the view of Long Island Sound from the student center that sits atop towering York Hill, Jason Burke offered a clear summary of the veteran experience with Quinnipiac University. "We want to create with our school a template of the ideal candidate that mirrors the pathways you find in military career development, and then provide that streamlined pathway to transitioning veterans so that they can clearly see what they need to do from the day they get out to the day they take their dream job in civilian life." PURSUING YOUR
DREAMS WITH PURPOSE
We are extraordinarily proud to recognize Quinnipiac University as the No. 1 Military Friendly ® School offering up to doctoral level programs for the 2017-2018 school year. Their program leadership, design and execution are quite literally second to none. More encouraging is that, year over year, as we have continued to adjust and improve the Military Friendly ® program, we continue to see the best performing, most authentic programs rise to the top.
If you are a military veteran, you are better off for having served.
If you are seeking your own personal dream school, you would do well to start your search with this year's Military Friendly ® Schools, all of which, like Quinnipiac University, are constantly improving their programs and resources to ensure your success, not only while on campus, but throughout your civilian career.
2018 MILITARY FRIENDLY ® SCHOOLS SURVEY CATEGORIES &
WEIGHTINGS
30% Graduation & Career Outcomes
30% Military Student Support & Retention
12% Financial Aid & Loan Repayment
10% Admissions & Orientation
9% Academic Policies & Compliance
9% Culture & Commitment
READ NEXT: HOW TO SUCCEED IN COLLEGE WITH THESE 4 SIMPLE STEPS