Comfort is important when doing a hard job. If it's hot on the work site, it's important to stay cool. If it's hazardous, proper protection needs to be worn. And comfort is apparently key when the Japanese sneak attack the Navy. Just ask Lt. Phil Rasmussen, who was one of four pilots who managed to get off the ground to fight the Japanese in the air.
Rasmussen, like many other American GIs in Hawaii that day, was still asleep when the Japanese launched the attack at 0755. The Army Air Forces 2nd Lieutenant was still groggy and in his pajamas when the attacking wave of enemy fighters swarmed Wheeler Field and destroyed many of the Army's aircraft on the ground.
Damaged aircraft on Hickam Field, Hawaii, after the surprise Japanese attack on Pearl Harbor.
There were still a number of outdated Curtiss P-36A Hawk fighters that were relatively untouched by the attack. Lieutenant Rasmussen strapped on a .45 pistol and ran out to the flightline, still in his pajamas, determined to meet the sucker-punching Japanese onslaught.
By the time the attack ended, Wheeler and Hickam Fields were both devastated. Bellows Field also took a lot of damage, its living quarters, mess halls, and chapels strafed by Japanese Zeros. American troops threw back everything they could muster – from anti-aircraft guns to their sidearms. But Rasmussen and a handful of other daring American pilots managed to get in the air, ready to take the fight right back to Japan in the Hawks if they had to. They took off under fire, but were still airborne.
Pearl Harbor pilots Harry Brown, Phil Rasmussen, Ken Taylor, George Welch, and Lewis Sanders.
They made it as far as Kaneohe Bay.
The four brave pilots were led by radio to Kaneohe, where they engaged 11 enemy fighters in a vicious dogfight. Even in his obsolete old fighter, Rasmussen proved that technology is no match for good ol' martial skills and courage under fire. He managed to shoot down one of the 11, but was double-teamed by two attacking Zeros.
Gunfire and 20mm shells shattered his canopy, destroyed his radio, and took out his hydraulic lines and rudder cables. He was forced out of the fighting, escaping into nearby clouds and making his way back to Wheeler Field. When he landed, he did it without brakes, a rudder, or a tailwheel.
There were 500 bullet holes in the P-36A's fuselage.
Skillz.
Lieutenant Rasmussen earned the Silver Star for his boldness and would survive the war, getting his second kill in 1943. He retired from the U.S. Air Force in 1965, but will live on in the Museum of the United States Air Force, forever immortalized as he hops into an outdated aircraft in his pajamas.
(U.S. Air Force photo)
This article originally appeared on We Are The Mighty
More From We Are The Mighty
5 Reasons Why Troops Stick Together After the Military
4 Reasons Why Showering On Deployment is Disgusting
7 of the Greatest Songs Every Veteran Knows
6 Things You'd Take Back Before Leaving the Military
6 Dumb Things Veterans Lie About on the Internet
Follow We Are The Mighty on Twitter
READ NEXT: THIS IS THE GEAR THE AVERAGE TROOP CARRIED DURING THE CIVIL WAR

Summary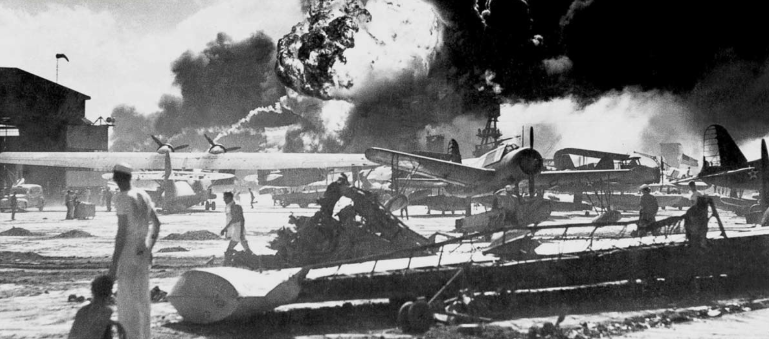 Article Name
This Pilot Shot Down an Enemy at Pearl Harbor in His Pajamas
Description
Pearl Harbor was cited to be "a day which will live in infamy," and it certainly has. But there are plenty of individual stories that describe acts of heroism that day. This is an interesting one.
Author