If you've seen Top Gun or any footage of an American aircraft carrier doing its thing, you've probably seen catapults launch aircraft. These impressive devices can launch a fully-loaded plane, getting it up to speeds as high as 200 knots in a matter of seconds — if everything's working right.
The same is true for the electromagnetic aircraft launch system, or EMALS, in use on the Navy's newest aircraft carrier, USS Gerald R. Ford (CVN 78).
But how does the Navy make sure everything's working as intended? How can they verify that any repairs they've made have actually fixed the thing? There are 122 millions reasons why you wouldn't want to test it out on a brand new F-35C Lightning II. So, because USAA doesn't offer that magnitude of coverage, the US Navy needs a cheap, solid stand-in.
When you fix the catapult, you want to make sure you got it right.
(U.S. Navy photo by Petty Officer 3rd Class Cole C. Pielop)
According to one Navy release, they use what are called "dead loads" to simulate the weight of planes. These are essentially wheeled sleds made of solid metal that can be launched in relatively shallow water ("relative" to the USS Gerald R. Ford's maximum draft of 41 feet). That makes recovering the dead loads easy.
Since the dead loads aren't outfitted with electronics — or even an engine — they are relatively easy to replace. Furthermore, if they are recovered, they can be reused. It's a very cheap way to make sure that your aircraft launch system is working, be it a traditional catapult or the new EMALS.
When you are trying to launch a $122 million F-35 Lightning from a carrier, you want to make sure the launching system works.
(U. S. Navy photo by Arnel Parker)
To watch the Navy test the EMALS on USS Gerald R. Ford, check out the video below. You even get a view from the perspective of the "dead load," giving you a taste of the catapult's power.
This article originally appeared on We Are The Mighty
More From We Are The Mighty
5 Reasons Why Troops Stick Together After the Military
4 Reasons Why Showering On Deployment is Disgusting
7 of the Greatest Songs Every Veteran Knows
6 Things You'd Take Back Before Leaving the Military
6 Dumb Things Veterans Lie About on the Internet
Follow We Are The Mighty on Twitter
READ NEXT: 6 THINGS YOU DIDN'T KNOW ABOUT THE TOMB OF THE UNKNOWN SOLDIER

Summary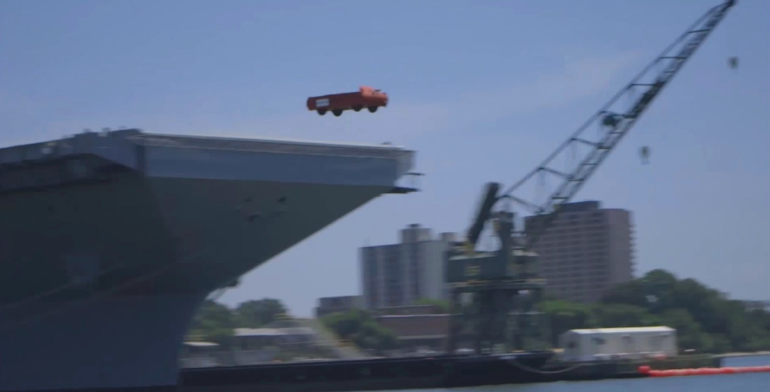 Article Name
Here's How the Navy Tests its New Carrier Launch System
Description
Air craft carrier launch systems are pretty insane. It takes a lot of power to get a jet going for launch. Here's how the Navy tests its new launch system.
Author