Boxing is a sport that empowers human ambition and drive unlike any other form of activity. The physical preparation boxers make before a fight is unparalleled and the adrenaline rush after a well-deserved victory is irreplaceable. There's just no comparison to any other form of winning. Maybe that was boxing's appeal to deployed American sailors.
By the end of the Spanish-American war, the U.S. Navy occupied the Dominican Republic and sent a heavy naval force along the shores of this small Caribbean island in order to protect the U.S. government's financial interest.
Theodore Roosevelt was president at the time and he believed implementing combative boxing events on naval vessels would increase military morale by having competitors pummel one another for glory. These events grew very popular and in no time boxing became a main sporting activity widespread across the Navy.
Everything seemed to be going according to plan…until one match went too far and turned fatal on July 8, 1908, aboard the USS Yankee.
Light Heavyweight match between Navy sailor Dale Alexander (right) and his Marine opponet.(U.S. Navy photo)
Not long after the orders were passed down, boxing matches were being held on the decks of naval vessels in order to generate unit cohesion. To liven up the troops and sailors alike, these events were code-named "Smokers."
Smokers went from a recreational sporting matches to prizefighting spectacles in no time, providing the opportunity to earn respect and extra pay for those sailors in need of a salary hike. This gave minority sailors – primarily Jewish and black sailors –the chance to be seen as more than just their ethnic background. It was one way to earn respect from and build camaraderie with their white counterparts in the days before a racially integrated military.
On July 8, 1908, onlookers cheered and mocked the fighters as the contestants took the stage. Raphael Cohen, a Jewish coal shoveler on the USS Yankee, awkwardly took the ring, awaiting the confident Jordan R. Johnson, a black gunners-mate from the USS Olympia, whose experience could be seen in his cold, unbroken deathly glare.
Both men came from humble beginnings, hardened by their fair share of turmoil, which may have been what brought them into the ring – or as the fighters would call it, the circle of truth.
Johnson joined the military at age 15 and quickly became a victim of physical abuse by his fellow shipmates. This was easily identifiable by unexplained scars on his ribs, abdomen, and neck. Growing up, Johnson spent nights shackled in irons, which turned him into a hardened fighter and earned him fear and respect on the Olympia. The ship's decks became his training ground as he fought anyone who would meet him.
Cohen, on the other hand, was a young man looking for his identity, merely trying to to find where he belonged in this testosterone-heavy environment. After marrying at a young age, he believed the Navy would turn him into a man (or at least the man he thought he should be) so he searched to prove to himself that he was tough enough to hang with the other fighters.
A U.S. Navy-sanctioned boxing match.
Both fighters were eager to get the fight going once the bell rang. The fully-charged Cohen fearlessly ran straight at Johnson, whose patience and experience kept him calm throughout the exchange. They fought hard, throwing caution to the wind, and neither giving in as the rounds continued.
Hundreds of sailors and Marines went wild as the two boxers pummeled one another. As each round continued, the crowd could see Cohen weakening. Even the referee questioned Cohen's condition before allowing him to remain in what would become Cohen's last stand.
By the eighth round, Cohen had enough, finally slumping to the ground after a crisp shot to the temple landed by Johnson rattled Cohen and left him unable to continue.
Johnson was victorious but what had he really won? Cohen would later be raised onto a stool and carried out of the ring. Two hours later, he was pronounced dead in the medical room.
An autopsy would later reveal the cause of death being a massive blood clot found inside of Cohen's brain, attributed to the excessive beating he received in the bout. Captain Edward Francis of the USS Yankee later denied all involvement with the organization of the fight and reported Cohen's death as "not in the line of duty."
The telegram informing Cohen's family of his death.
Cohen's remains were buried in the Dominican Republic but later sent back to his family in New York in 1911. His remains were finally laid to rest in Maimonides Cemetery in Brooklyn. Jordan Johnson was cleared of all wrongdoing and left the Navy a year later. In 1929, Johnson passed away at the young age of 46, leaving the events of that day as a piece of untold military history.
This article originally appeared on We Are The Mighty
More From We Are The Mighty
5 Reasons Why Troops Stick Together After the Military
4 Reasons Why Showering On Deployment is Disgusting
7 of the Greatest Songs Every Veteran Knows
6 Things You'd Take Back Before Leaving the Military
6 Dumb Things Veterans Lie About on the Internet
Follow We Are The Mighty on Twitter
READ NEXT: THIS PILOT SHOT DOWN AN ENEMY AT PEARL HARBOR IN HIS PAJAMAS

Summary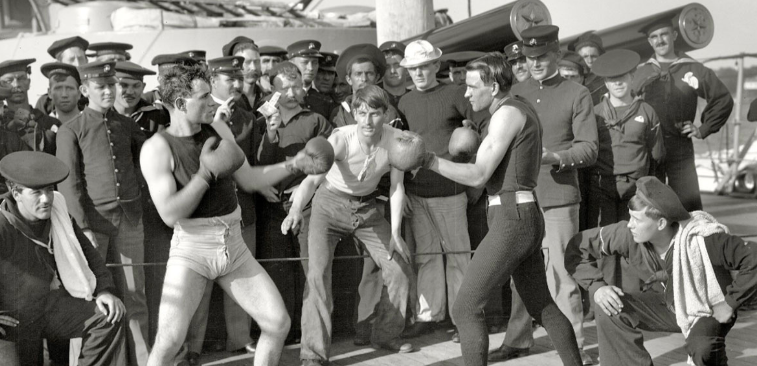 Article Name
This is the Story of the Most Infamous Navy Boxing Match
Description
The Navy has a rich and decorated history of boxing. Some Naval champions have even gone on to become professionals. This is the story of the most infamous match in Navy history.
Author