Congress legislated some GI Bill changes in 2020, so we asked the VA to update us. Charmain Bogue, executive director of Education Service (GI Bill) for the VA's Veterans Benefits Administration, obliged. For one, you can now verify enrollment with a text.
"We are continuing to grow and change to meet the needs of the modern-day student," Bogue said. "Through our COVID-19 protections, modernization efforts and new veteran employment programs, there are so many opportunities to take advantage of. We really want service members, veterans and eligible family members to take advantage of all our excellent programs."
For more information on the GI Bill go to the VA website at benefits.va.gov/gibill, submit an inquiry with the new and improved Ask VA portal, or call the Education Call Center at 1-888-GIBill-1 or 1-888-442-4551.
Q & A with the VA About GI Bill Changes
Navigating Education for Veterans During Covid-19
With COVID still prevalent, how is VA mitigating the effects of COVID on students and schools?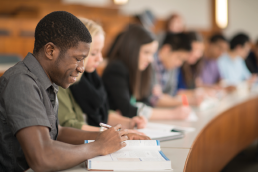 VA has worked tirelessly to protect GI Bill students from impacts associated with the transition to online learning or in circumstances where a student's school is closed, or their program is suspended due to COVID-19, and to ensure they continue to receive their education benefits in a virtual environment.
Congress gave VA the authority to pay GI Bill students' monthly housing allowance (MHA) at the in-person rate instead of the online rate for courses that were converted to online in response to the COVID-19 pandemic. In December, Congress passed an extension of these benefit protections through June 1, 2022.
VA has been working hard to keep students and schools up-to-date on the current state of the law as it has evolved so that no student is left behind during these trying times.
Tell us about the VA GI Bill Enrollment Verification Monthly Text Messaging System
One thing we've heard again and again when we ask students how they preferred to be communicated with was a preference for text messaging. Verifying monthly enrollment by text is also the quickest and most convenient option for students.
Post-9/11 GI Bill students enrolled in non-college degree programs (NCD) have already begun using text to verify their monthly enrollment and we have seen a successful text message response rate of 93%. Post-9/11 GI Bill students at Institutions of Higher Learning began verifying their enrollment by text in early 2022.
Email verification will also be rolled out as an option for students who can't, or don't want to verify by text. Veterans can call our Education Call Center at 1-888-GIBILL-1 to ensure VA has the correct phone number on file.
What is the Veteran Rapid Retraining Assistance Program (VRRAP)
Why was the VRRAP started, who is eligible to apply for VRRAP and how well is the program doing for veterans?
VRRAP is part of the American Rescue Plan of 2021 and provides veterans who are unemployed due to COVID and wouldn't otherwise be eligible for education benefits with $386 million in funding for training in high-demand occupations as defined by the Department of Labor.
VA has received over 13,124 applications for benefits, issued 8,882 Certificates of Eligibility (COEs), with 3,278 veterans enrolled in a training program. Under the new program, up to 17,250 eligible veterans who are 22 to 67 years old participating in VRRAP will receive up to 12 months of tuition and fees and a monthly housing allowance based on Post-9/11 GI Bill rates.
Covered education programs must provide training that leads to high-demand occupations such as business, IT, healthcare, production, transportation and more. GI Bill approved programs of education, excluding bachelor's and graduate degrees, and VET TEC approved training are eligible.
There are over 900 educational institutions and VET TEC Training Providers offering over 8,100 programs to eligible veterans. Eligible veterans must begin a program by Dec. 11, 2022, and benefits can be paid to completion. You can start your application for the VRRAP on the VA's website.
Tell us more about the VET TEC program.
Who is eligible for the VET TEC program and how well is it doing for veterans?
The response to our Veteran Employment Through Technology Education Courses (VET TEC) program has been phenomenal! The $45 million a year pilot program pairs eligible veterans with technology training providers to earn a certification in a high-tech career field, and boosts technical skills like coding, cloud computing, and data processing and then assists them in finding meaningful employment.
To date, we have received 53,378 applications and issued 35,497 COEs. More than 4,300 students have started the program or are in progress and 2,980 veterans have graduated. Of those graduates 1,595 have secured meaningful employment in the high-technology space within approximately 64.5 days and with an average salary of $60,558.
According to the VA's website as of February 2022:
You may be eligible for VET TEC if you meet all of the requirements listed below.

All of these must be true. You:

Aren't on active duty or are within 180 days of separating from active duty, and

Qualify for VA education assistance under the GI Bill, and

Have at least one day of unexpired GI Bill entitlement, and

Are accepted into a program by a VA-approved training provider

Note: Your VET TEC training won't count against your GI Bill entitlement, and you need only one day of unexpired GI Bill benefits to participate."
Tell us more about the STEM program
Who is eligible for the STEM program? How well is the STEM program doing for veterans?
The Edith Nourse Rogers STEM Scholarship provides nine months (or $30K) of additional GI Bill benefits toward qualifying science, technology, engineering, and math (STEM) degrees.
Since its inception, over 3,200 eligible Rogers STEM Scholars have received a STEM scholarship. Thanks to the Isakson Roe Act, qualified dual degree and approved clinical training programs for healthcare professionals, as well as a teaching certification, are now eligible for this scholarship. Find out if you're eligible for the STEM Scholarship at the VA's website.
GI Bill Breakdown
The VA has paid $122.3 billion in Post-9/11 GI Bill benefits to over 2.4 million trainees since the benefit was implemented on Aug. 1, 2009. In fiscal year 2021 alone, VA dispersed more than $9 billion in benefits to more than 610,000 Post-9/11 beneficiaries.
How To Find A GI Bill School
At GI Jobs, we specialize in providing veterans with resources to be successful in their military transition to civilian life. To find the best GI Bill school for you, use our education filtering tool.
Finding a school is just one part of the equation. Here are 10 steps on how to use your GI Bill for college.