Sponsored Content
Shawn and Amy Stroop joined JDog, the nationally recognized brand that offers franchise opportunities exclusively to veterans and military family members in 2018. Their story of success is a perfect example of the hard work, dedication and service to our country that JDog implements with their motto: Respect, Integrity and Trust.
MILITARY SERVICE AND EDUCATION
Shawn is a Retired U.S. Army Officer and combat veteran, who served in Operation Desert Shield/Storm, Defense of Korea and Operation Joint Endeavor in Bosnia. After being awarded the Green-to-Gold Scholarship, he attended Morehead State University where he was commissioned as a Military Intelligence Officer in 2000. Since that time, Stroop has served in Operation Iraqi Freedom and the Global War on Terrorism in Africa and Afghanistan twice. In 2013, he retired from active duty.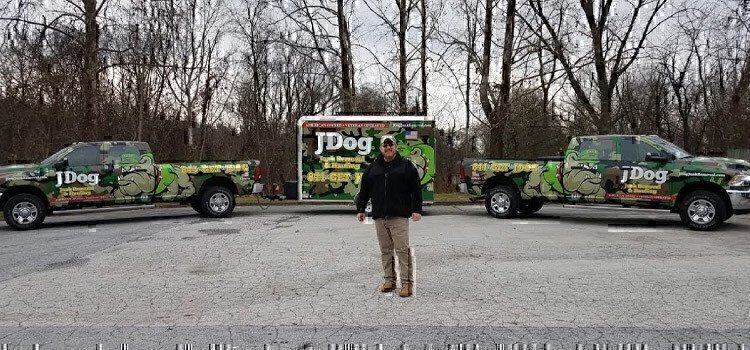 PASSION PUT TO WORK
With 24 years of experience in the military, Stroop and his wife, Amy, became passionate about ending homelessness among veterans. JDog Junk Removal and Hauling caught their attention, fitting perfectly with their desire to bring veterans off the streets. Once learning about JDog and their business model, they realized that it was a great opportunity for veterans, including homeless veterans, to land a job in a company that embodies the camaraderie once experienced in the military.

JDOG JOURNEY
The Stroop's JDog journey started in September 2018, when they attended a Discovery Day to learn more about the business model. Shawn recalls that he and Amy "immediately saw the vision and left Discovery Day with a plan of action." Not long after, they opened their business in November 2018 and conducted a Grand Opening in Hanover, PA on March 23rd, 2019. Within a six-month period, the Stroops quickly acquired great success within their four South-Central PA franchises and found even more profitable opportunities to open five more in the Cincinnati area of South-West, OH.
JDog's community of fellow veteran-entrepreneurs act as a support system for one another. Shawn and Amy have networked with many JDog franchise owners and found them to be extremely helpful. They have learned the value of strong guerrilla marketing, how to handle difficult jobs, tips on running multiple territories and so much more from all their fellow JDogs. Shawn mentions that during his time at JDog Junk Removal and Hauling, "No one has turned [him] down for help and this is a strong community of support."
The Stroops are the epitome of a JDog Success Story and have already started encouraging other veterans to purchase a franchise. Shawn mentions how the culture of the company is one of community, rather than cut-throat antics: "the military way proves successful in the workplace and offers a camaraderie similar to what was experienced on active duty."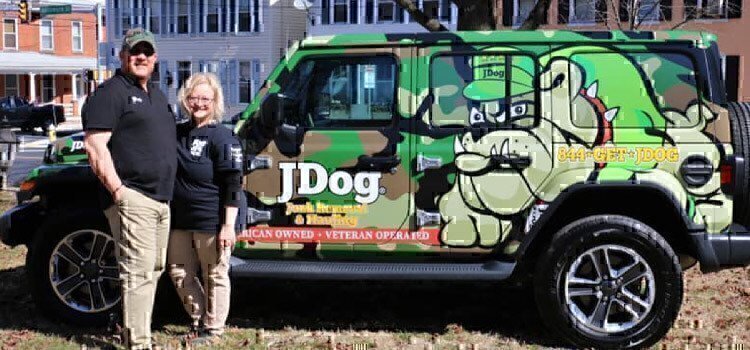 WORDS TO LIVE BY
Shawn leaves all veterans seeking to open their own JDog franchise with a powerful quote he lives by:
"If you think you are beaten, you are. If you dare not, you won't. Success begins with your own will, It's all in your state of mind. Life's battles are not always won by the stronger or faster man, but by the one who thinks he can."
Call 844-GET-JDOG today and find out more on owning a JDog Brands franchise. Attend one of our upcoming Discovery Days and see first-hand why veterans want to own a JDog franchise. Visit us at JDogBrands.com.
READ NEXT
7 Gym Essentials to Build an At-Home Gym
6 Veteran Influencers to Follow into 2019