Retired Marine Lt. Col. Justin Constantine was shot by a sniper in 2006 and survived the devastating injury, thanks to a quick-acting corpsman. He spent the years since inspiring the world with his positivity and courage, but on May 5, 2022, we lost this extraordinary American hero to cancer.
Just as the COVID-19 pandemic began to reek havoc across the globe, Constantine received a diagnosis of Stage 4 cancer. By the time he received the news, it had spread from his prostate to his bones. Though the doctor told him it would most likely be terminal, he refused to give up. Just like that long-ago sniper's bullet, cancer would become the next battle he'd give his all to fighting.
Constantine discussed his diagnosis and path for the future. "I focus on why today was a good day and why tomorrow will be great too. I look at how I can infuse positivity in my life. It doesn't mean unicorns and rainbows all the time, it means I make my glass half full," Constantine shared. "I think it was poignant. I feel that knowing that I overcame such a significant challenge before, makes me very confident that this too shall pass and I will push past this too."
Constantine was commissioned into the Marine Corps after finishing law school, serving on active duty for six years before transitioning into the Reserves. While deployed to Iraq on a combat patrol 17 years ago, a sniper shot Constantine through the side of the head, causing the bullet to explode through the front of his face. Though the devastating injury caused severe damage, he survived.
In 2013, Constantine medically retired from the Marine Corps and went on to work with the Department of Justice as a counsel for the Senate Committee on Veterans Affairs. A few years later, he left DOJ to pursue a position with the Federal Bureau of Investigations where he served the national security law branch as Assistant General Counsel. While working there, he launched his own business.  
President George W. Bush painted Constantine for his book, "Portraits of Courage," and Constantine has received multiple awards for his work with veterans and advocacy efforts for those with disabilities.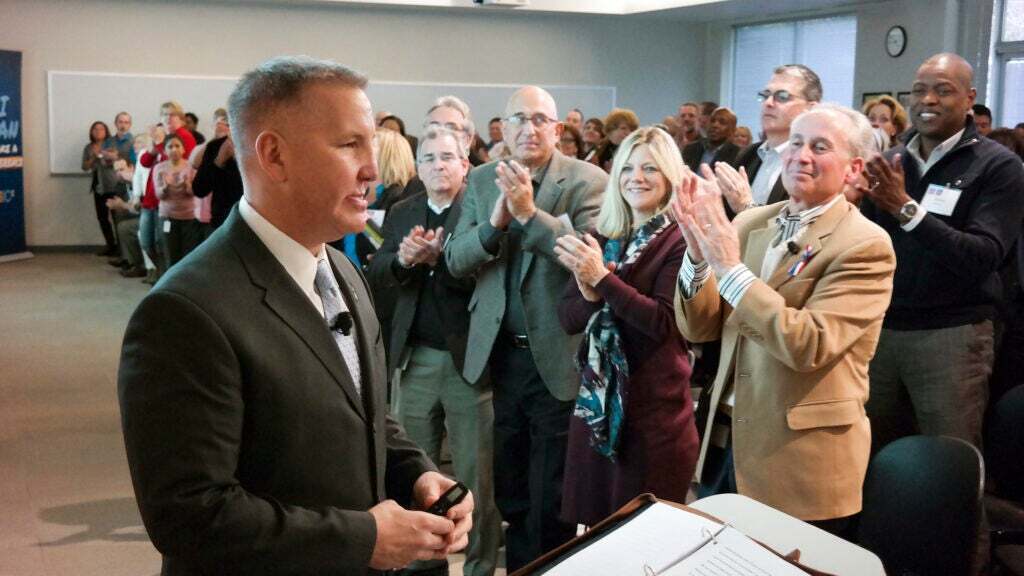 Constantine was a champion of services and resources for America's veterans. He became a Presidential Leadership Scholar and was even named a Champion of Change for Veterans by then-President Obama. In 2015, he completed his first book, My Battlefield, Your Office, which applies military leadership skills to the private sector.
It was a daily challenge to speak and he faced constant pain and setbacks but Constantine refused to let it stop him from living and faithfully serving the military community. Though he may no longer walk this earth, his legacy of unwavering strength, courage and intentional kindness is one which we should all continue to share.