Every second Saturday of December, the soldiers of West Point settle their differences with the sailors and Marines of Annapolis in a good, old-fashioned football game. It's a fiercely heated contest — and not just for the players on the field, but between entire branches.
Remember, when it comes to the troops, any little thing that can be used as bragging rights will be — even the uniforms are a type of competition. Traditionally, each team dons a new military history-inspired uniform for the Army-Navy game. Bringing the best threads to the gridiron isn't officially a contest, but if it were, hot damn the Army would be winning.

This year, the soldiers are honoring the First Infantry Division by sporting a uniform inspired by the Big Red One. It was chosen because 2018 marks the 100-year anniversary of the signing of the armistice that ended World War I. While there were many American units that fought, several of whom are still around, the 1st ID is often heralded for their decisive victory at the Battle of Cantigny.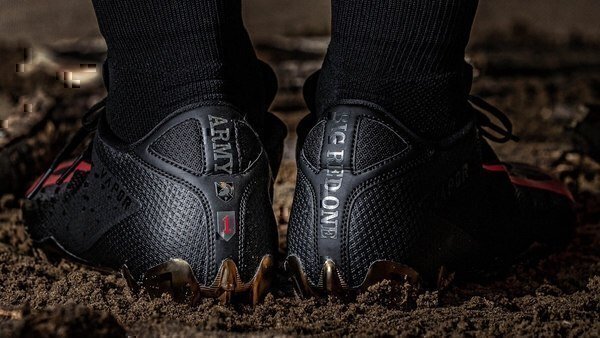 The iconic Black Lions of Cantigny have been incorporated into the shoulders of the uniforms. The rest of the uniform is a flat black with red trimmings. It features, of course, the Nike logo (the team's sponsor) and the unit insignia. On the collars are insignias that represent the various regiments of the 1st Infantry Division that fought in World War I.
It's unclear at this time if all Cadets on the field will be wearing the Black Lion or just the ones wearing the 28th Infantry Regiment on their lapel.
(West Point Athletics)
On the back of the helmet, if you look closely, you'll spot a subtle American flag. Sharp football fans will notice that the flag only has 48 stars on it. Keeping with WWI legacy, this was the flag that the soldiers of WWI fought under, long before Alaska and Hawaii became part of the Union in 1959.
Check out the announcement video below that was posted to the official Army West Point Athletics Facebook page.
Go Army! Beat Navy!
This article originally appeared on We Are The Mighty
More From We Are The Mighty
5 Reasons Why Troops Stick Together After the Military
4 Reasons Why Showering On Deployment is Disgusting
7 of the Greatest Songs Every Veteran Knows
6 Things You'd Take Back Before Leaving the Military
6 Dumb Things Veterans Lie About on the Internet
Follow We Are The Mighty on Twitter
READ NEXT: 5 OF THE BEST THINGS TO HAPPEN IN THE FIELD
READ NEXT: 5 REASONS WHY YOU'LL NEVER FORGET YOUR FIRST DRILL SERGEANT
READ NEXT: 5 OF THE MOST ACCURATE MILITARY REPRESENTATIONS ON SCREEN