Photo Credit: Marines
As you're making your way toward the Fourth of July, we thought you might like to see the four coolest 'Merica pictures we found online.
1. Jungle Survival


Photo Credit: The U.S. Army


First Lt. James Morris drinks the blood of a king cobra, a Thai cultural act to instill bravery, during jungle survival training as part of Cobra Gold Feb. 13. The jungle survival course is part of the larger exercise Cobra Gold 2014, a recurring multinational and multi-service exercise, which takes place annually in the Kingdom of Thailand. Morris is a force protection officer with Headquarters and Headquarters Company, 2nd Stryker Brigade Combat Team, 25th Infantry Division.
(U.S. Army photo by Sgt. Daniel K. Johnson)
2. Rocket Power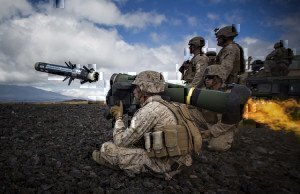 Photo Credit: Marines


A U.S. Marine attached to Weapons Company, 1st Battalion, 3rd Marine Regiment – "The Lava Dogs" fires a Javelin at a simulated enemy tank during Lava Viper aboard Pohakuloa Training Area, Hawaii, May 29, 2015. Marines of Weapons Company train and conduct anti-armor procedures while at Lava Viper.
(U.S. Marine Corps photo by Cpl. Ricky S. Gomez/Released)
3. Improvised Gym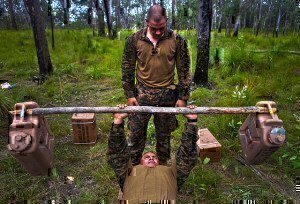 Photo Credit: Marines
1st Sgt. Arturo Blanco, company first sergeant for Company G., Battalion Landing Team, 2nd Battalion, 4th Marines, 31st Marine Expeditionary Unit, and native of Buena Park, Calif., uses an improvised bench press with 40-pound water jugs at Shoalwater Bay Training Area, Queensland, Australia, July 22.
(U.S. Marine Corps photo by Sgt. Jonathan Wright/Released)
4. SPAR Transiting Glacier Bay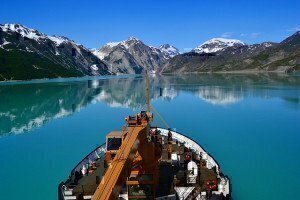 Photo Credit: Coast Guard

The Coast Guard Cutter SPAR transiting Glacier Bay National Park Saturday, July 22, 2012, in Southeast Alaska. The SPAR is a 225-foot buoy tender stationed in Kodiak, Alaska. U.S. Coast Guard photo by Seaman Justin Hergert
READ NEXT: Vets Guide to Grilling — 4 Tips for the Fourth of July