Finding a school that fits your needs is no easy task. Are you looking for a college with a unique program? How about a university in a tropical climate? Or maybe you want to get a technical education alongside other veterans?
Never fear: we've made your life easier. Our unique school discovery tool will allow you to find an education you'll love and get you started on the path to success. Click below to check it out.
2016 Hot Degrees for Veterans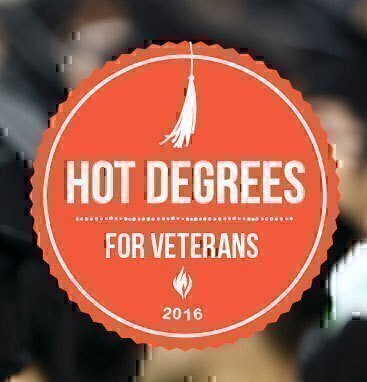 We crunched the numbers and came up with this year's Hot Degrees for Veterans. You may only need a two-year associate degree to land your dream job. It could require a four-year degree, a cert or a license.
The 2016 Hot Degrees for Veterans provides a snapshot of the hottest degrees, certifications and licenses, along with the Hot Jobs they lead to. We even list some of the Military Friendly® Schools that offer these programs.
Find your degree, then use your GI Bill to get started on the path to post-military success.
Daniel Nichols
Just North of New Haven, Conn., at the foot of the series of traprock ridges preserved as Sleeping Giant State Park and within easy commute of the bustle of New York City, lies a quintessential private university you may recognize from its respected history in political polling: Quinnipiac University.
Paul Davis
It's time to go home. You've honorably separated or retired from service, you've got your DD214 in hand, and you're likely itching to get on with the next chapter of your life.
Kathryn Zurmehly
Being a G.I. Bill student means that you will be out of your comfort zone. You are going back to school, where you haven't been in a very long time. Once you start going to class, you might end up feeling like you've bitten off more than you can chew. But don't worry, we've come up with 4 steps of how to succeed in college.
G.I. Jobs Staff
You're a brainiac who aced the ASVAB. You could have attended college after high school, but for whatever reason, you didn't. You might not have felt ready, or maybe you didn't have the money. Either ...