Before the day arrived, I often wondered what I would feel when I took off my uniform for the last time. When that day finally came, the emotions were complicated – yes, it was a day to celebrate the culmination of my military career, but at the same time, part of me felt like I was leaving my tribe behind.
Separation or retirement is a time of profound transition, whether you served four years or 40. Military service is more than a job, and when we finally drive out the gate and return home to a community that was once so familiar, we can feel strangely disconnected because most likely our neighbors may not understand what our service commitment entailed.
It frequently makes connecting and reconnecting with neighbors and friends a challenge. We all can appreciate the stress of a new job, but for many of us, we are embarking on a new career in a vastly different atmosphere. Additionally, perhaps we have unresolved health issues and a sense of loneliness or not belonging that makes this transition particularly tough.
Staying connected to the military community through volunteer work is one way to improve outcomes for transitioning veterans. There are many military and veteran service organizations that stand ready to welcome you and put you to work; some may already have a presence in the town where you live. At TAPS, we actively recruit both active-duty military members and recent veterans to mentor children who have lost someone they love during military service.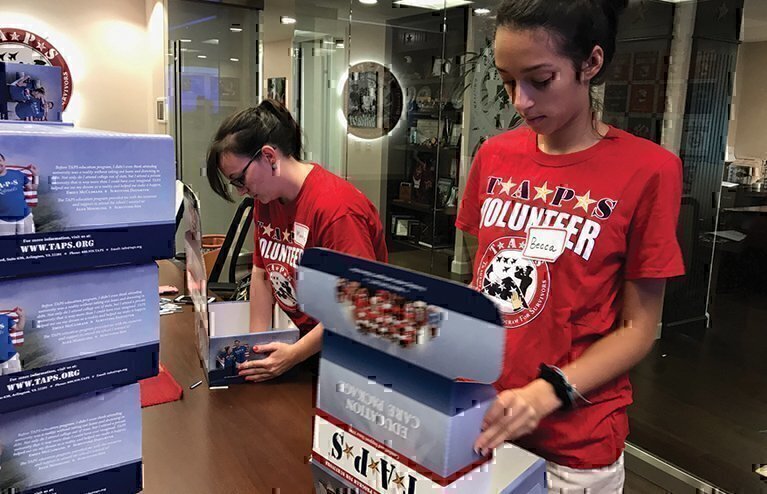 At our events across the country, we pair bereaved children one-on-one with a mentor who walks shoulder-to-shoulder with them during the grief journey. The child benefits because it keeps them connected to the military community they may have left behind after a parent's death. It shows them that their hero's service and sacrifice will never be forgotten.
TAPS kids are not the only ones who benefit – our mentors consistently report they take away so much from the experience, some calling it the most profound personal development day of their life. For those who served overseas and may have lost buddies, it is a way to continue to care for their comrades by caring for the families they left behind. For others, the sense of connectedness with other veteran volunteers can literally be life-changing or even life-saving.
Whether you ultimately choose to mentor a child, pass out water at a road race or build care packages for service members who are still deployed, I urge you to find a way to continue to give back. As veterans, selfless service is in our nature, and I urge you to continue the mission once you have rendered your final salute.
Bonnie Carroll is president and founder of the Tragedy Assistance Program for Survivors and was awarded the Presidential Medal of Freedom in 2015. She retired from the Air Force Reserve in 2012 after 30 years of service. Since 1994, TAPS has provided compassionate care for the families of America's fallen military heroes and has offered support to more than 70,000 surviving family members and their caregivers. For more information about volunteering with TAPS, visit www.taps.org/goodgriefcampmentor.
READ NEXT: 6 BAD HABITS YOU DEVELOPED IN THE MILITARY AND HOW TO BREAK THEM