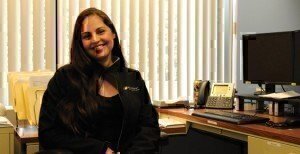 Company: MillerCoors
Military Branch: Marine Corps
Years Served: 6
Highest Pay Grade: E1-E6: Junior Enlisted
MOS: LVS Operator 3533
Job Description
Lisa Robles is a training specialist for MillerCoors at the Irwindale, Calif., brewery. She trains employees on everything from industry compliance to internal policies and procedures. Robles also sets up leadership and career development training.
How'd You Get the Job?
Tired of being away from her kids, Robles decided to get out in 2006. She took TAP classes, then applied for numerous corporate supervisory jobs. She worked for a pharmaceutical company for a couple of years, but it wasn't a good fit. Then Robles came across a job listing for the MillerCoors job. "In the Marine Corps, I trained a lot of young Marines," she says.
Why Did You Choose This Job?
"I saw the MillerCoors job as a way to showcase some of the skills I learned in uniform." She's been showin' it ever since.
Best Part of the Job
MillerCoors is the second-largest beer company in the U.S. Its sudsy portfolio includes Miller Lite, Miller High Life, Miller Genuine Draft, Coors Banquet, Coors Light, Molson Canadian and Blue Moon. The Irwindale brewery employs nearly 600 people and cranks out 6 million barrels of beer every year.
Biggest Transition Headache
"Look at a variety of industries before leaving the military. Don't just take the first job that comes along. Also, know that your military training, leadership and experience are worth a great deal to employers."
What Skills Did You Bring With You?
The one-time sergeant dismisses the common misperception that HR pros don't have leadership skills because, in most cases, they don't have direct reports. "To effectively provide training, leadership skills are imperative," she says. "There is a level of difficulty to engaging and changing someone's view on how they approach their work."