Photo Credit: Georgia National Guard
Nearly every month, there's a new report of some apocalyptic event that's going to force you out into the wilderness with a few gold bars and your bug-out bag. I'm not saying that October is going to be that month, but if it was, would you have the survival gear handy?
"
It's no secret that service members are already hard enough to buy for. Add in a lovey-dovey holiday, 3 million pink hearts and a chubby little cupid and you're sure to find yourself lost finding a gift that's fitting of your hard-charging, gun-carrying sugar bear."
Whether you're a full-blown survival gear nut or just dipping your toes into this niche, here are five  pieces of everyday  survival gear items you absolutely have to add to complete your collection. Oh yeah, and they all cost $5 or less and make great gifts for a survival gear kit.
1. FireKable
This is not your average paracord bracelet. The FireKable includes a ferro rod and striker — everything you need to get a fire started — built right in! I love the paracord bracelet as a staple to any survival gear gift kit, it's light weight and can be used in life or death situations.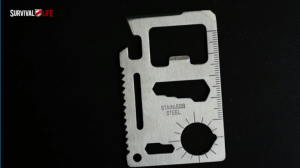 When I think about survival gear must haves and start to narrow down the list of must have survival items the business card made the list. Don't try to bring this  survival business card in your wallet through a TSA checkpoint, it's not just a "business card." While small enough to fit in your wallet, this tiny card boasts a can opener, a knife, a slotted and flathead screwdriver, a ruler and most importantly, a bottle opener, among many other super useful tools. For something small enough to fit in your wallet, it's really a one-size-fits-all piece of EDC.
3. InstaBlade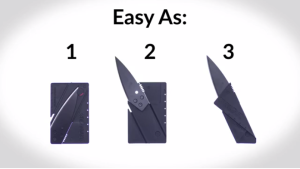 This thing's awesome. A stainless steel blade that is slim enough to fit in your wallet? I'll take two, please. What a great survival gift!
4. EDT Tool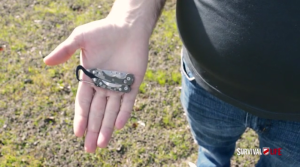 This multi tool includes a screwdriver, a "surgical blade" and a can opener. If you buy this EDT tool, it also comes with a free two-hour survival class and the book "Ultimate Survival Skills."  If you are buying survival gifts for veterans, put this on the list!
5. The Evac3
One piece of gear that's often overlooked in the survival realm is a seatbelt cutter. The Evac3 combines a small and carryable seatbelt cutter, a hardened steel tip window punch and a loud whistle.
Now you're going to be well-prepared for whatever comes your way with our survival gear checklist, make usre you pick them up as gifts, veterans love this kind of stuff!
READ NEXT: Top 8 Gifts Veterans Will Actually Love
*To keep our lights on, this page contains affiliate links.