Pictured is Susan Camoroda, Army and National Guard veteran.
Walk into any Starbucks in America and you'll find steaming cups of coffee, shelves loaded with tempting pastries and a warm, friendly place to hang out.
If you're a veteran, you'll find a lot more. How is Starbucks helping veterans? These days, the iconic coffee company with the familiar green logo is focused on helping America's military make a smooth transition to civilian life, and that starts with careers. Starbucks has hired more than 5,500 veterans and military spouses since 2013. The company pledges to hire at least 10,000 by the end of 2018, and that includes managers, shift supervisors, assistant store managers, baristas and district managers. Jobs in manufacturing and supply chain operations are also on the menu.
And it's not just jobs. Starbucks offers eligible employees – partners – a free college education through a partnership with Arizona State University (ASU). The program pays 100 percent of the tuition for a bachelor's degree in one of ASU's 50-plus online programs.
For veterans, there's more. Active duty or veteran partners can now pass the free education to a spouse or child – an education valued at $60,000.
So why is Starbucks making such a fuss over America's veterans? Company leaders were inspired by a Blue Star Families survey showing that, of the less than 1 percent of the American population that serves in uniform, only 12 percent feel the general public truly understands and appreciates their sacrifices.
"The American public is missing out on an incredible resource and asset," says Howard Schultz, Starbucks chairman and chief executive officer. "Beyond letting veterans' sacrifices go uncelebrated and their experiences to be misunderstood, we're not allowing them to fully contribute to society once they re-enter the civilian world. By not pursuing veterans to join American organizations we're passing up one of the most trainable and proven talent pools our country has to offer."
Starbucks' efforts in recruiting, educating and celebrating the nation's military earned the company the No. 4 spot in the retail industry on the 2016 Military Friendly® Employers list and No. 6 on the Military Spouse Friendly Employers® list.
"We need to go beyond thanking service members for their service; we need to reconnect veterans and military families by welcoming them back into the civilian world and into our businesses and communities," Schultz says. "When it comes to business leaders, the way forward is clear: Become active and connect with the military community and you will quickly find your next valued resource and asset. Let's not offer a handout; instead, offer an opportunity."
Not Looking for a Handout
James Marcus Elzie, 33, certainly wasn't looking for a handout when he got out of the Marine Corps in 2006. A veteran of both Iraq and Afghanistan, he just wanted a chance to prove himself as a civilian. It was almost a full year before Starbucks gave Elzie that chance. "I think some employers were afraid of my military background – associating my veteran status with PTSD – or were concerned with my lack of experience," he says.
Elzie is now working as a maintenance technician at a Starbucks' plant in Kent, Wash., where they roast, package and distribute Seattle's Best Coffee, Roasting Starbucks Coffee and blending Tazo Tea, along with preparing VIA Ready Brew. "The work environment makes me feel comfortable, I get good benefits, meet great people and I'm part of a company who's trying to make a positive difference in world," he says. Plus, the pay is
"way better," Elzie says.
The former sergeant plans to take advantage of the offer for a free education by finishing a bachelor's degree in electronic engineering and wireless communication at ASU. "I've already talked to an ASU Online representative to get the ball rolling again so I can take advantage of the free education Starbucks offers," he says.
Starting Over
Tom Tice, 45, started out as a machine gunner in the Marine Corps – not a skill that's in high demand in corporate America. By the time the Bellefonte, Pa., native retired after 21 years, he had added supply chief, security guard, recruiter and inspector general chief to his resume.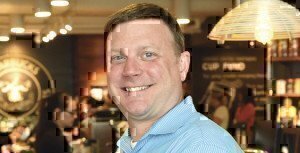 Tice, a master sergeant who served in the first Gulf War and Somalia, didn't have a clue what he wanted to do after he hung up his boots. "This was the most difficult time of my life, looking back I was truly directionless,"
he says.
Tice enrolled at Penn State, determined to start over. As a student and a stay-at-home dad, he was drawn to human resources. During his research to identify a specialty, Tice met with members of the Starbucks military affinity group, the Armed Forces Network. He liked what he heard about the company. So Tice leveraged this network to help him find a manufacturing recruiter position.
Today Tice leads a team of three military recruiters, helping other veterans find the direction he lacked when he got out. He believes post-9/11 veterans are the nation's next generation of leaders. "We believe the skills and contributions of veterans represent a huge economic opportunity for them to be the next generation of America's private and public sector leaders," he says. "That's exactly what we need to move our business forward."
Tice also provides input on the company's various military-related initiatives, which include 16 Military Family Stores staffed by veterans and spouses near military installations. The company plans to expand to 30 such stores nationwide by the end of 2016. The company also is developing up to 20 clinics across the country where veterans can receive free legal advice. In 2014, Starbucks partnered with HBO for a Veterans Day concert on the National Mall in Washington, D.C., attended by 800,000-plus and watched by 1.1 million viewers. And in early October 2015, Starbucks co-hosted a daylong discussion with other employers, VSOs and the military community to strengthen and connect efforts to support veterans and their families.
Bring Your Best
It wasn't the company's focus on the military that attracted Susan Camoroda to her second career as a Starbucks manager at two stores in Boston. A signal officer her entire career with the Army and National Guard, Camoroda initially looked for IT jobs. Then she read an article about an Army colonel who retired and ran into a Starbucks recruiter at a job fair. "This colonel had not been thinking at all of Starbucks, but after talking to the recruiter, was convinced to apply and was happy he did," she says. It got her thinking about a change in vocations, and about Starbucks.
Camoroda began researching the company and was attracted to Starbucks community service, social justice programs, and its commitment to make the lives of coffee growers better through fair trade practices. The availability of health insurance, "bean stock" and free college programs didn't hurt, either. The real clincher for Camoroda was the company's inclusive culture. "I was in the Army for over 25 years before I could be comfortable with being me," she says. "Don't Ask Don't Tell was a serious issue in my life, and at Starbucks it never did – and never does – matter who you are. As long as you bring your best self to the store and are committed to creating special moments for customers and partners, and supporting each other – that is all that does and should matter."
READ NEXT: 12 Degrees that Lead to Careers