The White House reported this month it plans to train service members and veterans to install solar panels across the country in a new hiring and energy initiative. According to recent numbers, solar energy is shattering records in the United States. Over the last decade, installed solar power has increased 13-fold, topping nearly 16 gigawatts today – enough to power the equivalent of 3.2 million average American homes. As solar energy continues to grow, it is becoming a major source of high-paying American jobs – employing nearly 143,000 full-time workers last year.
A press release by the White House says, "During the next decade, the solar industry is slated to grow even more. The next generation of skilled professionals will be key to the industry's effort to meet the demand for this clean, renewable energy. That's why the Energy Department is launching a pilot solar installation training program to provide military veterans who are transitioning out of active duty with the skills needed to become the leaders of the nation's clean energy economy."
The SunShot Initiative's Solar Instructor Training Network hopes to hire 50,000 new solar installers by 2020, and many will be veterans. The initiative is partnering with three military bases to create a veteran solar job training pilot project this fall.
The new training project will connect up to 30 motivated, tech-savvy military personnel at each base with SunShot-supported accredited solar training institutions. Ultimately, lessons learned from this first pilot will enable the Energy Department and military branches to expand solar training access to interested veterans, tapping into the department's nearly 400 solar training partner institutions nationwide.
According to the Department of Energy, service members in this pilot program will learn how to size and install solar panels, connect electricity to the grid, and interpret and comply with local building codes. This intensive training will prepare them for careers in the solar industry as installers, sales representatives, system inspectors, and other solar-related occupations. In fact, three of the largest U.S. solar companies – Vivint Solar, SolarCity, and SunPower – have already committed to interview graduating military trainees for employment, a step that will help place qualified trainees in the high-paying jobs they are suited for. GI Jobs has a free job board for Military Veterans and several companies in the Solar Power industry.
According to the U.S. Bureau of Labor Statistics, solar PV installers earned an average wage of $19.53 per hour, which equates to an average annual income of $40,620 as of May 2012. If you want to see what companies are paying, check out our job board for Veterans.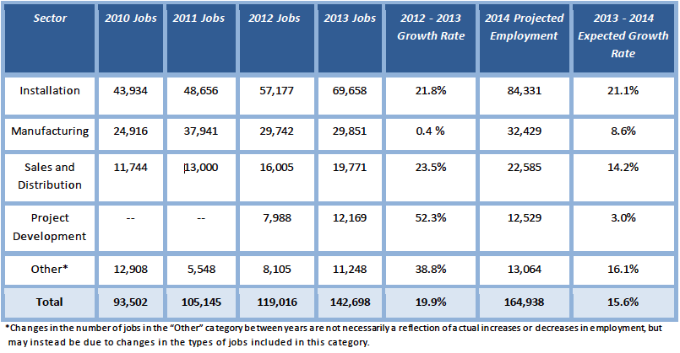 For more information on SunShot and Department of Energy initiatives click here.