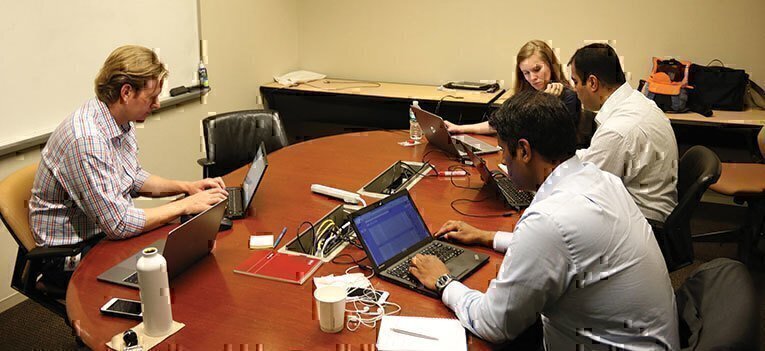 Adam Locklin can't decide which is the best part of his job: fighting cybercrime at the financial giant PwC* or being part of his company's Veterans Affinity Network, where he's taken part in ceremonies and special events, helped to recruit other veterans and supported nonprofits in their work.
Either way, he knows he's able to succeed in the business services industry because of his service in the Marine Corps. Business services employers are specialized firms that provide services to other businesses – temporary staffing, accounting, design, maintenance, printing, IT and other services.
"I'd like to say Marine Corps martial arts" has been the key, Locklin jokes. It's actually been his leadership as an intelligence analyst that did the trick, he says. Thanks to that experience, "public speaking, giving briefs and meetings to C-suite and senior executives, and delivering a message is the easiest part of my day."
PwC's recruiting manager, Bernard Burney, agrees. "Many veterans acquire translatable technical skills through their service, but their intangibles set them apart. They understand what it takes to complete a mission and are very adept at applying the same attitude to their careers. They're focused on the task at hand, and they're experts at leading, efficiency and collaboration," he says.
Marvin Daugherty, a retired Air Force veteran now serving as the operations/training manager and military liaison for Strategic Staffing Solutions, a top 20 U.S. staffing firm, says, "Veterans bring many soft skills or core values: integrity, service before self and excellence in all they do. Not everyone can bring that type of background or belief to an interview. One of our mottos is, "When you hire a veteran you hire character; you can train skills."
More than 1,600 veterans already work at Accenture, a global management consulting and professional services company that provides strategy, consulting, digital, technology and operations services. The company plans to hire another 5,000 by 2020 through its all-veteran military recruiting team.
Carlos Rivera Nazario was once an Army petroleum supply specialist. Today he's a management consultant senior analyst for Accenture, solving problems in the supply chain and operations for his clients. He learned to communicate how his military experience could apply to a career as a consultant.
"I want other veterans to know that their skills apply in very tangible ways to the work you might do for a company like Accenture," he says. "For example, you need to be great at project management, which is a skill that every soldier learns. Risk management also is key. I had to weigh best options when moving hazardous materials. And leadership is essential."
---
Staff Sergeant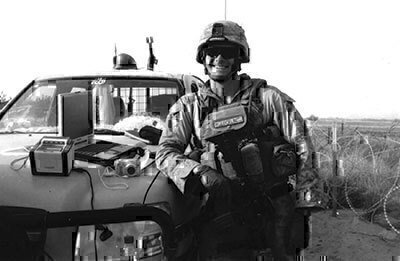 Adam Locklin
Manager, PwC*, New York City
Age: 32
Military Service:
Staff Sergeant (E-6),
Marine Corps (2003-2012)
Highest Rank: Staff Sergeant (E-6)
MOS: Intelligence Analyst (0231)
Education: Bachelor's degree, psychology, Park University, 2014
What do you do? I provide analysis in emerging technology to financial crime compliance solutions in order to solve increasingly complex financial threats. I actively participate in our Veterans Affinity Network, focusing on outreach, recruiting and supporting other events.
Biggest transition headache? Budgeting! I thought I understood how much of a military financial bubble I was in when active duty, then I realized cost of living was extraordinary.
Why did you pick this job?
My passion has been to grow a technology called blockchain, the technology that powers Bitcoin. I now get to work with leading technology start-ups and industry players who are our clients.
What's the biggest challenge?
They've allowed me to take on many large responsibilities and they keep letting me take initiative. You have to know when your time is full to manage the work-life balance.
What worked best in your job search?
Research, research, research. This is both online and also talking to people face to face. You don't have to ask for a favor, but just understand what life is like on the other side. Don't be afraid to ask for help.
---
Corporal
Rob Williamson
Sourcing Specialist, Strategic Staffing Solutions (S3), Richmond, Va.
Age: 28
Military Service:
Corporal (E-4),
Marine Corps (2007-2011)
MOS: Motor Transport Operations (3531)
OIF: 2009; OEF: 2010

What do you do? I locate quality potential candidates for open positions through traditional job boards and job postings, networking and job fairs.
What worked best in your own job search? Looking for jobs that were looking for people with military experience worked pretty well. Looking for jobs that I was actually interested in instead of just a job to 'get by' worked a lot better.
What didn't work? I thought I could solely rely on my military experience. I still needed applicable skills in those positions, especially roles that were different from my military experience.
What military skills do you apply to your civilian job? I apply more soft skills that I learned than actual hard skills: leadership, integrity, follow-through, commitment and perseverance.
Best advice for transitioning service members? Make sure you have a solid support system in place before transitioning from the military.
---
Specialist
Carlos Rivera Nazario
Management Consulting Senior Analyst, Accenture, Chicago
Age: 29
Military Service:
Specialist (E-4),
Army (2007-2013)
MOS: Petroleum Supply Specialist
Education: Bachelor's degree, accounting, Polytechnic University of Puerto Rico, 2015
What do you do? I work with global companies across industries, helping solve critical issues facing their supply chains and operations.
How did you get that job? After the Army, when I was in college, my friend took me to a job fair. At the fair I was introduced to Accenture. I spoke with a recruiter and asked every single question that came to mind. She liked that quality in me – my curiosity – and encouraged me to apply.
I had a number of interviews and Accenture's recruiters helped me find a role that was a good fit. I was asked to participate in what's called a "case interview," which is essentially a problem-solving exercise and a big part of what Accenture does – solving its client's biggest problems. It felt like a puzzle, which was great because not only have I always been a problem solver, but in the military, that's what we do on a daily basis.
Biggest transition headache? Learning to speak "civilian." The Army is like Accenture – it has a large vocab of slang, acronyms and idioms. I was a petroleum supply specialist. How do you explain how that might relate to a job at a place like Accenture? It can be very difficult, but it's a skill you can hone.
What worked best in your job search? Your network is incredibly valuable. If people don't know you, you might not get a chance. Get involved in the community. Find a hobby. Volunteer for something that you're passionate about. That is how you get connected, and someone might know someone who is looking for a role to fill. It's all about your network.