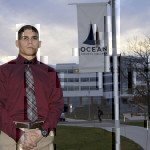 Area of study: Criminal Justice
MOS: Signal
Tell us about yourself:
I am currently a full time student. I have just recently returned home from a deployment in Afghanistan, as part of a combat support sustainment battalion.
I knew on my way home one of the first things I needed to do was to register for my next semester. I will be graduating with a degree in Criminal Justice. My career goal is to be a police officer.
My military experience has taught me that I want to protect and serve my community.
Why did you decide to got to school?
I began OCC straight out of high school, and after a semester I joined the United States Army Reserves.
After my military training I resumed classes at OCC, and have been deployed multiple times during my time here, totaling 2 years of active duty.
When I was returning home from Afghanistan, I contacted the Veterans Office and was registered immediately and in classes the following week.
Why did you choose this school?
I chose Ocean County College because it was affordable, and convenient. When I first began I did not receive any VA or Army education benefits, so cost was one of my primary considerations and it was convenient. Throughout all of my deployments I was able to stay connected with the school, because there were on campus classes as well as online classes.
What military benefits did you use?
I have used two different benefits since I have been enrolled at OCC, the 1606 Selective Reserve, and Montgomery GI Bill and now I am receiving the Post 911 GI Bill. Both of these benefits have made attending college more affordable and since the tuition is so reasonable at OCC I have avoided student loan debt.
Describe your student experience:
My experience has been very positive in that the faculty and professors have always been very helpful if I am having trouble understanding the material or need to have the proper paperwork for school records. Also, the beach is about a mile down the road and there is plenty to do within walking distance. I enjoy living near the campus.
What advice do you have for veterans returning to school?
There are so many veterans on campus, we are not alone. As a veteran student you can reach out to many of the departments on campus who want to support you so you can do the best you can. There are many resource available to assist, the faculty and Veterans Service Staff, and even the other veterans on campus. Do not let the unknown intimidate you.
What challenges did you face adjusting to school?
The challenges I had initially was the age differences.
When I first began as a student, I was the same age, and because of several deployments I was not able to continue and finish as quickly as I liked. I was older and the other students were younger. The freedom of college life has also been a challenge, in the military we are directed to do everything, in college we are guided and encouraged to explore the world around us.
Do you think your military experience made you a better student?
I believe my military experience has made me a better student, and a better learner. I appreciate learning more now than I did when I first began attending classes here. The military has taught me responsibility, and commitment to seeing things through to the end. The military has also taught me to be focused and be determined when I faced with an obstacle. To exercise leadership in the classroom by setting the example for my peers.