Shannon Ihrke is a Marine-turned-spokesmodel who recently was featured on the cover of Maxim magazine. Showing that transitioning can be … well, hot.
We spoke with Ihrke about her experience transitioning from military to model.
Are you still on active duty? No, I went into the inactive reserve at the end of January in 2012. I was honorably discharged from the Marine Corps after four years. I joined when I was 19 years old out of St.Cloud, Minnesota.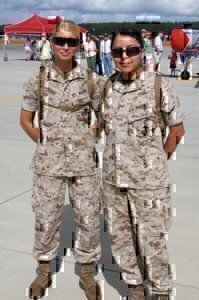 Do Marines treat you differently now that they've seen you in sexy photo spreads? Marines that I've worked with in the past are asking me to sign calendars and magazines for them and their friends now, and that's kind of weird but very cool at the same time because it shows how supportive they are!
What's up with that irregular salute on the Maxim cover? I've been hearing that question a lot. I know how to properly salute. However, a photo, especially a cover photo, needs to be pleasing to the eye, and the Maxim team wanted me to do a salute but still make it flirty and fun at the same time. At first, I did a normal, correct salute but it wasn't working for them so they asked me change it up a bit. Saluting and being flirty don't go together, but as a model, you make it work and they liked how this particular photo came out in the end.
What was the main reason you wanted to join the military? I was ready for a change in my life. At the time that I joined, I was a full-time student, I had two jobs to pay the bills, and I still had a negative balance in my bank account. I knew I had to make a big change in my life to turn things around for me and when I heard a Marine Corps recruiter tell me that I wouldn't make it through boot camp, I made it my mission to sign up and prove him wrong.
What is the best part of being in the military? My brothers and sisters in the Marine Corps. It's a family in every sense of the word. You live together, eat together, workout together, hang out in your spare time together, fight with each other, and you'll still do anything for each other whether you like each other or not. That's a family right there.
Best part of being a model? I think the best part about being a model is just dressing up and feeling girly again! After being in the Marine Corps for four years and not really getting to dress up much, not wearing makeup, having your hair pulled back every day, and feeling like 'one of the guys', it's fun to feel glamorous and show another side of me. I'm making up for those years of feeling like a boy.
We know you spent two years at Saint Cloud State University studying marketing and then specialized in legal administration and accounting at Ashford University while finishing your marketing degree. So tell us a bit about your job in Chicago. Right now I'm Chicago's Loop Rock Girl, which means that I'm the spokesmodel for the biggest classic rock radio station in Chicago. Every year I make a new Loop Rock Girl calendar, model for lots of photo shoots, attend tons of radio station events, maintain my social media accounts as well as create a weekly blog, I talk on our station's morning show regularly, interact with our fans as much as possible, and I attend all the big rock concerts that come through our city! It's honestly the best job I could ask for at this point in my life! I have a salary, benefits and still get to do all the awesome jobs that every model dreams of.
How did you get the job? I competed in the annual Loop Rock Girl competition. I had to submit a short video talking about myself, answer a questionnaire, come in to the radio station for an interview, go to radio station events, and do a small photo shoot. There were tons of girls that applied for the job. It was a two-month process. I ended up winning the competition, and when it got close to my term being over, the station asked if instead of me being the '2013 Loop Rock Girl' that I remain the Loop Rock Girl from here on out! I was able to turn a temporary gig into my permanent job!
What do you like best about it? Before I became the Loop Rock Girl, I was taking any modeling jobs that were presented to me (within reason, of course) and sometimes it would still be difficult to make ends meet. The great part of my job with The Loop radio station is that it's a steady paycheck and I still get to do what I love every day!
What's the biggest difference for you about civilian life vs. military life? When I got out of the Marine Corps I was a sergeant and I could tell a group of people to do something and it would get done immediately without any questions asked. Civilian just do not work that way. Another huge difference was that the military made a lot of decisions for me. The Marine Corps decided where I lived and for how long, how much I made, where I ate, when to work out, and the only bills I had were on my car and my cell phone. Civilian life forces you to make your own decisions, and that was really hard for me, especially that first year of being out.
What advice would you give to military transitioners looking for jobs? A lot of people think that just having a military background will open doors for you, but unfortunately it's just not that way. A lot of people have military backgrounds nowadays so it's important to find other things that make you stand out as well. You have to put together a great resume, work your tail off, and let any rejection you might receive motivate you instead of discourage you. Have perseverance. Make sure you're constantly working to improve yourself by taking college courses, volunteering, or anything else that might help to impress a potential employer.