Joe Walsh, legendary guitarist and hotel room trasher for The Eagles and James Gang, has announced the formation of his new charity, VetsAid, and the first ever VetsAid benefit concert.
VetsAid is a national 501(c)3 non-profit organization founded by Walsh to raise and disperse sorely needed funds to veterans groups across the country that are serving the men and women who served our country with the dignity, compassion and honor they deserve.
Walsh knows firsthand the struggles that military families endure, as he lost his father in Okinawa during WWII. He saw VetsAid as an opportunity to give back to the military community through Rock N' Roll, which he says is what he does best.
Walsh recently told Rolling Stone, "Let's put on a show, raise some money and celebrate our vets…and lets do it every year!"
The first annual VetsAid concert will take place September 20th at Eagle Bank Arena in Fairfax, Virginia. Joining Walsh on the bill will be Zac Brown Band, bluesman Gary Clark Jr. and country star Keith Urban. More performers are expected to be announced in the coming weeks. A finale jam session will also take place with surprise guests.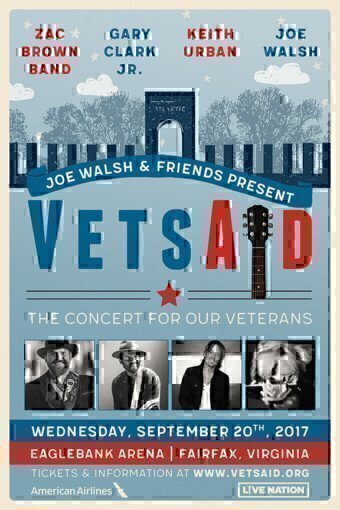 For more information on the concert and how you can contribute to the charity, head over to VetsAid.org
READ NEXT: 13 Stress Relief Hobbies For Veterans