This Iraq veteran found healing through BBQ and helping others in healthcare.
Jason Wilson is a cardiopulmonary manager for Baylor Scott & White Health in Waxahachie, Texas. He's been helping others heal through respiratory therapy for more than a decade. Yet his service in healthcare also has helped him heal from the psychological wounds of war. That, and BBQ.
After five years in the Army and a tour in Iraq, Wilson struggled with PTSD, anxiety and depression. His passion for BBQ and helping others as a respiratory therapist helped him heal. So much so that he encourages other veterans to find their passion and share it with others.
"The biggest thing I try to share with others is, 'Find your why. Find what helps you heal, what helps you reconnect," he said. "It doesn't have to be barbecue—it can be quilting, it can be gardening, it can be working on cars. It doesn't matter what it is. But find what that journey is for you, and then share it with others, because you never really know whoever else out there might be hurting. And just through that conversation you might be able to connect and help start them on their path to find their why and what helps them heal."
Watch highlights from our conversation with Jason on our YouTube Channel. You can also visit his website meattherapybbq.com or Instagram page.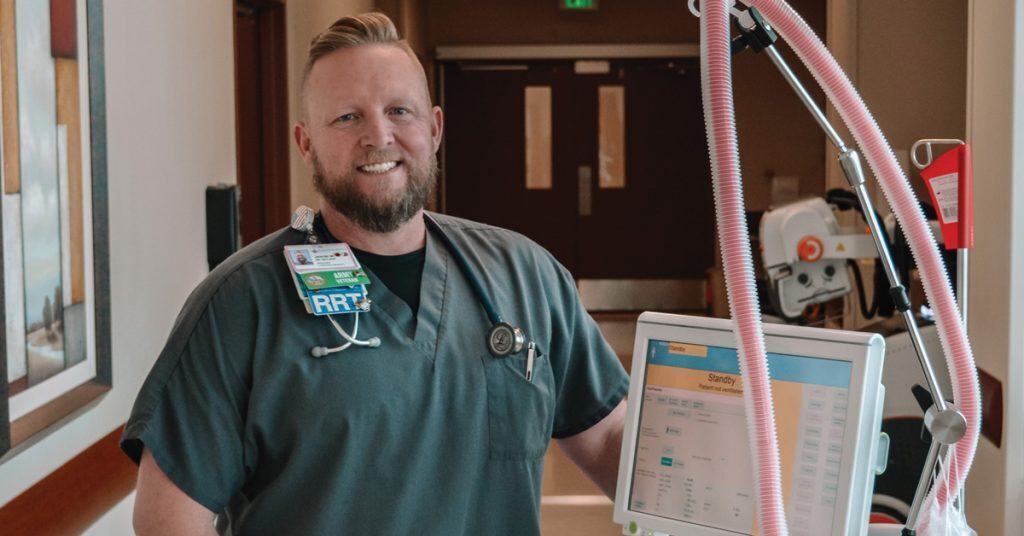 Jason Wilson
Cardiopulmonary Manager
Baylor Scott & White Waxahachie
Job Location: Waxahachie, Texas
Employed Since: 2012
Age: 42
Military Service: Sergeant (E-5), Army (2005–2010)
MOS: Topographic Analyst (21U)
Post-secondary education:
Associate degree, Applied Science in Respiratory Care, Temple College, 2012
Bachelor's degree, Professional Development and Advanced Patient Care, Grand Canyon University, 2019
License: Texas Medical Board:
Respiratory Care Practitioner (RCP)
Certification: NBRC Credentialed:
Registered Respiratory Therapist (RRT)
Here are a couple of insights from our conversation:
What inspired you to become a respiratory therapist? The reason I chose to become a respiratory therapist after my military service was because my oldest son was born at 24.5 weeks gestation when I was 18 years old. He was on mechanical ventilation for months and then came home on oxygen. I wanted to be able to speak to parents from a medical side as well as a compassionate parent side from being through the experience.
What do you love most about this career field? Getting to continue to serve others and help them on their healing journey.
What's the biggest challenge? Caring for others can take an emotional toll on you at times. You have to have an outlet for self-care so you can continue being the best you possible.
What advice would you give someone considering a career in healthcare? Don't be afraid to suck at something new. It's worth taking that leap of faith, that you'll be able to care for others and continue serving others like you did in the military. But you're also able to provide for your family and support them through healthcare.
This article is from the March/April 2023 issue of G.I. Jobs magazine.