Air Force veteran combines childhood memories and military training to create Graze Craze™*, now a nationwide franchise concept.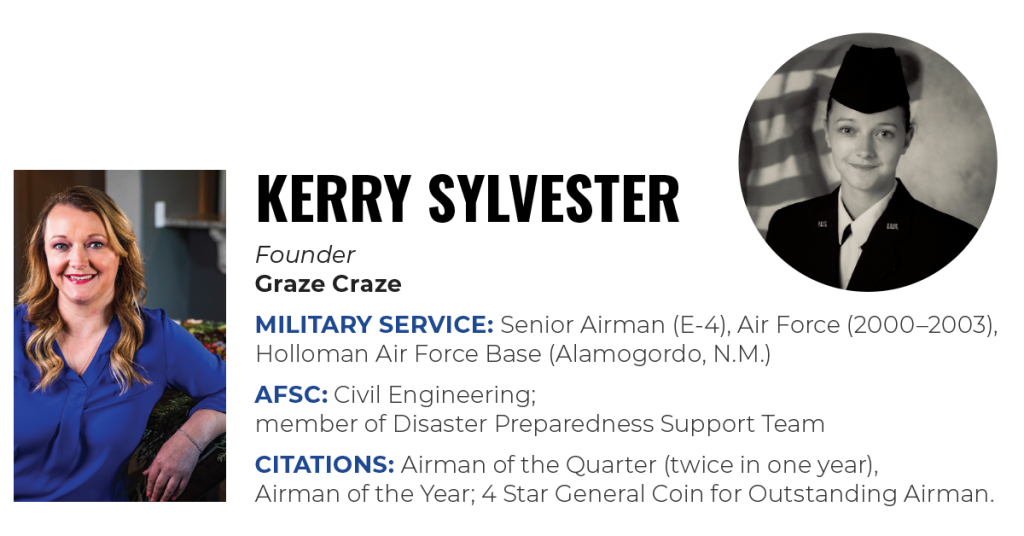 Food lovers looking for creative dining experiences have popularized charcuterie, an assortment of bite-size foods arranged in an appetizing way on a platter called a charcuterie board. Not many retail locations specialized in it when Kerry Sylvester transitioned out of the Air Force decorated by a four-star general for outstanding senior airman for her work as a civil engineer. So, she decided to be the first.
Tell us about Graze Craze™. We are a nationally franchised company based on the popular grazing style called charcuterie. We make it an experience with in-store grazologists™ who curate customized, hand-crafted picnic boxes and charcuterie boards featuring fruits, vegetables, cheese, gourmet sweets and more. I grew up in England eating this way, and after leaving the Air Force, I realized it was the perfect fit for people who wanted to put together a creative meal that was easy and fun but satisfying. I started with a test kitchen in 2018 and opened our first store in 2020. In 2021 we joined United Franchise Group*, the global leader for entrepreneurs with more than 1,600 franchises in over 60 countries.
What skills in the military have you carried over to business ownership? In the military you must always be prepared for the unexpected, make a solid commitment to your country, and meet the expectations that come along with that commitment. As a business owner, you must be committed to yourself, your employees, your customers and anyone else who becomes a part of your business life. The Core Values of the Air Force are "Integrity First, Service Before Self, and Excellence in all we do." They have stayed with me throughout my life, and I integrate them into my day.
Why is Graze Craze™ a good opportunity for veterans? Graze Craze™ provides structure while delivering limitless potential. I believe a veteran-owned business is very impactful because it shows the full circle from a chapter in a person's life where their career was defending our freedoms, to a time where their career allows them to participate in a free economy.
What is your advice for veterans looking to own a business or franchise opportunity? My advice is to find a business that you connect with personally and then become a student to learn the business from a franchisor. Also, approach your customers with the willingness to improve yourself and your business daily. 
*broker partner with G.I. Jobs