From left: Eddie Montgomery, Troy Gentry, Amy Palmer, Fred Noe and Robby Gordon toast the troops during the second annual "Beam Bash" on Feb. 13 in Ormond Beach, Fla. (PHOTO COURTESY OF OPERATION HOMEFRONT)
Thousands of veterans who served in the Persian Gulf during the height of the Iraq war got to hear the multi-platinum country duo Montgomery Gentry perform during their overseas USO tours. Their support of the military and their families landed country star Troy Gentry and his singing partner Eddie Montgomery on the cover of the May 2009 issue of G.I. Jobs magazine.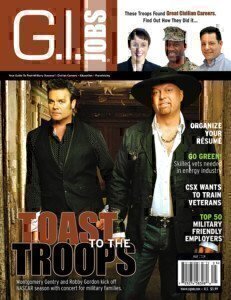 Gentry, who died tragically in a helicopter crash Sept. 8, 2017, on his way to a concert in New Jersey, told G.I. Jobs in the May 2009 cover story that their success in the music industry allowed them to do two things they were passionate about: perform and help others.
"It's a lot of fun and a lot of hard work too," he said. "We work really hard so that we can play hard when we want to. And it's nice to be in a position to help. We love being on stage – it's such a rush – but we also love being in a position to help organizations like Make-A-Wish and the USO and Operation Homefront."
In February 2009, Montgomery Gentry performed a show near Daytona Beach, Fla., that benefitted Operation Homefront to support military families.
We salute their efforts and generosity toward those who served.
*All photos courtesy of Operation Homefront