Army vet and TEL President Larry Smith explains why you're ideal for a high-paying career in the semiconductor industry.
A global microchip shortage during the COVID-19 pandemic has created a scarcity of everything from new cars and consumer electronics to medical devices. But rather than signaling the death of the nation's semiconductor industry, the chip shortage may be the harbinger of a resurgence of United States-based semiconductor manufacturing, boosting an industry committed to hiring military veterans.
"We're trying to create an equal playing field for us to keep this critical technology within the United States."

Larry Smith, President of Tokyo Electron U.S. Holdings Inc. (TEL)
The Semiconductor Shortage
Army veteran Larry Smith, president of Tokyo Electron U.S. Holdings Inc. (TEL)*, one of dozens of veteran-led Military Friendly® organizations, has witnessed the US share of the $500 billion semiconductor industry plummet to 12% in the past decade from 37% as Taiwan, South Korea, China and Japan cornered three-fourths of the world's production capacity.
"It's been a dramatic decrease. We do have a manufacturing presence, but a lot of the manufacturing has gone overseas and we're also a very consolidated market with a few manufacturers," Smith said, listing Samsung (South Korea), Intel (US) and Taiwan Semiconductor Manufacturing Co. (TSMC) as major chip manufacturing names.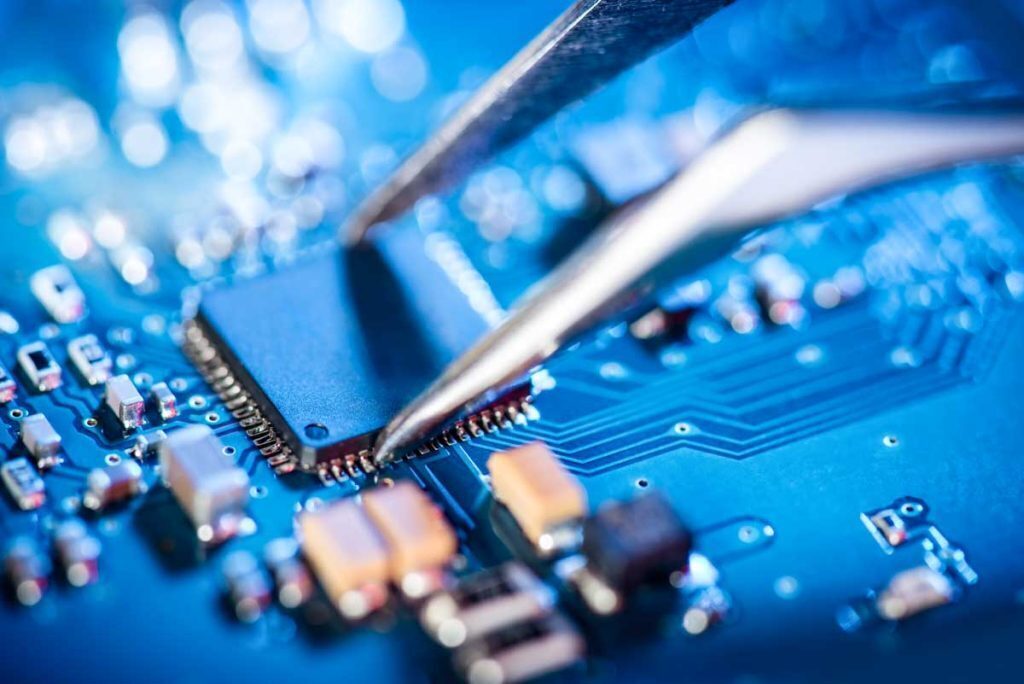 Incentivizing Investment In The Semiconductor Industry
But times may be changing. Incentivizing investment in the semiconductor industry has been a priority of the Biden administration. Congress appears poised to pass the Creating Helpful Incentives for Producing Semiconductors (CHIPS) for America Act, a bill that would provide $52 billion in federal incentives for domestic semiconductor research, design and manufacturing. Meanwhile, the House of Representatives has passed the America COMPETES Act of 2022, which, if enacted by both chambers and signed into law, would fund the provisions included in the CHIPS Act and authorize nearly $300 billion for semiconductor research and development. Another bill, the Facilitating American-Built Semiconductors (FABS) Act, has been introduced in the Senate and would establish a semiconductor manufacturing investment tax credit.
While the dollar amounts appear eye-popping, Smith maintains federal investment in the chip industry is necessary if the US is to keep pace with foreign competition and maintain America's global leadership in chip technology.
"Different countries in other parts of the world, particularly China and Asia, their governments have provided significant incentives," Smith says. "We're trying to create an equal playing field for us to keep this critical technology within the United States."
Trending Incentives and Breaking Ground in Chip Industry
According to the US Commerce Department, the demand for semiconductors in the US ratcheted up 17% from 2019 to 2021 as remote work and home-schooling boosted demand for microchip-laden consumer goods at a time when global chip manufacturers were approaching maximum production capacity. The result has been a shortage of all types of computer chips, particularly automotive semiconductors. A new gas-powered car has more than 1,000 microchips inside while an electric automobile may have up to 3,000.
At the state level, tax incentives are proving successful at luring semiconductor manufacturers back to the US. Ohio has pledged $2 billion in grants to land a $20 billion Intel manufacturing project in suburban Columbus, which is scheduled to break ground in late 2022. Intel also has two semiconductor plants under construction in Chandler, Ariz. Samsung is receiving $954 million in local, county and state property tax relief as well as state tax incentives and $260 million in infrastructure improvements to bring its $17 billion next-generation semiconductor factory to a town outside of Austin, Texas. Meanwhile, Arizona also has attracted a $12 billion investment by TSMC to begin making 5-nanometer chips at a plant in Phoenix, its first new US factory in two decades. TSMC is the exclusive producer of chips for Apple's iPhones and Mac computers.
Smith calls the number of "greenfield" projects, i.e., development on vacant sites, as "unprecedented." He anticipates as many as five new factories breaking ground in the next three years. But, he notes, passage of the CHIPS Act remains a "critical cog" in sustaining the current momentum of manufacturing expansion within the US.
32,000 Careers for Veterans in the Semiconductor Industry Nationwide
Yet finding skilled workers to fill 32,000 job openings nationwide and thousands of new jobs in the pipeline remains an obstacle for the industry.
"With all of that expansion, one of the greatest challenges is finding talent," Smith said. "We're reaching out to universities and, in my case, I'm a veteran. I feel part of my calling is to help veterans get jobs."
A West Point graduate, Smith spent five years on active duty as an armor officer in the Army and an additional five years in the Army Reserve. He acknowledges it can be "very intimidating" when translating military skill sets to the semiconductor industry. But after 32 years in the industry, including 21 years with TEL, Smith is convinced veterans can play a major role in solving the workforce shortage.
"In the next year, we probably will be trying to hire almost 30% of our current workforce," Smith says. "We're talking hundreds of people. That's unprecedented for us."
What Kind of Job Openings Are In The Chip Industry?
TEL (tel.com/careers/careercenter/index.htm) builds and services equipment and technology that support the manufacturing and testing of semiconductors. Its global workforce totals more than 10,000 employees, while veterans comprise 13% of its US personnel.
Smith says the roles of field engineers, startup engineers and process engineers are tailor made for transitioning veterans, while military retirees may have opportunities to move into leadership and project management positions.
"I think the perfect fit is literally half of my company," Smith noted. "There's a career path to a variety of other areas once you start with understanding the equipment. Supply chain, parts, problem solving, training. We've seen veterans in all aspects of our business in our industry but that transition into the field environment is one [common] place."
Kathryn Garner, TEL talent acquisition and global mobility senior manager, points out that military training stresses safety, following guidelines and procedures, teamwork and dependability—skills that are "totally transferrable" to the semiconductor industry. 
"There is so much opportunity in our industry and so much demand for computer chips that it's a solid career for veterans," Garner said. "They can grow their careers after the military."
Programs, Mentors, and Career Portals To Help Veterans' Careers
TEL is not alone in seeking military talent. SEMI (semi.org/en), a global industry trade association, has stepped up its commitment to hiring veterans. The SEMI Foundation (semi.org/en/workforce-development/semi-foundation/veterans) has expanded its VetWorks Initiative aimed at connecting member companies to the military talent pool and partnered with the Manufacturing Institute's Heroes MAKE America (themanufacturinginstitute.org/veterans/heroes-make-america) program, which connects transitioning service members to the semiconductor industry. 
The SEMI Foundation also is launching an online career portal this summer that will provide skills and interest assessment tools, links to trainings that map to specific jobs, "crosswalks" that show how to move from the military to microelectronics as well as connections to mentors and sponsors.
SEMI Foundation Executive Director Shari Liss believes the career portal will fill a void in educating employers and service members how military service translates to semiconductor industry careers. 
Translating Military Experience To A Job In The Semiconductor Industry
"Unless someone has had some exposure to the semiconductor industry, it's not necessarily a go-to post-military career option," Liss said in an email interview. "In addition, veterans may not recognize or consider the value their experience can bring to the semiconductor workforce. For many companies, as well as service members and veterans, there remains a challenge interpreting military skills and job experience to job openings. The job 'crosswalks' we are designing into the career portal will help address this challenge."
The fingernail-sized microchip that powers all of today's electronics and information technology accounts for an estimated 240,000 high-skill and high-wage jobs nationwide. Liss maintains those who have served their country in uniform form the "ideal talent pool" for those jobs. 
"A career in the semiconductor industry requires creativity, innovation and teamwork, all traits instilled and fostered in those who serve in the military. Transitioning military, active reserves and veterans possess the talent, skills and competencies necessary to be immediately effective in high tech: commitment, discipline, resilience, a willingness to take on challenges and teamwork," she says. "In addition, they have generally had more high-technology training than their age-group peers and are better at using it across a variety of fields and tasks." 
Watch The Full Interview with Larry Smith of Tokyo Electron