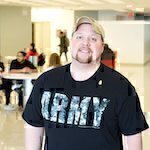 Program Type/Area of Study: Liberal Arts
Tell us about yourself:
I am originally from Philadelphia. I love baseball and playing guitar. I love traveling the world, I speak multiple languages. I am an officer in the Phi Theta Kappa Honor Society. I was also President of the Veterans Club at BMCC. I am very close with my family even more so after being in the Army.
What prompted you to return to school?
While serving in Afghanistan I had lost a number of soldiers in my platoon and after such tragic events I had made a promise to be the best i could for them, thus being the best student.
Why did you choose BMCC?
BMCC is a school like no other, as a veteran you are much of a family. The Veteran Resource Center makes you feel like you never left the service. The staff at BMCC are amazing. They understand that you are a student veteran and adjustment takes a little help.
What military education benefits, such as the GI Bill, did you use?
I am currently using Chapter 33 The Post 9/11 G.I. Bill.
What has your experience been like as a student?
As a student Veteran at BMCC I have benefited greatly, BMCC has helped me integrate back into an academic setting that is form fitting for a prior service member. There are not many schools that I know of where the College has such pride as they do in their student veterans.
Did you face any challenges adjusting to student life?
There were some challenges I had faced returning to civilian life. One of the biggest challenges I had faced was sitting in a class room and feeling like I was an outsider. Another challenge I faced was how differently the civilian world is in comparison to the military.
Do you feel like your time in the military made you a better student?
I am sure that my military experience has made me a better student. While at BMCC my grades have been amazing. I know deep down it is what the military instilled in me that is the drive. As service members we do not the words "defeat"or "failure." However we do know how to adapt and over come all obstacles.
What advice could you offer to other veterans choosing to pursue an education?
My advice to new student veterans is to take your time. When you are going to college it is tough enough just with the course load, but take your time and work with the staff that is available to you. Also I would recommend to all student veterans is to know the terms and limitations of your G.I. Bill you are using inside and out.
Any other comments?
BMCC has helped prepare me not only with transitioning from soldier to student, but has helped me greatly prepare for a four year school.