From day one, Navy SEAL training requires complete dedication from your body and your mind. You can prepare your body for the physical toll BUD/S will exact on you, but mental preparation is something else altogether. Navy SEALs gave out some of their mental preparation hacks that not only got them through training, but also through the high operations tempo SEALs face these days.
But even if you can't be a SEAL (for whatever reason) or you don't want to be (for whatever reason), you can still use Navy SEAL mind tricks to advance yourself along the path to your personal or professional goals using the tips in the infographic below, courtesy of Mike's Gear Reviews.
We've all heard SEAL quotes before. "Get comfortable with being uncomfortable," "the only easy day was yesterday," and, of course, the ever-accurate "40 percent rule." Get ready for some new axioms, because these might help you conquer the world — or at least the world as you see it.
Chances are good that you have a big event coming up in your life (and if you don't, what are you doing? Go find one!) and you'll need some focus, mental clarity, and calmness before you go out and change the world. Remember to visualize your objectives. Observe, orient, decide, and act. Trigger your consciousness. Control your arousal. Convert your fears to confidence.
And above all, save room for the Hooyah.
This article originally appeared on We Are The Mighty
More From We Are The Mighty
5 Reasons Why Troops Stick Together After the Military
4 Reasons Why Showering On Deployment is Disgusting
7 of the Greatest Songs Every Veteran Knows
6 Things You'd Take Back Before Leaving the Military
6 Dumb Things Veterans Lie About on the Internet
Follow We Are The Mighty on Twitter

Summary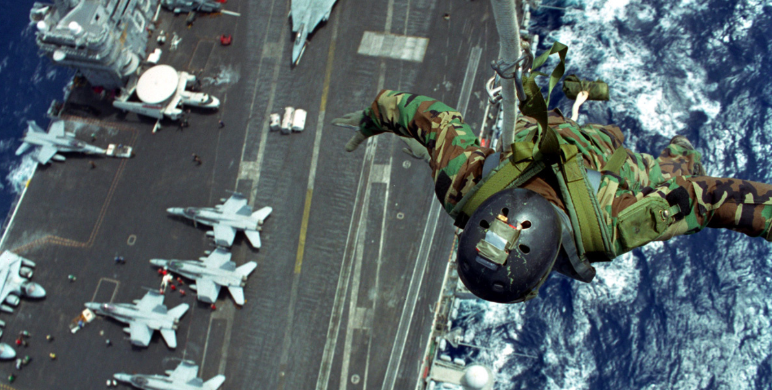 Article Name
7 SEAL Mind Hacks to Get You Through Anything
Description
Navy SEALs are known for being some of the most physically fit and tough people on the planet. But they are also some of the most mentally strong. Here are 7 SEAL mind hacks to help you take on anything.
Author