Plenty of professional athletes have served in the military, but an even smaller number of sports aficionados have seen real combat or performed heroic deeds while in uniform. These are five examples of sports stars who saw heavy combat in the U.S. military.
1. Medal of Honor recipient Jack Lummus told the field doctor "the New York Giants lost a mighty good end today" before he died.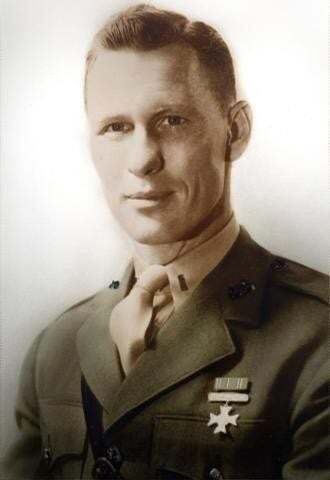 He had a promising career ahead of him in the NFL with the New York Giants, but Jack Lummus answered the call to serve his nation during World War II. What a great sports star. Even before his rookie season with the Giants, Lummus tried to drop out of school at Baylor to join the Army Air Corps as a pilot, but he failed.
He later joined the Giants and played in nine games, including the championship game against the Chicago Bears. The Giants lost the game 37-9, and afterward, Lummus joined the Marine Corps Reserve and worked his way up to second lieutenant, according to The Washington Times.
The Times has more:
In the book, "Iwo Jima," author Richard F. Newcomb detailed the heroics of the former NFL rookie end, who led a unit in battle against the enemy despite suffering injuries from grenade blasts. As he led his troops against enemy positions, "suddenly he was at the center of a powerful explosion, obscured by flying rock and dirt. As it cleared, his men saw him rising as if in a hole. A land mine had blown off both his legs that had carried him to football honors at Baylor.
Lummus was posthumously awarded the Medal of Honor for his heroism. Before he died, he told the field doctor, "Well, doc, the New York Giants lost a mighty good end today," according to NBC Sports.
2. Tom Landry flew 30 combat missions in a B-17 bomber during World War II while playing sports.
Tom Landry is considered one of the greatest professional football coaches and sports stars in NFL history, but before his innovative contributions to the world of football, he was a co-pilot of a B-17 Flying Fortress. After playing football in the 1942 season, he joined the Army Air Forces and was later assigned to the 8th Air Force.
Landry served in 30 combat missions in the skies over Europe and also survived a crash landing, according to NBC Sports.
3. Bob Feller was the first Major League baseball player to volunteer for active duty, just two days after the Pearl Harbor attack.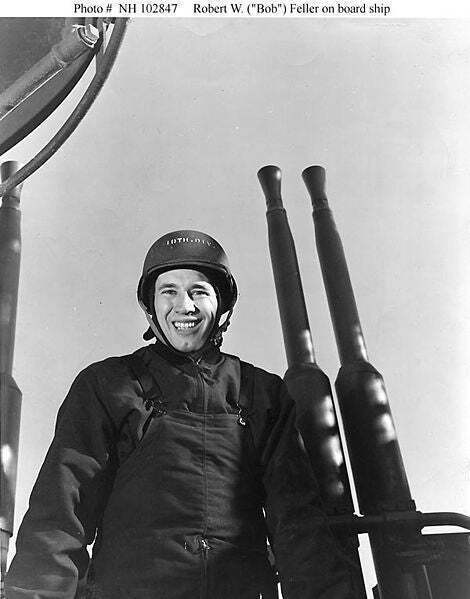 Cleveland Indians sports star pitcher Bob Feller began the trend of professional players giving up their careers in the wake of the Pearl Harbor attack on Dec.7, 1941. Just two days after the attack, Feller enlisted in the U.S. Navy.
"I was on my way to meet with the general manager of the Cleveland Indians to sign my 1942 contract the day of Pearl Harbor," he told ESPN. "It was about noon; I had the radio on in the car and had just crossed the river into Quad Cities when I got the news. That was it."
Feller served on the USS Alabama until 1945 when he was discharged as a Chief Petty Officer. He saw combat in the Pacific, most notably during what he told ESPN was the "Marianas Turkey Shoot."
"We shot down over 470 Japanese airplanes in one day [June 19, 1944]. And that was the end of the Japanese Naval Air Force." He is still remembered fondly in his sport.
4. Baseball legend Ted Williams gave up four years of his major league sports career while serving as a Marine pilot in World War II and Korea.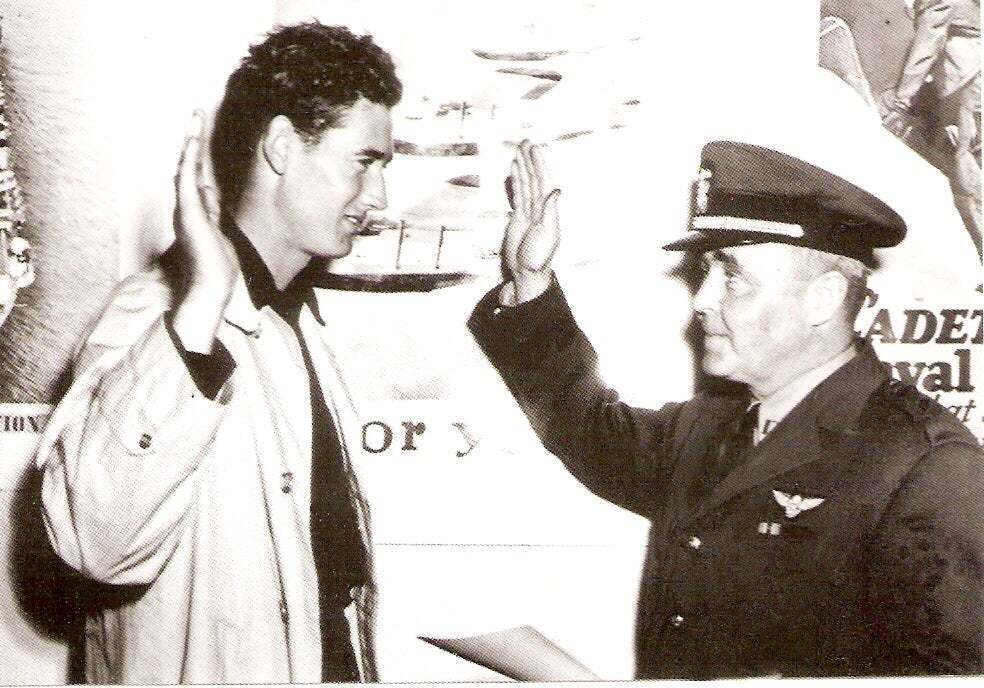 Ted Williams had already cemented his place in sports star baseball lore with the "finest rookie year in baseball history" in 1939, but it wouldn't be long before the legendary hitter did his duty in the military. After the 1942 season, Williams joined the Marine Corps and was commissioned a second lieutenant, but by the time his flight training was finished, much of the air combat was over as well.
He spent much of his time during World War II training for war, and then training others, but he would later be called back to serve in Korea. It was there while serving with the 1st Marine Air Wing that Williams would have a number of brushes with death.
"Once, he was on fire and had to belly land the plane back in," his friend and fellow pilot John Glenn told MLB.com. "He slid it in on the belly. It came up the runway about 1,500 feet before he was able to jump out and run off the wingtip. Another time he was hit in the wingtip tank when I was flying with him. So he was a very active combat pilot, and he was an excellent pilot and I give him a lot of credit."
Williams returned to baseball once again in 1953 — this time to a hero's welcome. But he maintained an attitude of modesty.
"Everybody tries to make a hero out of me over the Korean thing. I was no hero," Williams wrote in his biography. "There were maybe 75 pilots in our two squadrons and 99 percent of them did a better job than I did. But I liked flying. It was the second-best thing that ever happened to me. If I hadn't had baseball to come back to, I might have gone on as a Marine pilot."
5. Pat Tillman gave up a lucrative NFL career to become a U.S. Army Ranger.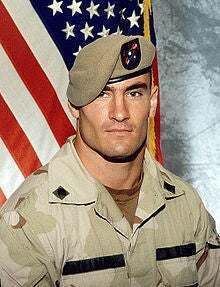 Having been selected in the 1998 NFL draft by the Arizona Cardinals, Pat Tillman was three years into a lucrative career in pro football when the 9/11 attacks occurred. He finished the 2001 season and then enlisted in the U.S. Army with his younger brother Kevin, according to Biography.
"At times like this you stop and think about just how good we have it, what kind of system we live in, and the freedoms we are allowed," he told a reporter a day after the attacks, according to The Pat Tillman Foundation. "A lot of my family has gone and fought in wars and I really haven't done a damn thing."
Both Pat and his brother deployed to Iraq in 2003 and Afghanistan in 2004 as Rangers with the 75th Ranger Regiment. During an ambush in a canyon on the evening of April 22, 2004, Tillman was killed by friendly-fire after his unit mistook an Afghan soldier near him as an insurgent and opened fire, according to ESPN. While he wasn't able to return to his beloved sport, the NFL will never forget him. 
Article was originally published by We Are The Mighty.