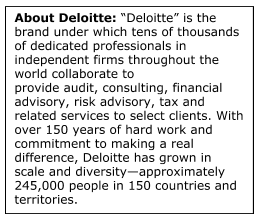 SPONSORED
Many military spouses gravitate toward careers at Deloitte due to the competitive yet flexible work options. Deloitte's locations at XX offices across the US and ecosystem of roles enable military spouses to have options when undergoing military-ordered moves.  However, a formal process for consistently—and unexpectedly—moving was absent.
As a result, an informal network of military spouses organically grew and leaned on each other when transferring cities, offices, and positions.
Deloitte's inclusive culture, agile workforce, and demonstrated support for the veteran community served as a platform for the Military Spouse Initiative (MSI) to emerge. A group of Deloitte employees who were military spouses developed a four-tiered approach to attract and retain military spouses: transfer assistance, professional development offerings, talent (HR) awareness, and targeted recruiting.  Once implemented, military spouses were formally onboarded, connected, and transferred and Deloitte benefited from an expanding and dynamic pool of military spouse employees.
LEARN MORE ABOUT DELOITTE'S MILITARY SPOUSE INITIATIVE
Each of these four focus areas were presented to leaders in the business and strategically integrated into Deloitte's culture in the following ways: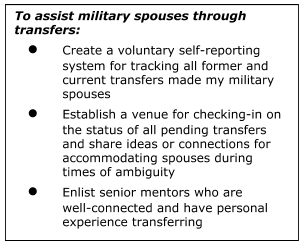 Transfer Assistance: To ease internal transfers resulting from government-ordered moves, the Military Spouse Ambassador Program (MSAP) develops and disseminates transfer guidance materials and provides personal mentors for transitioning military spouses. During the months before and after an anticipated transfer, they are connected with a Military Spouse Ambassador (MSA). When a Deloitte transfer is unable to be supported, military spouses are offered job search support for opportunities outside of Deloitte.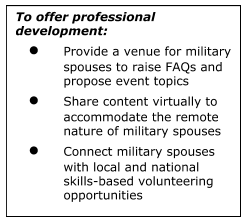 Professional Development Offerings: Moving often disrupts military spouses' professional networks. Transferring into a new position, remote position, or position in a new office requires extensive networking, accelerated performance, and personal sacrifice. To support military spouses in this effort, MSI convenes quarterly via a newsletter and professional development event. The events highlight various helpful resources, engages leadership, and connects military spouses to a broad community who can support the careers of this unique population.  Additionally, Deloitte works with local and national nonprofit organizations that support military spouses, including pro bono services supporting veteran families.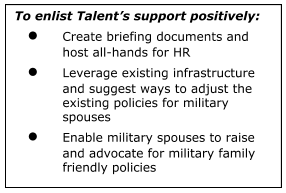 Talent (HR) Awareness: Deloitte's Talent organization is engaged when an individual relocates. MSI reviewed existing infrastructure and policies to identify areas that Talent could offer support specific to military spouses. When a transfer is occurring due to a military-ordered move, military spouses can now indicate that as a reason for relocation, receive tax filing support, and are assisted by Talent practitioners that are aware of the profile of military spouses.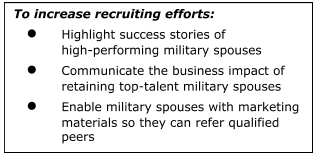 Targeted Recruiting:  The Joining Forces Initiative spurred an increase in Veteran Recruiting efforts at Deloitte, and MSI fulfills the focus on military spouses. Military spouse volunteers identify and attend relevant job fairs for veterans and their families and publicize marketing materials.

Deloitte is leading the way in offering support for its military spouses. Through the Military Spouse Initiative, military spouses are able to find support and resources for their careers, and benefiting Deloitte and its clients by bringing their unique perspective and experience to work every day. 
VIEW OPEN POSITIONS WITH DELOITTE HERE
______________________________________
About the Author: Cassandra Sullivan is an Organization Transformation & Talent Senior Consultant with Deloitte Consulting LLP. She has managed four military-ordered moves during her three years at Deloitte and co-founded the Military Spouse Initiative when making her first transfer. Alongside her client service, she serves as the Program Manager for MSI and works out of Deloitte's office in Seattle, WA; she previously worked in offices in New York City, NY, Atlanta, GA, San Francisco, CA, and Washington, DC. Her husband graduated from the U.S. Naval Academy in 2015 and is currently serving as a Submarine Officer.