We salute these professionals who advocate tirelessly for those who served.
If you're a student veteran at Mississippi State University (MSU) you can ride with the Veteran Horsemanship Program, work out in the Veteran Fitness Program (VetFit), swing in the Veteran Golf Program, and map your career at the Veteran Career Fair—all thanks to Brian Locke.
Locke has built these programs and much more since taking over as director of Veteran and Military Affairs and The Center for America's Veterans at Mississippi State in 2018. They're just a few of the impressive accomplishments that earned him recognition as a 2022 Veteran Champion of the Year in Higher Education. 
The award recognizes those who excel as advocates for student veterans in higher education. This year's list includes 22 honorees. Not all of them are veterans, but many are. Locke served active duty in the Army for 23 years before transitioning to higher ed as a professor of military science and department head for MSU's Army ROTC program. 
Locke's nomination essay would consume two full pages, so we can't share all that his proud wife Bethany wrote about her husband's advocacy for student veterans at MSU. Take our word for it, he gets things done.
"Mississippi State University has a rich tradition of support for our military, and we are proud to be consistently recognized as one of the nation's most veteran-friendly universities," said Dr. Mark Keenum, president of Mississippi State University. "As head of the G. V. (Sonny) Montgomery Center for America's Veterans, Brian Locke is uniquely qualified to lead these efforts. His service in the US Army and as head of MSU's Army ROTC program gives him a unique understanding of the needs of our military-connected students and how to address them. We are fortunate to have the benefit of his experience and judgment in this invaluable role."
Join us in saluting these 22 champions of student veterans.
Roberta Allen
Compliance Officer, Veterans Affairs School Certifying Official | Oral Roberts University
"To champion the veteran and dependent is an honor. As a VA School Certifying Official, I guide and certify the one who answered the Patriot's call and the family member who stayed stateside to serve and give their all. Now these Patriots answer another call through higher learning at Oral Roberts University with the charge 'to go where my light (love, insight, peace) is dim, where my voice (of kindness, truth, justice) is heard small, and my healing (reconciliation, restoration) power is not known, even to the uttermost parts of the world.' I am privileged to serve world changers!"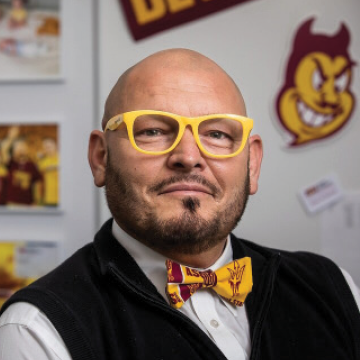 Shawn Banzhaf
Associate Director, Student Success and Academic Innovation | Pat Tillman Veterans Center | Arizona State University | Army, Army National Guard (1990–2012) | Sergeant First Class (E-7)
"I am honored to be selected for this award! As a veteran myself it is my passion to spend my days helping student veterans be successful in higher education. I know that I do everything in my power to make that happen, but I also know that without the team here at the Pat Tillman Veterans Center this could not be possible. I owe so much to the team and this award is as much theirs as it is mine."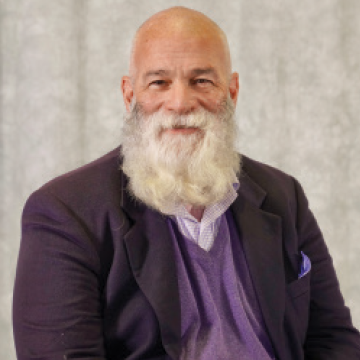 Jonathan Barnwell
Coordinator of Judicial and Veterans Affairs | Rockland Community College
"Be here now, the future will take care of itself."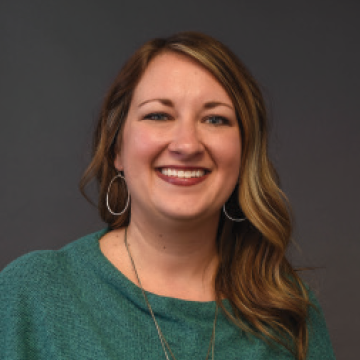 Emily Bloxdorf
Lead School Certifying Official, Veterans Educational Benefits | Clemson University
"I'm so honored to receive this honor and to continue advocating for student veterans at Clemson University! This is a population that is so deserving of our time and respect and these educational benefits for which they've worked so hard to earn. As the Lead School Certifying Official at Clemson University, I aim to continue improving our VA educational benefits process for new and continuing student veterans and veteran dependents. We continue to strive for excellence in all we do for this population!"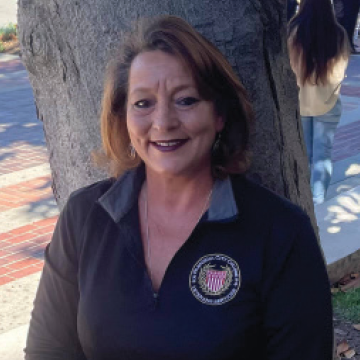 Carol Calandra
Interim Director, Veterans Resource Center | Pasadena City College
"Besides the fact that I am utterly humbled to be in this category with other champions, I've been able to stand on the shoulders of others as we advocate for our veterans. My inspiration to serve those that have served come from a long line of family members that served; many of them in Vietnam that did not receive the care nor respect they deserved; therefore, I vowed to not let what happened to our Vietnam veterans happen to this new generation of veterans."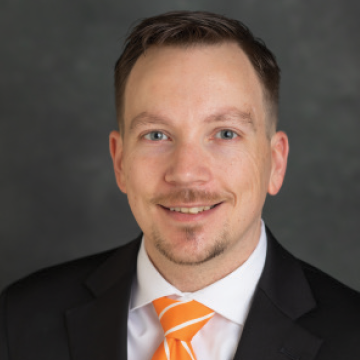 Thomas Cruise
Assistant Director, Veterans Success Center | The University of Tennessee, Knoxville | Air Force (2008–2014) | Staff Sergeant (E-5)
"It is an honor to be recognized among these incredible individuals who support our veteran community. Since experiencing first-hand the challenges of post-military life, I have shaped those challenges into opportunity to support veterans in every way I can. I am grateful to University of Tennessee, Knoxville Veterans Success Center Director Jayetta Rogers and Vickie Clark for showing me the way in student veteran support so I can continue to ensure that this population garners the care they deserve. I am honored to be a part of this team at UT and cannot wait to see what the future holds. Thank you and Go Vols!"
Dave Daniels
Director of Military Outreach and Transfer Recruiting | Maryville College | Navy (1999–2014) | Petty Officer First Class (E-6)
"When asked what fulfills me as a person, my response is simple: Service. I have the privilege of being employed in a capacity and in a space that allows me to do just that. I serve a population of 60 veteran and military affiliated students, and I take great pride in knowing that the efforts and measures I use to support them are supported by the institution I've loved as a student and now an employee."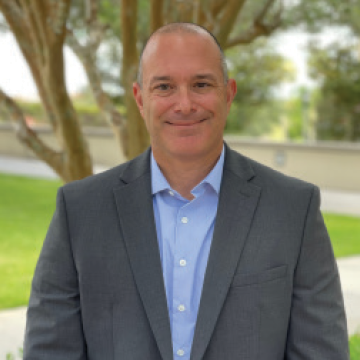 Anthony DeSantis
Associate Vice President, Student Affairs | Saint Leo University*
"As a son of a deceased Navy Vietnam veteran, supporting veteran and military-affiliated students has been an honor and privilege. In the roles I've held over the years, I always made it a priority to eliminate any barriers that could impact their success. I am grateful for the staff in the Office of Veteran and Military Affairs at Florida International University for nominating me for this distinguished recognition."
*Anthony served as the Veteran and Military Affairs Director for Florida International University when he was nominated for the 2022 Veteran Champions of the Year in Higher America list.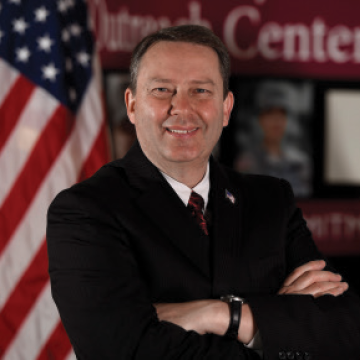 Mark Eister
Vice President of Operations | The Warrior Alliance* | Army (1990–2012) | Sergeant Major (E-9)
"I am truly honored and grateful to have been selected as a Veteran Champion in Higher Education. I realize we would not be enjoying our freedom and incredible quality of life were it not for our veterans and their families and all the sacrifices they have endured for our country. That is why it is my passion and my joy to do all I can to serve, support and encourage them in any way I can."
*Mark Eister served as Director of Military Outreach at Georgia State University when he was nominated and selected for the 2022 Veteran Champions of the Year in Higher America list.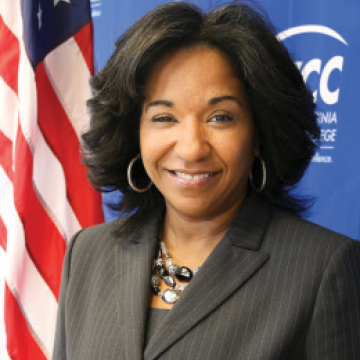 Jacquelyn Fisher
Veterans Advisor & VA Administrator, Veterans Services Office | Piedmont Virginia Community College | Navy (1989–1993)
"I am honored to be selected for this prestigious list. Veterans Services at PVCC is a community effort. I have had the pleasure of collaborating with caring colleagues on campus and partners throughout Central Virginia who are champions in their own right. Together, we stepped forward to serve thousands of veterans, and the spouses and children that support them. It has been an honor to offer guidance as they navigate the barriers that stood or stand in the way of their dreams for the future. It has been a privilege to connect military families with resources that help set their foundation as they transition into civilian life and student/campus life. We are devoted to supporting military service members, veterans, and their families."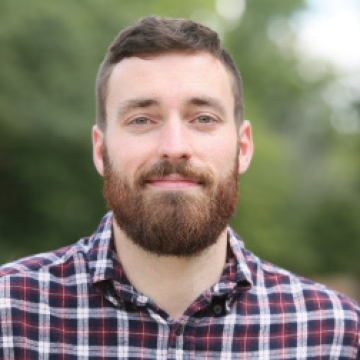 Charlie Foster
Director, Office of Student Veteran Engagement | College of William & Mary | Marine Corps (2003–2006) | Lance Corporal (E-3)
"I know many other administrators who work for military and veteran students, and I know the fine work they do all around the country. That makes it even more humbling to be chosen for this list. This honor is a reflection of the many students, faculty, and staff who answered the call to support military and veteran students here, making the work I do meaningful and successful. I am lucky to be a part of a great team, and now that team includes the other 2022 Veteran Champions of the Year. I am thrilled to be counted among their number!"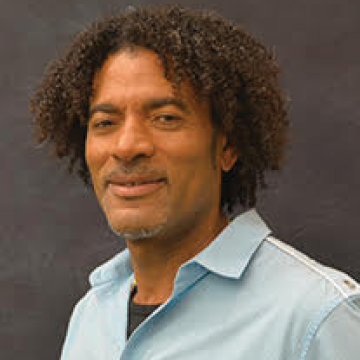 Donald Gabriel
Director, Military and Veterans Student Success Center | Florida Atlantic University
"My dedication to serving the student veterans, military-affiliated students, families and allies is inspiring. The knowledge and resources of our organization act as a catalyst for student veteran success by providing resources, network support and advocacy to, through, and beyond their education. We help streamline processes in order to ease students' transition from military to campus life, to help in finding the right career path and to help in their professional job search process. The holistic goal is to empower student veterans to lead and live their best lives."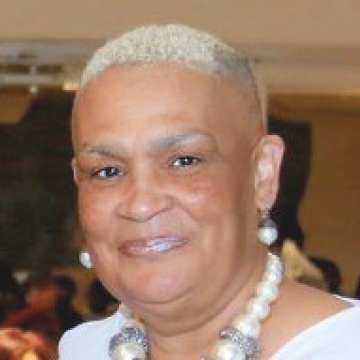 Peggy Horton
Records Coordinator II/VA SCO | Morgan State University
From her nominator: "As a veterans representative/SCO, Ms. Horton is extremely accommodating. She takes her time with her veteran families and always exhibits a can-do attitude. She is compassionate, diligent, respectful, and displays integrity….As a team member, her opinion is valued due to her consistent ability to put her best foot forward."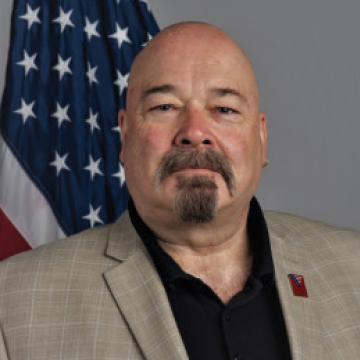 Larry Langwell
Program Coordinator, Chico VETS | California State University – Chico | Air Force (1980–1985) | Staff Sergeant (E-5)
"The Veteran Champions of the Year in Higher Education represents the passion for success that each advisor, mentor and advocate pours into each day and each student veteran. I understand first-hand the struggles of navigating the VA systems for disability compensation and education benefits. I use my decades of experience to mentor and advocate for thousands of student veterans and dependents. I am proud of my school for recognizing and celebrating the unique culture of veterans and providing resources that are relevant and for supporting my efforts to serve those that have served."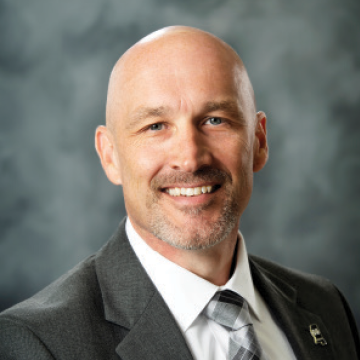 Brian Locke
Director, Veteran and Military Affairs | G.V. "Sonny" Montgomery Center for America's Veterans | Mississippi State University | Army National Guard (1990–1995) | Army (1995–2017) | Lieutenant Colonel (O-5)
"It is a tremendous personal honor to receive this recognition and is a testament to the dedication and commitment of my staff and Mississippi State University in how we care for and support our veterans and other military-connected students. Like many other veterans upon leaving service, I was looking for a purpose and a mission and I found that in my current role.  After sacrificing so much for our country, we have a solemn duty to assist them in achieving their educational goals."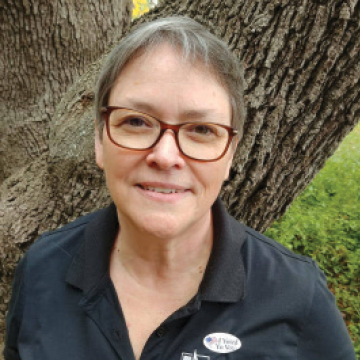 Patricia Mitschke
Campus Center Director | Park University*
"Helping veteran students to obtain their college degree is the BEST part of my job. I love serving those who have served my country! My veteran and military-connected students work hard and strive for excellence, often while juggling the responsibilities and demands of work and family. They are my heroes!"
Andrew Newby
Assistant Director, Veteran & Military Services | The University of Mississippi | Marine Corps (2006–2013) | Sergeant (E-5)
"If you've ever had to write your blood type on your clothes to go to work in the morning, you shouldn't have to wonder where you can go on a college campus in America to get the help you need. That's what drives my decisions each day, and that's what keeps me awake at night. How we choose to serve the 'Next Greatest Generation' of veterans is a direct reflection on how we acknowledge what they've done. My goal is to help move veterans to, through, and beyond college, to walk through the invisible walls they put up, and to sit down with them. I'm honored to be in the position to make immediate, positive impacts in the lives of military-connected students as often as I can. This award is a testament to the students I get to serve, and I wouldn't be here without their desire to move on to their second service careers after the military."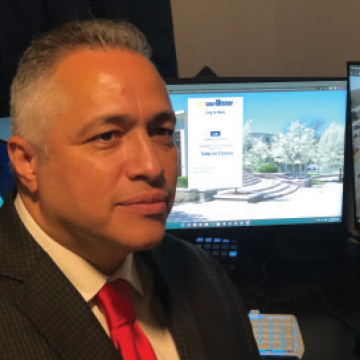 Manuel Torres
Director of Military Affiliated Services | SUNY Ulster | Army (1986–1989) | Specialist (E-4)
"I am truly honored to receive this recognition from G.I. Jobs. Serving our veterans and their families is an honor and a privilege. SUNY Ulster is a model institution that demonstrates how we can work together to help the military affiliated community members reach their desired educational goals. As an Army veteran, I learned to appreciate the value of teamwork and, more importantly, I learned that United States' veterans are essential to making our community strong."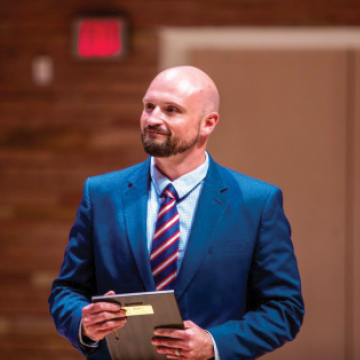 Nicholas Whipps
Veteran and Military Student Affairs Coordinator | Casper College
"Being the son of a retired Army veteran I was always taught the value of sacrifice, commitment and service to others. I would not be where I am today without those lessons among many others. I am a firm believer the more connected a student is to their campus community the more successful they will be. I play a small part in creating an atmosphere for all of our military-affiliated students to be successful and it is an honor to serve those who signed their name on the dotted line to protect our freedoms."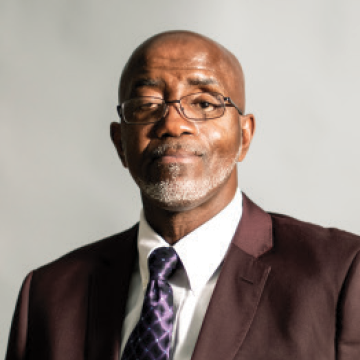 Marcus Williams
Veterans Services Specialist | City Colleges of Chicago | Army (1982–1986) | Specialist (E-4)
"This award is very meaningful to me—not only because it recognizes my work, but especially because it shows increased recognition of the importance of education to prepare our military-affiliated students for their next chapter in life, in its diverse forms. This field has truly come a long way since I began this work, and I am so glad to have watched it evolve. Being able to make a difference in comrades' lives and the opportunity to be of service inspires me every day to be better, so that they have the opportunity for a better tomorrow."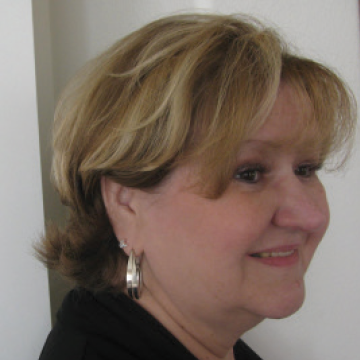 Beth Wiruth
Military Enrollment Specialist | Geneva College*
"I have one of the best jobs in the world. I have the privilege of assisting veterans as they transition from their military service as they prepare to write their next chapter through higher education. The transition is real, the opportunities are great, and I get to be a small part of their lives. This award means I have been effective in my goal of helping veterans build their lives through higher education and I'm honored and humbled to be a recipient."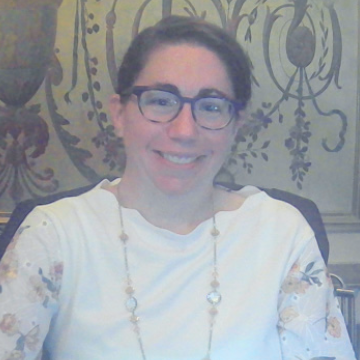 Tabitha Conlan
Assistant Director, Financial Aid & Yellow Ribbon Program Manager | Monmouth University
From her nominator: "Tabitha goes above and beyond for the students at Monmouth. Not only does she take the time to crunch numbers and provide students with multiple options to work with that best suit their needs, but her customer service is top-notch. Every school needs a Tabitha, but I am so glad we have her here at Monmouth." 
*School is a paid client