Opportunities Are Endless; Education Is Key
School Information
Founded in 1857, Upper Iowa University is a private, not-for-profit university providing educational excellence to over 5,800 students on our main campus, our 25 centers across the US and our international centers in Hong Kong and Malaysia. UIU is a recognized innovator in offering quality programs through flexible, multiple delivery systems, including online and self-paced. UIU is an NCAA Division II university offering both men's and women's varsity sports. UIU was recently ranked among the best online programs for veterans by U.S. News & World Report. To ensure academic quality, all schools included in these rankings first have to be ranked among the top half of schools in U.S. News & World Report's 2018 Best Online Programs rankings.
Why We Value Veterans
UIU serves the military at select installations and through its two nationally recognized distance learning programs (online and self-paced). With these three modalities (onsite, online and self-paced), military students have college classes accessible no matter where they are. The four associate degrees, 45 baccalaureate majors, and four masters programs provide students with a wide variety of ways to reach their educational goals. UIU provides tuition grants to military ID cardholders and veterans, and honors the military TA cap for undergraduate and graduate programs. UIU has a deployment policy that provides options for the military student/spouse should deployment or extended training interrupt their coursework. Our students are our #1 priority.
PERCENTAGE OF VETERAN ENROLLMENT
Learn More About Upper Iowa University
You're not in this transition alone. Click the image below to follow in this veteran's footsteps.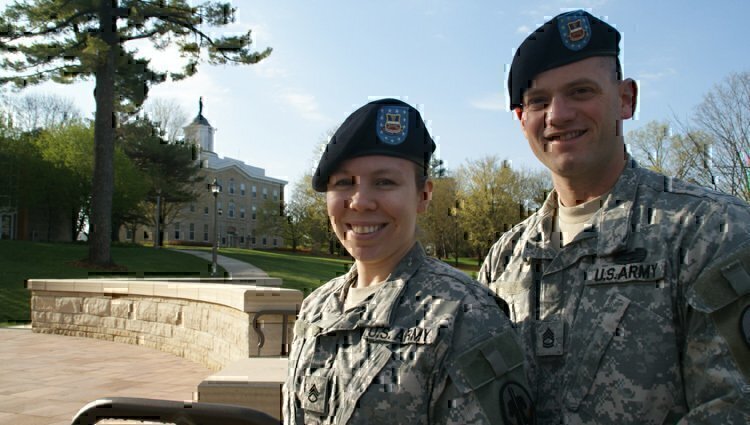 Hear first-hand why attending Upper Iowa University is life changing. Choosing the right school for your post-military education can be hard. There are multiple schools with great benefits...who knows what to choose! Now you can learn from someone else's experience how their military skills helped, why they chose Upper Iowa, and what challenges they faced in the transition.
Approved for the Post-9/11 GI Bill

Committed to the 8 Keys to Veterans' Success

Signed the VA's "Principles of Excellence"

Utilizes the federal Financial Aid Shopping Sheet

Approved for Armed Forces Tuition Assistance (TA) Funding

Signed the DOD Voluntary Education Partnership Memorandum of Understanding (MOU) for Tuition Assistance

Member of the Servicemembers Opportunity Colleges Network

Compliant with Section 702 of the Veterans Access, Choice, and Accountability Act of 2014 (Choice Act)

Participates in the Yellow Ribbon Program
Tuition discounts specifically for military spouses and dependents

Scholarships specifically for military spouses and dependents

In-state tuition without residency requirements for military spouses and dependents

Policy concerning military spouses and dependents whose families must move due to redeployment or relocation
Degrees & Certifications
Associate's Degree

Bachelor's Degree

Master's Degree

Undergraduate Certificate

Graduate Certificate

Post-Graduate Certificate
Accreditation
The University is accredited-on notice by the Higher Learning Commission (HLC) and is approved by the Louisiana Higher Education Board, the Wisconsin Educational Approval Board, and the Iowa Department of Education (for teacher education in Iowa only). The programs offered are approved by the states of Iowa, Kansas (restricted), Louisiana, Oklahoma, and Wisconsin for veterans' benefits.
Areas of Study
Accounting

Business Administration

Criminal Justice

Information Systems/Information Technology

Human Services

Management

Psychology

And more
Take advantage of Upper Iowa University's commitment to your service. Request info now on how you can enroll!