*SPONSORED
If the thought of driving a desk when you get out of the military makes you cringe, consider construction.
Construction jobs offer more than the ability to get outdoors and work with your hands. It's a field where veterans can work their way up to supervisor, manager and even six-figure senior level positions.
"I don't know any other place where you can literally start at what I would consider an enlisted rank and become a senior officer," says Sean Rego, who also served four years as a United States Marine and is the director of talent acquisition and development at SBA Communications, a Florida-based company that builds, owns and manages more than 30,000 cell towers worldwide.
During a Google Hangout video call hosted by G.I. Jobs earlier this year, Rego and two other members of the SBA Communications recruiting team talked about jobs the company actively recruits veterans for, including tower technicians. "We want to hire as many veterans into our organization as possible," said Rego, who compared the explosive growth of the cell industry to the Industrial Revolution of the 19th century.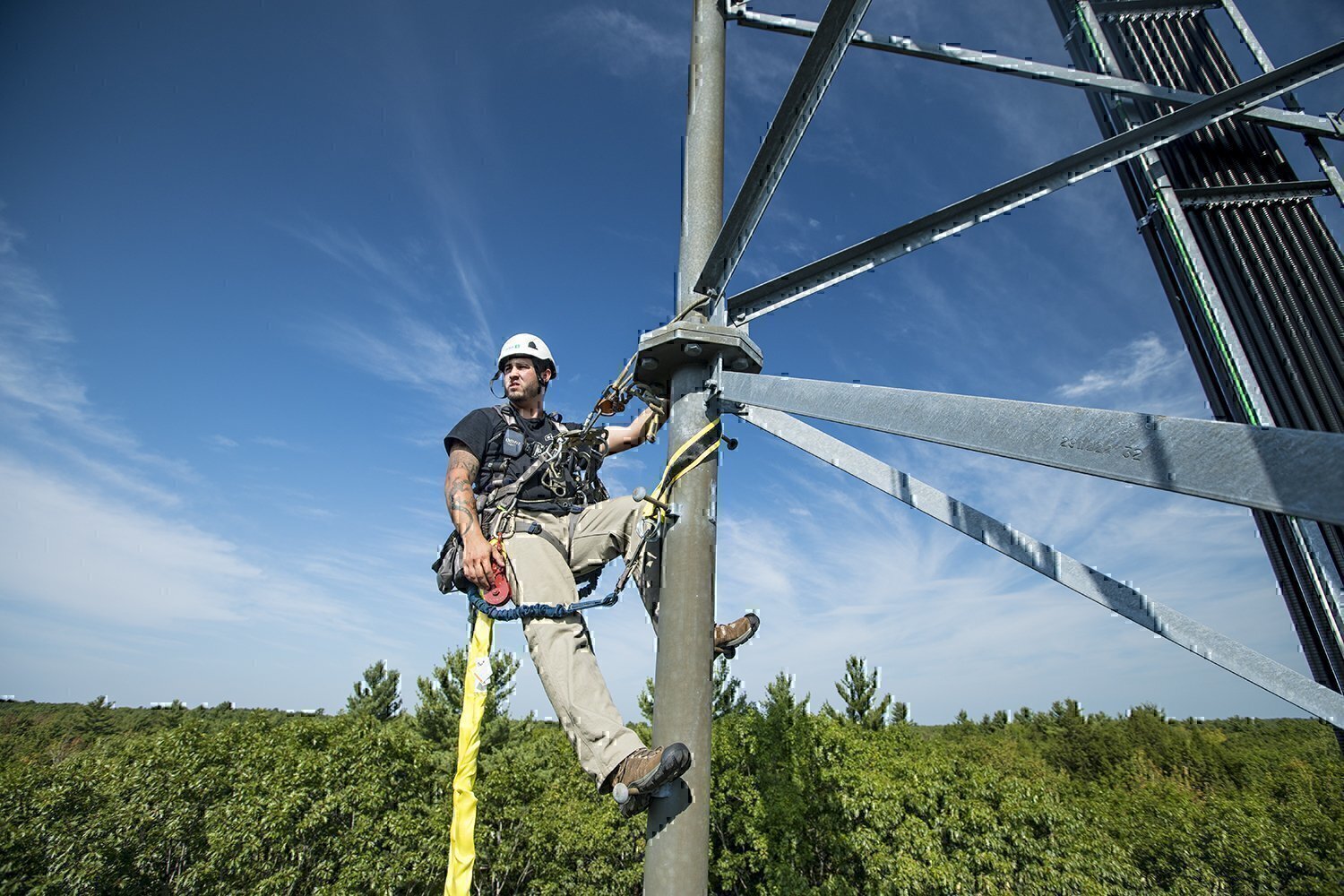 Tower technicians build and maintain cell towers and the telecommunications equipment they host. Candidates can't be afraid of heights since technicians routinely climb towers that range from 100 to 500 feet in height and can move when the wind blows. Technical or mechanical aptitude is required, and construction experience is a plus.
Tower technicians begin their careers at Tower U., a week-long intensive training program in Pelham, Ala., that provides graduates with Full Tower Climber Certification. Apprentices are assigned to a crew that includes a foreman and two journeymen.
"The tower technicians travel and work together as a cohesive group much like a military squad, giving our employees the opportunity to visit and see different parts of the country," Rego says.
Army veteran Josh Benson, 25, loves traveling through New England with his crew. Hired in March 2014, his experience as a multichannel transmission systems operator-maintainer in the Army didn't map directly to the tower technician job he applied for.
"Directly? No, but the way a crew works together is very similar to a team or squad in the Army," says Benson, who is now a crew foreman. "Each person knows or learns the position above them so they can move up in the company much like a rank structure in the military."
Apprentices earn an average of $16 an hour while they learn on the job. Crews are often on the road for several weeks at a time, so there is plenty of opportunity for overtime.
A journeyman tower climber earns an average of $20 an hour, not including overtime, while foremen earn an average of $25 per hour, depending on experience and the market. SBA Communications offer excellent benefits and tuition reimbursement for employees seeking degrees.
"The opportunity to start in a position that requires a high school diploma and move up in our field operations group is unique," says Rego.
Room for Growth
If climbing a 500-foot tower doesn't appeal to you, there are plenty of opportunities for veterans on the ground – at SBA and many other employers in the construction field.
Former Marine Corps Gunnery Sgt. Eric Cruz puts his experience as a motor transport operations chief to good use managing a fleet of more than 270 vehicles used for the Services Division of SBA. He highly recommends the construction field to transitioning service members "because there is a lot of room for growth and the sky is the limit. Basically, it is up to the individual."
Stephen Zoll, 24, a former Marine lance corporal, had no industrial construction experience when he applied for a position with Performance Contractors Inc. He was hired in April 2016 as a helper for a job at Exxon Mobil in Baton Rouge. Today he's a pipefitter, and he loves the camaraderie he found on the job. 
"I would highly recommend the construction field," he says. "The brotherly love that you experience in the military is high in the construction field. At the end of the day people watch out for you in the construction field just as they would in a combat zone."
Shane Hair, 37, was a sergeant first class when he was downsized from the Army in 2015. He, too, found a new career in construction as a recruiting manager for Day & Zimmermann's Engineering, Construction and Maintenance business unit. 
He says military training and experience goes a long way in this career field."I would highly recommend the construction industry to veterans who are looking to transition," he says.
"It is a rewarding industry with countless opportunities and great pay. Many of the values and attributes that veterans possess make them excellent employees in the industry: teamwork, trainability, work ethic, leadership and respect for procedure/protocol to name a few."
Learn What It Takes To Land A Job At SBA Communications
READ NEXT: STUDY REVEALS BEST CITIES FOR VETERANS TO LIVE AND WORK