President Barack Obama hosts the Medal of Honor Ceremony for retired U.S. Army Capt. Florent Groberg at the White House in Washington, D.C., Nov. 12, 2015. Groberg received the medal for actions during a combat engagement in Kunar province, Afghanistan, Aug. 8, 2012, while he was the commander of a personal security detail for the 4th Brigade Combat Team, 4th Infantry Division, when he and another soldier, Sgt. Andrew Mahoney, identified and tackled a suicide bomber, saving the lives of the brigade commander and several others. (U.S. Army photo by Eboni L. Everson-Myart)
Flo Groberg didn't set out to be a hero when he tackled a suicide bomber in Afghanistan in 2012. His actions earned him the Medal of Honor, but he doesn't want to be called a hero. "I'm a soldier who did his job," he says. "That is it."
Groberg, 33, wants Americans to honor him for what he has yet to accomplish. He wants them to recognize that his military training, skills and experience can have a transformative impact on his country, his employer and his community.
That's why Groberg agreed to participate in a campaign launched on Veterans Day 2016 by LinkedIn. Called #HonorOurFuture, the campaign features the stories of Groberg and five other post-9/11 veterans who want more than just "thanks for your service" from Americans. They want the opportunity to excel as civilians and to continue to serve.
"We are reaching out to millions of people with a message that states that we can continue on to do great things outside the service, and you should utilize that drive, experience, hunger and passion," Groberg says.
Through blog posts, videos, Instagrams and tweets, #HonorOurFuture encourages America to rethink how it honors its veterans.
"While it's true that some veterans face challenges as a result of their service, it's also true that there is a strong and compelling business case for hiring veterans," says Dan Savage, a former Army infantry officer who now heads the veterans program for LinkedIn. "Our grandparents were called the Greatest Generation for a reason – veterans have returned from conflicts for generations to make strong positive impacts on their communities to become leaders in industry, politics and civil service."
Empowering Veterans
The LinkedIn campaign includes Tiannia Romero, a former aircraft maintenance tech who appeared in a recent G.I. Jobs cover story about the evolution of Military Friendly®. The Military Friendly® program empowers veterans to make well-informed decisions about their post-military future by connecting them to career and education opportunities, a mission mirrored by the #HonorOurFuture campaign. For that reason, Military Friendly® is one of five organizations partnering with LinkedIn.
"It's important to show the community we are not broken just because we are veterans," says Romero, who serves as president of the Student Veterans of America chapter at California's College of San Mateo and as an American Legion commander. "We have the skills and want to make a difference."
He's Hiring
Marcus Carey is already making a difference. A former Navy cryptographer, he used his skills to start a cyber security company that simulates attacks on clients' networks. He's not unemployed, as the media often portrays veterans. He's actually hiring, because the business he founded in Austin, Texas, in 2014 is growing.
"There's no greater feeling in the world than being able to help others provide for their families," Carey says in his Honor Our Future blog post. "I love that I can provide health care and benefits to my employees, in addition to a competitive salary."
Making a Difference
Garrett Wilkerson is a digital marketing specialist for Cedaron Medical Inc. in Davis, Calif., a job he found by using the LinkedIn search feature. Before he got involved in the Honor Our Future campaign, the former Army infantryman published a blog post on LinkedIn about the misconceptions his civilian co-workers had about him. In less than a week, the blog was viewed by 17,000 people, liked by more than 1,000 and shared by hundreds. He was stunned. When LinkedIn asked him to participate in Honor Our Future, it was a no-brainer.
"I felt that the campaign was shedding light on a quiet phenomenon that plagues the veteran community," he says. "Veterans are often characterized by the actions of their past, which prevents many people and many employers from considering their future."
I'm Not Broken
For Donte Burney, 33, an Army veteran who now works as a web developer in Oakland, Calif., the motivation to participate in the LinkedIn campaign was twofold.
"I wanted companies to know that veterans are capable of fulfilling critical roles in business and to let veterans know there are resources available to help them move forward," he says.
Burney thought he was well prepared to join the civilian workforce when he left the Army in 2010. Then an employer told him during an interview that he wasn't a good fit for the company because of his military service. So he enrolled in a web development school and earned certifications. Now he's poised to earn a degree in multimedia communications and is developing an app that blends video, graphic design, animation and virtual reality.
"Every single day I get a call with fresh opportunities," he says in his Honor Our Future blog post. "All because I used my military service and training to drive my career, instead of believing anyone who said my service was a liability."
Just Getting Started
The ambush that earned Groberg the Medal of Honor shredded the former track star's lower left leg, which had to be rebuilt through 33 surgeries over three years at Walter Reed Army Medical Center. When he was medically retired in July 2015, Groberg faced the same challenges as many transitioning veterans.
"I didn't have the right résumé, I didn't know how to speak it, and I needed to learn an entirely new culture, to include dressing myself," he says. He also struggled with "internal demons" that tried to extinguish his warrior spirit. With the help of mentors, Groberg got back on track.
Today, he's the director of veteran outreach for Boeing, a company that employs more than 22,000 veterans. For Groberg, it's his dream job.
"I get to be a part of a team that is out there in our community providing opportunities, changing lives and even saving lives," he says.
He's not done serving. He's just getting started.
Director of Veterans Outreach, Boeing
Age: 33
Military Service:
Captain (O-3), Army (2008-2015)
MOS: Infantry Officer (11A)
Education: 
• Bachelor's degree, criminology, University of Maryland
• Earning master's degree, management, University of Maryland University College, expected spring 2017

How did you find your job at Boeing? Funny story. I was supposed to attend a meeting at Boeing to support the Medal of Honor Foundation. That meeting turned into me speaking for 45 minutes with an additional 15 minutes of Q&A in front of 250 people. I wasn't too thrilled about it because I didn't have time to prepare, but like everything in life I believe in finding a positive in any negative situation I face. By the end of the day, I had a call with Tim Keating and an offer a week later. Best one hour of my professional life post-military.
What advice do you have for transitioning service members? Network, network, network and, oh … network. Trust in your abilities and your experiences.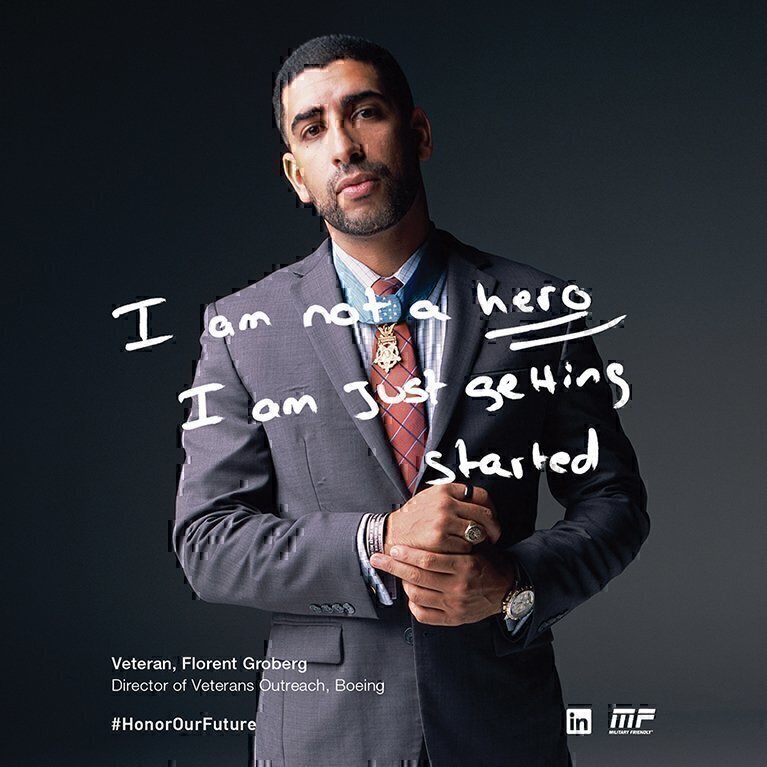 Student/SVA Chapter President; First Vice Commander, American Legion Post 105, Redwood City, Calif.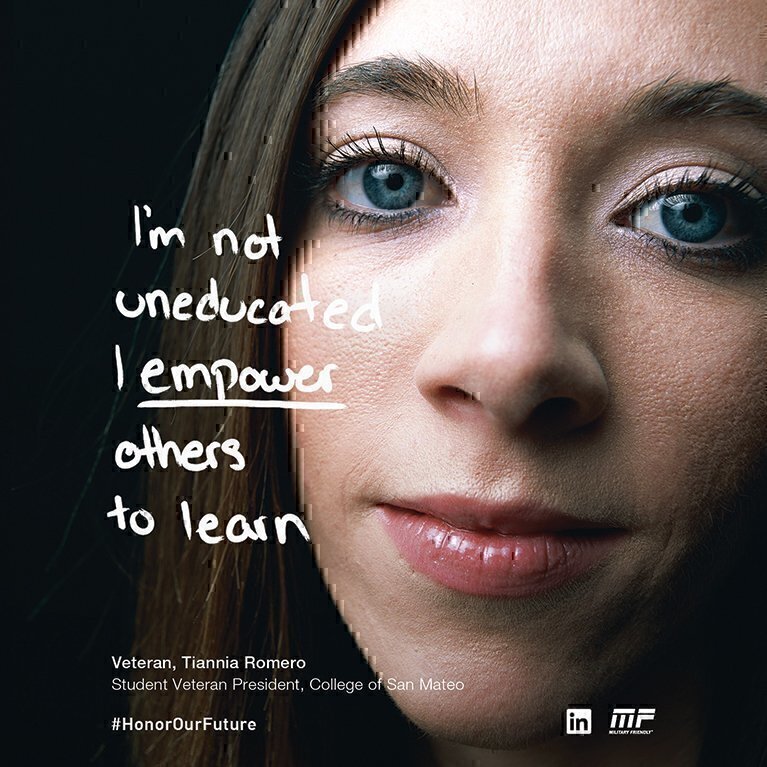 Age: 27
Military Service: Petty Officer Third Class (E-4), Navy (2007-2013)
Rating: ABE Aviation Boatswain's Mate (Aircraft Maintenance Technician)
Education: Earning bachelor's, political science, College of San Mateo, expected May 2017

Where do you see yourself in 10 years? I see myself working for a nonprofit company that really wants to make a change in the world; that isn't afraid to cause ripples in a world where our veterans are not getting the adequate help they need in all aspects of their lives. I see myself testifying before Congress on policies over and over again, eventually becoming a congresswoman.
Would you recommend transitioners use the tools LinkedIn offers to veterans? Yes, I even think it should go as far as putting a LinkedIn course into the Transition Assistance Program for all active duty members.
Founder & CTO, vThreat Inc.
Age: 41
Military Service:
Petty Officer Second Class (E-5), Navy (1993-2002)
Rating: CTO2(SW) (Cryptographer)
Education: Bachelor's degree, liberal studies, Excelsior College, 2002
Master's degree, network security, Capitol Technology University, 2005

Do you believe veterans are better off for their military service? I think the military gives veterans an opportunity to learn how to be responsible at such a young age in many cases.
What do veterans offer the civilian world? The biggest strength is the ability to adapt quickly in any situation.
As an employer, how do you use LinkedIn? I use it to recruit employees and to find sales prospects.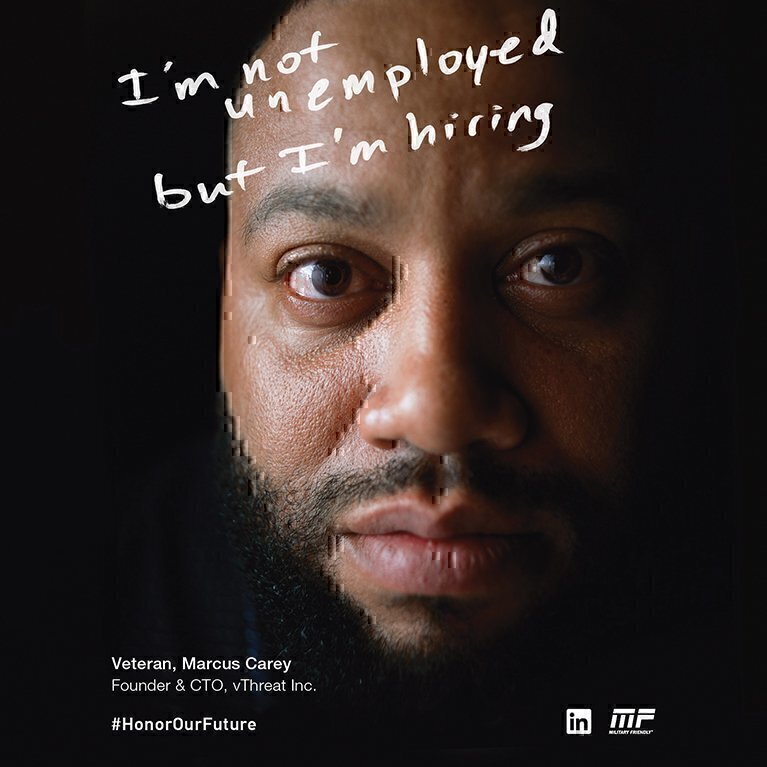 Full Stack Web Developer, Digital Art Crew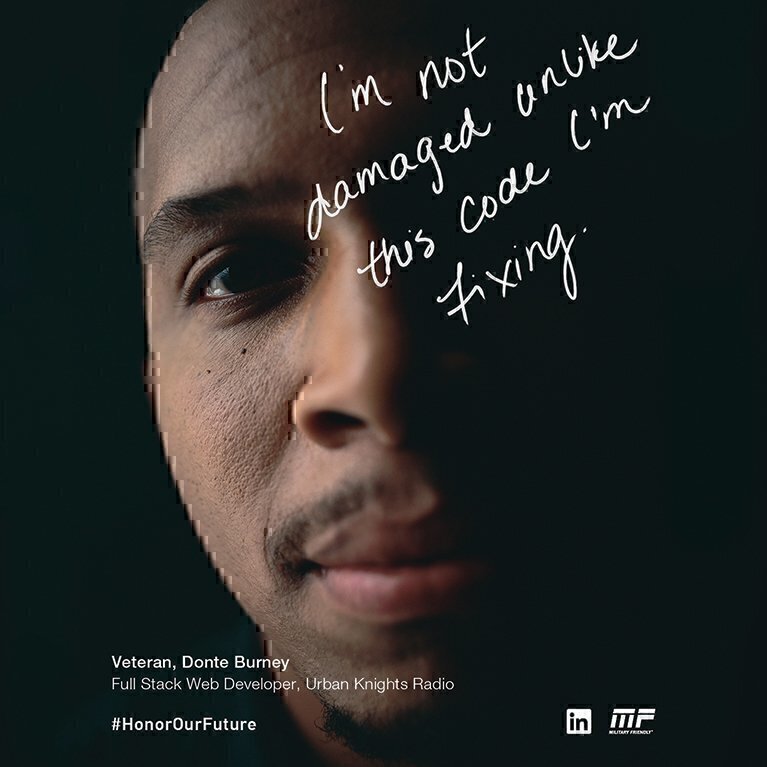 Age: 33
Military Service: Specialist (E-4), Army (2006-2010)
MOS: Financial Management Technician (44C)
Education:
Full Stack Web Development Program, Galvanize
What strengths do veterans offer the civilian world? Veterans are forward thinkers and inclined to make decisions that will result in the maximum benefit of the team. Just as the motto says, "Don't leave your battle buddy behind."
What advice do you have for transitioning veterans? College is great, and by all means pursue higher education, but do your research. There may be more suitable programs and certifications that you may actually enjoy and move your career along more swiftly, such as cybersecurity, software engineering, virtual reality, Salesforce and web development. Once you decide on that career path, apply focus, your military training and network with like-minded individuals who can aid your journey.
Digital Marketing Specialist, Cedaron Medical Inc.
Age: 30
Military Service:
Sergeant (E-5),
Army (2006-2012)
MOS: Light Infantryman (11B)
Education: Bachelor's degree, English, University of California-Davis, 2015

Has it been fun being the face of the Honor Our Future campaign? It has been an exciting experience to take part in something that is bigger and more important than myself. I haven't been this proud to contribute to something since leaving the service.
What advice do you have for transitioning veterans? Veterans need to know that transitioning out of the service is challenging, but not impossible. There will be a lot of voices suggesting the best route forward, but just because they're suggesting it doesn't mean it's the right one. Do your research and take advantage of the countless resources available for veterans.