BACK TO EMPLOYERS

Sponsored Content
Holland
They're looking to hire veterans. They want to hire you.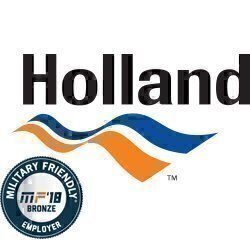 HQ: Holland, MI
Originally committed to serving the central United States, Holland has expanded farther into the Southeast and Midwest where it continues to provide on-time reliability. Its dedicated employees have earned the prestigious Quest for Quality award from Logistics Management magazine every year since the mid-1980s.
Learn More About Holland
Hear first-hand why Holland is an excellent choice for your post-military career. There are so many opportunities, that it can be difficult to even begin. Here, you can learn from someone who has transitioned to see how their military skills helped, why they chose Holland and what challenges they faced in the transition.

What was the biggest transition headache?
I didn't have any major transition headaches. Holland allowing me to apply months in advance helped me to have a job soon after getting out.
What skills did you bring with you?
I had been a truck driver before joining the Army but the Army taught me leadership skills and time management skills that have made my work ethic even better.
77
# of new veteran hires last year
409
# of veteran employees
WHY WE VALUE VETERANS
Holland hires hundreds of reservists, veterans and post-military personnel annually. The companies understand the unique skills and needs and we strive to create the best environment for transitioning veterans' success. The company's civilian trucking jobs get drivers home daily or weekly, depending on the type of job veterans choose. The company guarantees home time for weekend drills and annual training — veterans won't need to use vacation time.
WHAT WE OFFER
Special training to hiring managers / HR regarding retention of military employees
Specific Accommodation Programs to support the physical and psychological needs of disabled military employees
HEIT (Holland Employee Engagement Team) and are partnered with Army PaYS
Military Training and Retention is part of our On-Boarding of new Managers. Plus one on one mentor-ship from our Military Campaign Manager
DISCOVER YOUR FUTURE
Take advantage of Holland's commitment to your service. Request info now on how you can enroll
CONTACT US
CONTACT US